Latest Update: October 2020
Welcome.
Probably you've heard of the new version of the 72 Hour Income Generator Program called "The New 72IG Implementation Training Program", and you may be wondering what's the catch or the difference with the 72ig income program.
In just a minute from now, you will know everything you need to know about it, and if you had already paid for the 72 Hr Income Generator Program you'll get the update as well.
Disclosure: we honor your time at Isuawealthyplace and we're sincere to acknowledge that some of the links on this page are affiliates links which adds no additional or whatsoever cost to you if you use them. Thanks for supporting us.
What's in the 72ig Implementation Program?
I paid for this course and I am more than happy to reveal what to expect if you purchase it.
With the insider review, you would have decided if this is the right program for you or not. Later on you'll see an unboxing I did.
The New 72IG Implementation Training Program Review 2020

The 72IG Implementation Program is a new version of the popular 72 Hour Income Generator Program training by Toyin Omotoso, the CEO of Expertnaire.
While we made a total guide to Expertnaire Review here, and the 72 Hour Income Generator Program here, today we want to go a little bit deeper to all you need to know about the 72IG Implementation Program.
Everything About the "New 72IG Implementation Program"
The new version of the income program by Toyin Omotoso, called the 72IG Implementation Program was launched on May 15th, 2020.
The New 72IG Implementation Training Program is an updated version that encompasses both the old training from the 72ig program and the accrued benefits that followed it.
The 72IG Implementation Program is a training class that starts on June 1, 2020.  
The catch is, if you want to get trained on how to really make money online as a digital marketer, then you can order for the program now and get ready to get a deep training on how to make money online via selling digital products as an affiliate, in and out of Expertnaire.
The most interesting part is, if you order for the training class now then you'll be able to have immediate access to the old version (72 Hour Income Generator Program) while you join others (with me in the fold) to get an unbiased concept to earning money online the right way as a digital marketer. Sounds, cool? Alright.
72IG Implementation Program vs 72 Hour Income Generator Program Review
As already stated, the 72IG Implementation class is an upgraded version of the former.
But the most interesting thing about it is if you had paid for the former class and implemented it with results, just imagine what the new 72IG Implementation Program will unravel for us all; because I'm also waiting for it on June 1, 2020.
So, if you had already ordered the 72 Hour Income Generator Program training, you'll get automatic access to the new version. 😆 
What is the Cost of the 72IG Implementation Program?
The cost of 72IG Implementation Program is N35,000 Only. Just N5,000 on top of the former.
As an affiliate of this program, you will get half of this sum if you enroll today and promote the program; an advantage to you as well.
Top 10+ Reasons you need to Register for the New 72IG Implementation Training Program Today!
1.    Get New Experts' Training
Needless to say, if you had enrolled in the version 1 class and implemented what you learned as was recommended by Toyin, then you would have received your affiliate payment today, Friday, 15/5/2020.
Why is this? Because I received mine. [Payment usually in the morning(s)] 😀 
The thing is, Toyin may not be the perfect digital market out there but the results? Very fair. As of last year, Toyin earned over N30Million as a digital marketer, selling his program and other digital products on the Expertnaire Affiliate Platform.
2.  1-Year Affiliate Membership Account on Expertnaire
If you join Expertnaire as an ordinary member, the cost is N10,000 per year. Meaning, you'll pay this amount each year. But what if you can get 1 extra membership year? Sounds nice? Yeah.
You will get an extra 1-year affiliate account on Expertnaire which if you paid as an ordinary member, you would have been billed N20,000. Not fair.
So, with enrollment in the new class "72IG Implementation Training" which starts June 1, you get an automatic ticket as a pro affiliate without having to worry about fee membership renewal the next year.
3.  Email Marketing Templates
You will get a working email swipes to load in an email autoresponder (like GetReponse) and make sales.  
4. Access to the FB 72IG Support Group
You'll be added to an exclusive private group on Facebook wherefore if you have any issues with your implementation strategies you can always get them resolved.
5.  50% Commission on the 72IG Implementation Program
When you enroll in the new 72IG Implementation Training, as an automatic affiliate you will get 50% commission (N17,500) per sale if you promote this product as an affiliate. But as an ordinary member? 30%.
So, if you will like to earn 50% on this program instead of 30%, you have to be a student of this program or the 72IG Implementation Training or if you had already enrolled in 72hr hour income hour you'll get 50% (N17,500) per sale.
6.  Webpage Builder & Pre-designed Templates
With this training program, you will get a series of working and profitable pre-designed templates for you to jump in and start promoting any products you want on Expertnaire.
The above are just some of the benefits you get if you register for the new 72ig implementation training program today.
Apart from the 6 reasons listed, this training has over 25+ resources you will see in the unboxing review.
But just to list a few.
Amazing Software (Free, worth N34,000+)
 Access to support groups (Free, worth N13,000)
Mentorship via Zoom (Free, worth N10,000+)
 7 done for you campaigns to copy and paste ( worth N50k)
By estimation, we are talking about 50k x 7 = N340, 000
As you can see, the value you get from this online business program is way more than what the cost of investment.
Before you join, see my earning proof.
The Earning Proof of the 72IG Implementation Program
Until now, I never knew I could spend N40,000+ in a month (not for my needs but others).
Even logical, my August 2020 expenses ran up to N100,000 – they were used wisely though.
And where did I get such an income from?
Answer: from the 72IG via the Expertnaire affiliate website.
Through the income generated:
I could go on to change my offering amount to the Lord,
Changed mobile device for a sophisticated one which has helped me a lot to manage my website,
Could gift my grandmom and my mom,
And a lot more I think you don't care if I disclosure them.

So, even if you don't believe me, I believe, you've seen how and why I am confident about this program.
Needless to say, I take the 72IG and Expertnaire as my project, why? Because I would be a kind of ingrate to underestimate its impact in my financial life.
Let's be frank, am I saying that you will make N100,000 in one day or week when you buy the 72IG income program? Of course, no, unless you already have an active audience on WhatsApp, Twitter, or whatever social platform you have.

Because I started with no audiences, I didn't make N100,000 in a month but N9,000, so, I won't also TARNISH MY SELF- WORTH for N20,000 in a bid to force you to join, NEVER, my friend!

I would rather be FOREVER honorable than coax you to invest in what I know won't benefit you. You know why?
I am not desperate for income. Why?
God has been mightily faithful. As we speak, HE is blessing me more and daily from other income sources, so, recommending the 72IG income program to you means;
#1. It is worth it.
#2. I have bought it myself.
#3. You get more value than you pay for.
#4. You get support from it.
Sincerely, I wouldn't invest my time to support you to succeed if it were a fluff.
In fact, I wouldn't have even used my name in each email I send to you – would be operating as a hit and run digital marketer. Lol.
So, I am confident and can beat my chest that if you join tomorrow and need my help I can extend it to you without scratching my head on what next or next level.  
Here is my *(personal screenshot) payment from Expertnaire via the 72IG program.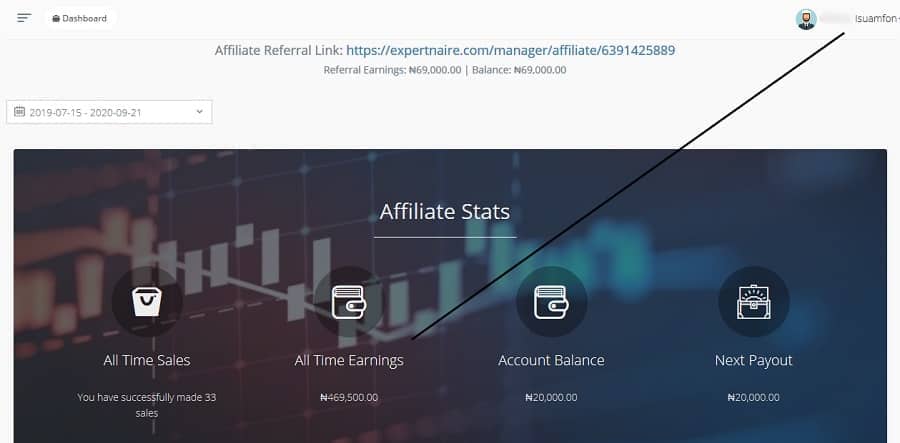 All in all my friend, I promote the 72IG program because I believe in it and the power it can help you start a successful online business.
In summary, when you join Expertnaire via the 72IG using my affiliate link:

#1. Work with me to succeed. Make your first sale and be happy first.

#2. The Blueprint I use. (See my screenshots again)

#3. How I made my first money on Expertnaire as an affiliate.

#4. You get my contact to chat with me for support so you can succeed as well.

#5. More than 15 Free resources (you can see here) to use without wasting money on initial process to setting up your system.
Option #1. Instant sign up: Click here to join Expertnaire via the 72IG income program.
Option #2. Watch Webinar: Click here to watch 72IG income program webinar.
Don't just take my words for it.
I Bought the 72IG Training Program, See the Inside
You see, there is a reason I try to be different as a digital entrepreneur. While I am nowhere perfect, with the little I can, I try my best to value people above profits, every time.
Ask me why and how? Here is it.
I give 120% value and I only promote the products and services I believe in and have used myself.
Concerning the 72IG Program, I don't want you to cuff out thousands of Naira to invest in the 72IG Program without knowing what it is. Nope. You know why?
Let me buy it myself, make money (I claim to), for you to see that it's working before I promote to you. This is a sure way to help you save your money and time.
So, I don't just recommend you buy it. I am also a 72IG Program student. Meaning, you get N20,000 as commission for the program like I do when you join in.
For me, I think you deserve to know everything about the program first, hence, the "Unboxing of the 72IG Program on YouTube".  Yeah, I have detailed the inside of the program.
See to watch the video of how I unboxed the program, and click the link in the description for further instructions.
In conclusion on 72IG Program
One thing is clear about making money online as a digital marketer. You have to get the right insights you need to scale through because learning is on your own?
Well, you might have some unanswered questions, but when you join other thousands of students to learn, ask questions where you don't get a point, implement, or come back to ask for more clarification if you have any questions about your strategies, the process is not just exciting but profitable as you would have avoided wasting money doing it or trying to figure it out on your own. 
While the 72IG Implementation Program is not a free pass to easy money, the good news is that you'll get the mentorship on what is working for the vendor, others, tools, Support Group, and the current trends in digital marketing.
OBSERVATION!!! OBSERVATION!!! OBSERVATION!!!
Please, it might be that you visited another 72IG page link before my own. So, it means, if you now click mine and make a purchase, you are going through the first person's link you clicked — this is powered by cookies in affiliate marketing. You need to clear it first please. See how below. But if it's your first time then you are good.
Ready to get started?
If yes, then click the link below and sign up, when done, contact me for your resources plus my chat buttons for helps and questions you may have.
If you have any doubts or questions kindly leave them in the comment section and I'll swiftly respond to them. Thank you.
#Have a blessed day.