Looking for the best online course platforms or a free online course software to build, sell and make money? Great. Truth is, Knowing the best online course platforms to host your program for your students can be hard.
And even harder if the platform is devoid of a good monetization method. Because, what's the use of an online course platform if you can't make money off your hard work?
I know it can be tough when you have just started.
But hey! No need to fret, I mean, we are all free moral agents– we have a free world of the Internet to storm and search for what we want – Google, Bing, DuckDuckGo, Yahoo, AOL, and more.
You can find tens if not hundreds of top free online course platforms that can help you achieve your goals and track them at the same time.
But to make it easier for you, we have found the top 5 best free online course platforms by first-hand experience and compiled them here on this list.
Creating an Online Course
Do you know that as an expert in your field, this market (online school) presents you with the best opportunity to make an insane amount of money?
In the latest e-learning market analysis, trends, and forecasts, strategyr.com recorded that the e-learning market worldwide is projected to grow by USS312.5 billion.
Driven by a compound growth of academics, one of the segments analyzed a sized in this study displays the potential to grow at over 15.3%.
The shifting dynamics supporting this growth makes it critical for businesses in this space to keep abreast of the changing pulse of the market.
Poised to reach over $202.7 Billion by the year 2025, Academic will bring in healthy gains adding significant momentum to global growth.
Here is another projected value of the global e-learning markets presented by Thinkific – According to Stratistics MRC, the Global E-Learning Markets was accounted for $165.21billion in 2015 and is expected to reach $275.10 billion in 2022 growing at a CAGR of 7.5% during the forecast period.
To round it up, according to statista.com, here is the size of e-learning market in 2014 and 2022 (in million U.S. dollars).
The statistic shows the market size of the e-learning market worldwide in 2014 with a forecast regarding 2022. In 2016, the global e-learning market was worth 165.36 billion U.S. dollars and is projected to surpass 243 billion U.S. dollars at a 5.08 percent CAGR in 2022.
As we can see, this is a huge market, and more instructors, content owners, and entrepreneurs will be making millions of dollars on autopilot as soon as they set their courses or online school up.
Top Online School Creators & Instructors Who Were Searching For Course Platforms
To make sense of this huge market, it is worthy to note that there are a lot of content creators, instructors, and entrepreneurs who have had a huge success with hundreds of thousands of dollars as rewards.
We have some popular names such as Lewis Howes, Vanessa Van Edwards, Pat Flynn, Haley Davis, John Lee, and more as we will find out later.
And pin-pointing John Lee,
After deciding and starting to create a daily podcast interviewing entrepreneurs in 2012, in October 2013, John launched Podcasters' Paradise online course. In the month of January 2018 alone, it generated over $43,000 from it.
What does this show? That anyone can become a success as far as you have what others need.
When you have great content, all you need is a platform, and that is what's we're about to enlist.
Best Online Course Builders for Beginners
We won't just list the online course software to use and build a reputable online school, we will also share what other users have to say about them.
You don't have to try all of these online course tools, you just need to figure out the ones that will work best for the goals you have in 2020.
Most importantly, the list is based on personal usage of these platforms. That way, you do not have to do the research again.
Before going all the way in, let's first understand what an online course platform is.
What is an Online Course Platform?
An online course platform is a software, plugin, or website where instructors, content owners, and entrepreneurs use to create educational materials or info products in form of free or paid courses for students and related audiences.
If you are an instructor, later on, you will see how to create an online course for free – as you can start totally free (0$) on these recommended online course platforms.
The Best Free Online Course Platforms you must use in 2020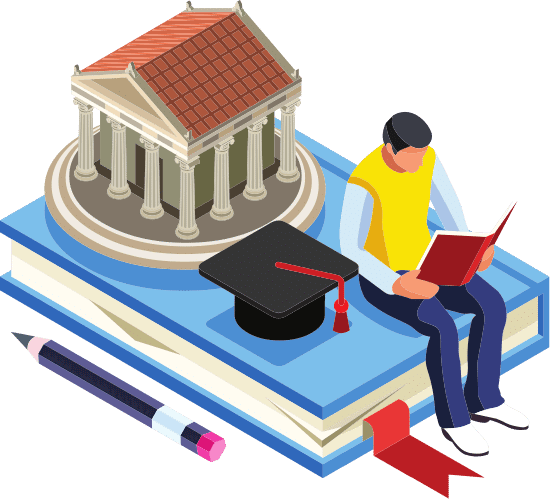 For all comparisons, kindly see Thinkific vs Teachable vs Learnsworlds vs Podia vs Learndash.
1. TEACHABLE
Teachable is undeniably a popular e-learning platform for students and course creators. In fact, some of us might have asked why I left it out till. Hmm. Luckily, this question shall be answered much later. So hang on.
Knowing Teachable & What it offers
Teachable is an online course platform where course creators create and sell beautiful online courses. Teachable is believed to be the platform used by the best online entrepreneurs to sell $300m+ to over 18 million students worldwide.
Signing up on Teachable
You can choose to use the Teachable online course platform for free (with $1 + $0.10 for all transactions) or select one of their three plans ranging from $29/month to $399/month. Choose a plan to get started.
Getting Started on Teachable
If you go with the Teachable's free plan you will be limited in so many aspects to your course creation. To make proper sense of your course, I recommend you go with their popular Professional Plan at $79/month.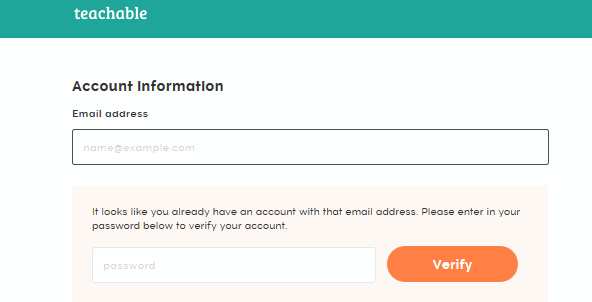 Purchase your plan, enter your information, create your account, verify and login to create your first course.
Build Your Course on Teachable
To build your first course, you need to login to your account. Upon login in, you will be taken to a course dashboard created for you – "MyTeachable".
At your left-hand side, you will see: My School, Create a New School, Settings, Billing, Help and logout". That is all.
To create your online course, click on "Create a New School". Name your school, else click on skip.
On the next page, answer a few questions to help them get to know you better. When done, click on "Enter my School" and Start your course.
More features to use include": Users, Site, Sales, Emails, Help, and TeachableU.
To customize your course with billing and more integrations, click on Settings.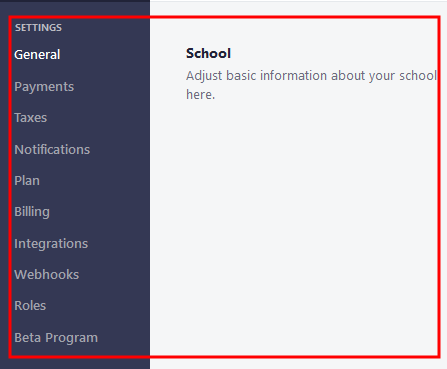 With the settings tab you get: General, Payments, Taxes, Notifications, Plan, Billing, Integrations, Webhooks, Roles and Beta Program
Make Money from your Course on Teachable
When your course is ready, you can add your PayPal address wherefore you will get paid by Teachable.
But remember, to enjoy more functions you need an upgrade.
Integrations on Teachable
Teachable also has wide course integration extensions. But you can only make use of them when you upgrade.
When you log in you will find Segment, Google Analytics, and Sumo.
Others as shown below.
Still. on extensions, you have "TeachableU".
TeachableU: This is Teachable's online training school for course creators.
With it, you can learn a proven step-by-step method to create and sell your own profitable online course.
Unfortunately or fortunately, you get free access to TeachableU when you upgrade to any paid Teachable plan.
What I don't Like about Teachable
People will have to register an account and add a credit card on Teachable.
While this is not a big deal, however, some users can find friction with it.
Additionally, Unlike Thinkific, Teachable offers Basic infrastructures & a bit higher extensions, something to look out for if you do not prefer Thinkific.
Also, they charge transaction fees when starting out.
Lastly, the customer support should be better in times of crazy needs.
Prices and Plans on Teachable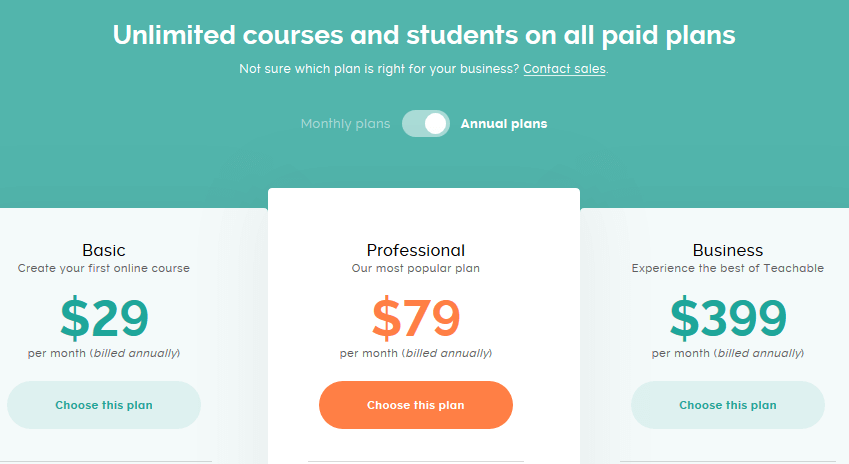 Teachable has 3 plans – BASIC, PROFESSIONAL & BUSINESS.

If you're going with Teachable, I recommend the PROFESSIONAL Plan at $79/month (if billed annually) or $99 per month.
The advantage here is that you get zero transaction fees. It also has graded quizzes, custom completion certificates, advanced website theme customizations, and support for up to 5 admin users.
And the most interesting infrastructure – "Advanced Reports". Advanced Reports" helps you get all reports on 'Students, Videos and Upsells".
Customer Support on Teachable
Inside your account, you can open a ticket or search the answered articles should it be your question must have been answered. Nevertheless, if you need help, the Teachable team will respond to you.
Create Course on Teachable
Teachable presents a simple platform to easily upload your content, edit the look of your online school, and engage with your students – all this with your dedicated sub-website.
If you want more, you can make sense of their interesting extension – "Advanced Reports.
With it, you get all reports on 'Students, Videos and Upsells".
Get started today with your preferred Teachable plan and join other experts and make money.
2. LearnWorlds

LearnWorlds is a powerful, easy-to-use, and reliable training solution for individuals and enterprises. A fully customizable, white-label solution to train employees and associates, educate customers or sell online courses to a wide audience.
As a cloud-based e-learning platform with a clean and intuitive interface, LearnWorlds offers a super flexible platform to host an online school as an instructor.
With tons of instructional manuals, integrations, templates that align with your need, accommodating pricing, LearnWorlds is your best bet as far as you want an intuitive platform to host your online business.
Knowing LearnWorlds & What it offers
One thing LearnWorlds is popular for is its amazing pricing and loads of benefits in terms of features you get to scale your online school even if you've not created an online school before.
And to crown it all, you get instant supports in case you need a helping hand out of curiosity.
Signing up on LearnWorlds
Already popular for her low pricing, with a Starter Pricing a $24/mo if paid yearly and $29 if monthly, LearnWorlds is one of the lowest course platforms that accommodate all course hosts, most especially the first time instructors who just got started.
Getting Started on LearnWorlds
For the basic plan on LearnWorlds you get a $5 fee per course sale cut, which is not what I recommend.
To scale your online course growth from the onset, I recommend the medium plan which is the "Pro Trainer", and of course, "the Learning Center" if you need something bigger.
I'm getting started with the "Learning Center", which is the most popular with Zero transaction fees.
Start Free Trial on LearnWorlds
Let's go deeper as we see all about LearnWorlds and all you need to know as a creator.
Build Your Course/School on LearnWorlds
Step 1. Sign up on LearnWorlds
To start building your online school, you will need to sign up to get a head start.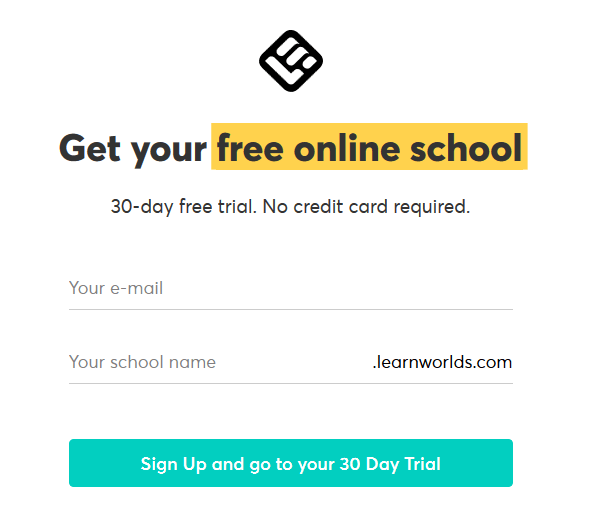 Enter your email address and the name of your school and hit the sign up button to get started.
Wait for the preliminary set up.
Step 2. Set a Strong password
Make sure you use a strong password for your school.
To ease your suggestion, use strong strings for your password combination. You want to include %%*&* into your password. You can as well use the samples as given on LearnWorlds.
When done, click on "NEXT" below the page.


Step 3. Edit or Give a Name to your new online school.

Go ahead and edit if you already entered a name or give it a fresh name and move on by clicking the "Next" button.
Step 4. Set Your Language, Time Zone, and Currency
These are just the preliminary settings you want to customize. You can skip them for now if you want by clicking "take me to school now".
If not, go ahead and enter them and move on.
After this step, click on "Finish" to access your online school dashboard".
Step 5. Create a Course/School
Pause here and take a deep breath. I did say that LearnWorlds has a lot of benefits and features, right? I wasn't joking.
If this is your first time with an online school platform then you might be overwhelmed. You will see the pic view of the "Learning Center" plan dashboard (below).
Creating your course on LearnWorlds
Want to jump straight ahead and create your online course? If yes, then you can either use the School Wizard to see a rundown of what you will get or hit the "Create Course" button or start your online school ASAP.
The School Wizard
With the School Wizard, you can edit and rename your school the way you want.
In the middle of your dashboard, you will see all your new sign-ups and the frequency – in the last 7 days, 14 days, and so on.
Going on, you will see the "Active Learners", maybe you can award them something for being active, right?
Okay, to your middle right you will see all your course Categories, the Average Course Time, Conversions, and more.
And to your bottom right you have a support button to click and get assistance if you need it anytime.
To your bottom left you have Pages which include your Landing Page, Login Page, All Pages, and Blog.
Going down you will see Marketing & Appearance. This is the section where your marketing tools are embedded and Appearance set up can be customized and modified as you want.
Also, you will see a Report Section where you monitor and manage your audiences or active students, the segmentation, their signs of progress, activities, and lastly, your overall sales.
Moving a bit to your bottom right (middle) you will see the list of new users, incredible tutorials and lessons from LearnWorlds, event logs report, and the online users you have at a time.
Make Money from your Course on LearnWorlds
When your course or online school is fully set up where you will see both the conversion and the last 30 days sales, all you need to do is go to your bottom left > Settings and add your banking details for payments.
Just to note. I recommend you add your payment details as you get started so as not to stress yourself on that again.
Under the Setting sections, you will see the "Financial". Under the Financial is where you will enter and manage all Financial Settings, the Payment Gateway you want to use, Invoices Set Up, and of course, the Subscriptions.
With all the Financials fully set up, you get paid for your courses as students' troop in and sign up.
It's great that you have an intuitive platform to customize everything the way it suits you and to standard.
Advanced Options with LearnWorlds
I would have missed this part unless I used this tool myself. Can you believe that LearnWorlds records the accurate data of where all your students join or enroll from? Still, perplexed? Here are the things it records.
Web browser used
Language
IP address
Country
Region
City
Operating System: Windows or Mac or if Mobile device.
You will see the Advanced Options under Event Logs > More Info".
Are these not incredible? I find them to be. Super-versatile as a course platform.
The Good news, still? It is free to get started even without entering your credit card.
How to Create an Online Course on LearnWorlds in 6 steps
Step 1. Enter Course Name
When you click the "Create Course" button, you will be given a new page wherefore you need to enter your course name and click "Next" at the bottom right.
Step 2. Enter Course URL
Upon entering the name of your course, go ahead and give your course a friendly URL (slug).
What's the essence of a Slug?
By giving a friendly URL you make your course more accessible both to people and search engines.
Here is an example of a slug billfaith.learnworlds.com/courses/how-to-start-a-blog.
When done, click on "Next" to continue.
Step 3. Select the Access Type of Your Course
At this point, you can decide who should access your course. For instance, you can give access to the users that purchased it through the site (or have been manually enrolled in it by you as the administrator).
Also, if you want to keep it private, then you can make it accessible only to users that have been explicitly enrolled in it.
Private courses remain unpublished, hence they are not visible in the course catalogue (The same function you have on YouTube when you unlist a video or set it to Private).
Step 4. Enter Course Card Preview
Just as you would upload images and add a description to your blog posts, with the Course Card Preview, you want to enter a related description and also upload a fitting image.
Just to note, I like to get images from Pixabay, Unsplash, and Canva.com.
Upload your preferred image and enter the description to move on to the next step.
Step 5. Drip feed your Course
Drip feeding your course means you can "schedule the lesson delivery". That is to say, schedule the timely release of your content, set up email reminders.
With LearnWorlds you have 2 Drips.
Drip by days
You can set to unlock course contents based on the date the student started the course (i.e. 1 week, 2 weeks). Each student will get access to the learning material separately.
Drip by date
You can also set to unlock course contents on specific dates regardless of the time students enrolled. All students will acquire access to the learning material at the same time.
Step 6. Set up and publish your Course
Amazing is what I can only describe this course platform. You have a variety of tools, gadgets, and an intuitive editor to create the perfect course/school.
I don't want to be biased, else, I would say that LearnWorlds is the best course platform? Yeah, I don't want to be.
To test it yourself I recommend you go with the "Learning Center" package for a Free Trial.
Don't just take my words for it. Here what you'll get.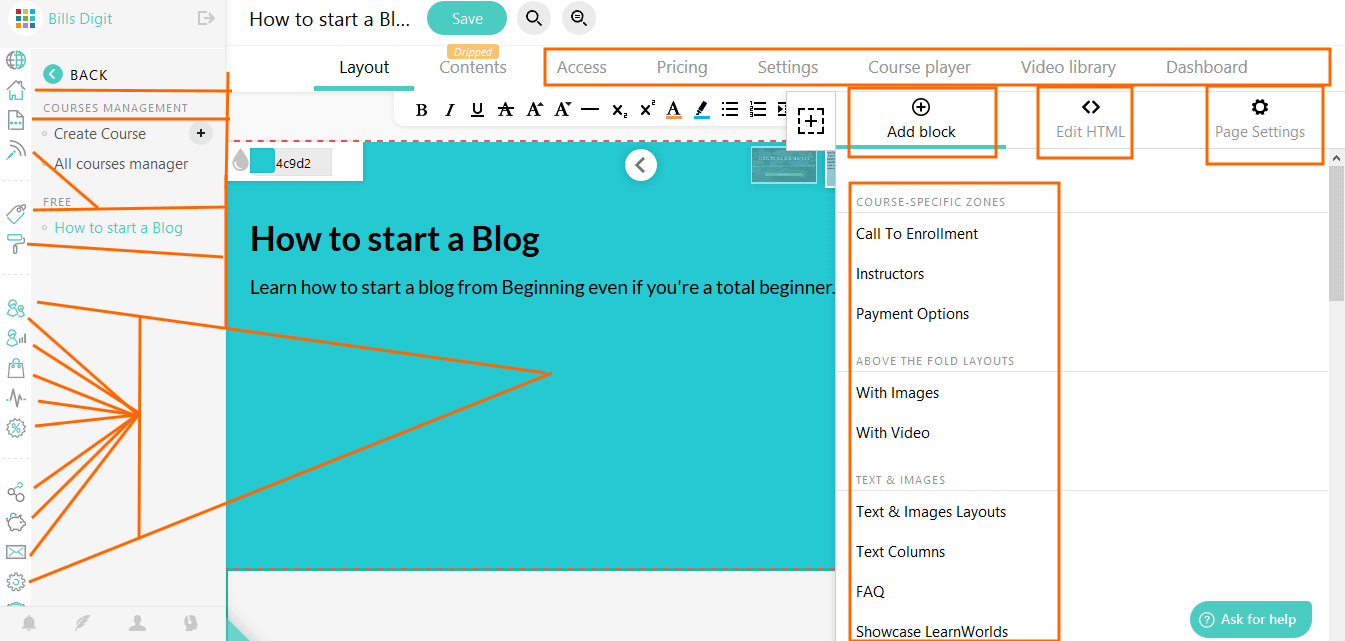 PS: the tools and gadgets available on LearnWorlds to use and produce a super sellable course are just too plenty to mention in one review guide.
For instance, the "Add block Section" allows you to add":
Call to enrollment
Instructors
Payment Options
With Images
With Video
Text & Images Layouts
Text Columns
FAQ
Showcase LearnWorlds
Testimonials
MULTIMEDIA
Video
Background Video
Embed
Sliders
CALL TO ACTION
Login Forms
Action buttons
Get email
Contact form
Believe me, I have cut out other gadgets. They are too good for one online school.
Should you be thinking about what I have cut out, then see a few.
PRODUCTS
Your Courses
Your Subscriptions
Your Bundles
AUTO UPDATED CONTENT
Course Contents
Daily news cards
Blog feed
Community posts
Still, they are a few I have excluded. See the clean interface below.
It will probably take me 24hrs plus to review everything on LearnWorlds as seen on the "create a course" editor. Here is what we will do.
After perfecting your course to your test. Scroll down and add your name, image (as an instructor).
Also, go ahead and add your persona (author's bio) and social media handles. LearnWorlds comes with many fonts and customizations you want to use.
When you're done, go ahead and publish your course – make it accessible for your audiences. See below.
Truth is, LearnWorlds is awesome. (Kindly keep in mind that I have cut out many gadgets on the editor).
Integrations on LearnWorlds
Here are some of the integrations with LearnWorlds to make a perfect online school/course.
Live sessions, Analytics, E-mail marketing, Growth tools, Affiliates, Customer service, Social proof, Zapier, and more.
Still, with the Zapier integration, you can add Fomo – a tool for Social Proof Notifications.
Also, you can add Tawk.to. Tawk.to is a live chat application that lets you monitor and chat with visitors on your website or from a free customizable page.
As you would guess, there are more integrations in which you check it out if you want.
Going on, you have an advanced gadget like Webhooks. Here is what Webhooks will do for you.
With it, you can provide other applications with real-time information.
Webhooks delivers data to other applications as it happens, meaning you get data immediately. Unlike typical APIs where you would need to poll for data very frequently in order to get it real-time.
Okay, you will still have the option to give awards. You can easily trigger a POST JSON request to the specified URL when a user is awarded a certificate.
When a course is completed. Here you trigger a POST JSON request to the specified URL when a user completes a course. And more.
Good Lord, I am kind of swept off my feet now with the solution LearnWorlds proffer for course instructors.
Eagerly, my only thought now is, what do I not like about LearnWorlds? I will tell you below.
What I don't Like about LearnWorlds
I am actually mentioning this because I have looked for a hook against it, but not really a tangible CON.
Just to get one bad con, I had to go to Reddit to see what I missed. Well, nothing tangible as well. Here is my Con about it.
You will need to upgrade before you use the Zapier integration.
Let's go over to the prices and see what they have in stock for you.
Prices and Plans on LearnWorlds
With a 30 days satisfaction guarantee, and a no credit card to start your Free Trial, LearnWorlds Starter Plan goes for $24/mo if paid at once for a whole year.
With no transaction fees, the Professional Trainer plan is equipped with integrations and benefits which you get to pay only $79/mo if yearly which means you save a ton, an upfront of $240 with over 20% off.
Also, there is the Learning Center Plan at $249 which gives you breathtaking options to create a massive online school (just as I have used it above).
Need to manage more than 20 admins or something bigger? If yes, then you can book a demo with LearnWorlds as your best fit plan is the "High volume & Corporate" package.
Based on usage, the Learning Center Plan is robust for anything possible as far as building a reputable online school is concerned.
I recommend it if you're on a budget. And if not, then the Pro Planner is also a good place to start building a scalable online course for your audiences.
Customer Support on LearnWorlds
Love it that coupled with incredible features to craft an amazing online course/school they also offer online chat.
I don't know why, but I love a company that offers users instant supports because not all of us are super techies or savvies.
LearnWorlds offers you online support. Additionally, you get phone support which is call toll free, email support which is hello@learnworlds.com. And of course, over 300+ guides to hone a perfect online school and course plus a "ask for help button" on your dashboard.

Create Course on LearnWorlds
My usage of the platform will only make Sense you try it out as well to test prove it.
Apart from the benefits I have listed out which you've also seen how they work, the truth is, the hosting platform has more and enough to make your course look super-premium, considering the fact that it is cheaper than most of its competitors.
I would encourage you to spend about 45 minutes – a few hours and get acquainted with the platform plus the FREE lessons, guides, and Webinars offered to instructors by LearnWorlds.
And not to worry, you have over 4 supports options in case you need help anytime.
All in all, while the platform is too loaded for course building for instructors, if you need a basic set up, then you can simply click on "Add your payment details for your payments & click on create Course" to get started.
As I said earlier, the help button is below your bottom right in case you need any assistance from the team or use the other support channels.
I do think, LearnWorlds cloud-based e-learning platform fits into what Professionals, Entrepreneurs & Training Managers want as they can tailor to their specific needs and a team of experts and supports to help achieve their goals.
3. PODIA
For all the feminine bloggers and those who love super clean interface, you've got it with Podia. Since 2014, Podia had been empowering creative entrepreneurs to make a living doing what they love.
Knowing Podia
Podia is an online platform where content creators can sell online courses, digital downloads, membership subscriptions, and more to your audience.
One of the attractive features of Podia is the no transaction fees, and a simple three-step process for content creators.

Apart from creating and selling your courses, Podia Majors in providing a great MEMBERSHIP OPTION & DIGITAL DOWNLOAD PLATFORM for users.
With over 25,000+ creators making use of Podia's clean platform, you too can get started for free or see in full what they've got to offer.
Signing up on Podia
Signing up on Podia is simple. With a 14 day trial for all users, you can as well join the podia platform to start building your course, membership site, and digital download.
Click here to get a 14 day free trial on Podia.
Getting Started on Podia
When once you've signed up, enter your data and create your account. When done, go ahead and verify your account, and log in to your account to get started.
Build Your Course on Podia
Upon signing in you will be presented with the modern type of interface a feminine blogger would love. Excuse me please, because I like it as well.
For the first section you have; Products, Memberships, Messaging. Coupons. Email, Customers. Affiliates and Sales.
The second section shows you a beginner's video tutorials should you need any help to create your course. Also, you can join a demo and QnA.
On the right-hand side you have the function to: fill your bio, set up membership, and create a product.
Looking down, the third section shows you your: customers, subscribers, sales, and margin.
The question is, what do you want to create first?
Whatever you want to create, Podia has everything you need to sell online courses, digital downloads, and memberships. You can set up and start selling in just 5 steps.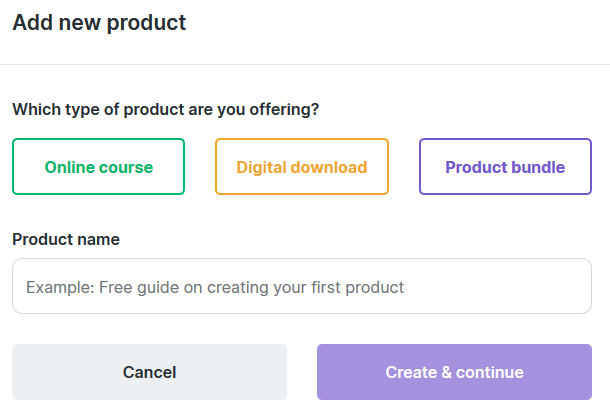 Choose the best option that fits what you want to do and move on.
With each option you select above, you have many extensions to customize it to what you want; Content, Settings, Pricing, Promote, Customers, Comments, Draft and Preview.
Make Money from your Course on Podia
You can easily make money on your course as Podia gives you the option to set up your Enrollment date. With this, you can choose to have your course start on a future date.
Students who purchase your course will be charged immediately, but won't have access until the start date. Anyone who previously purchased the course will continue to have access.
Additionally, you can make sense of "UPSELLS' and increase revenue by offering another product at a discounted price after the customer purchases.
You get paid instantly by accepting credit cards or PayPal payments.
Integrations on Podia
Podia has interesting integrations but not as many as Teachable and Thinkific.
Prefer to use your own email service provider? No problem, just set up an integration with MailChimp, ActiveCampaign, Drip or Convert Kit, or use Podia's Zapier integration to connect with your favorite email tool.
Kindly note: Connecting an email service is not required, as Podia's email marketing platform is included in your plan.
What I don't Like about Podia
There may be a need for more integration for some users.
More integrations would make it a super-flexible tool for those that love customizing their projects.
Be it as it may, if you want to focus solely on your course and monetization then you might not need all the add-ons extensions like Sumo, Google Analytics and more.
It is worthy to say that, with the exception of some few add-ons, Podia is a recommended alternative to Thinkific or Kajabi + its own head-on advantages.
Prices and Plans on Podia
With Zero transaction fees and 7-days-a-week support, Podia has just 2 payment plans; MOVER – at $39/mo for creators launching their first digital products. And SHAKER – for creators who are ready to grow their business.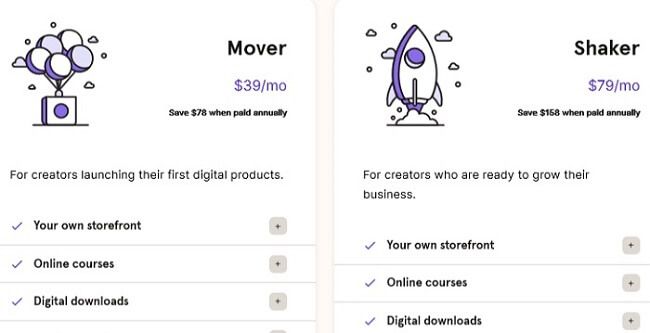 Whatever category you are, you can get started for free with Podia. Also, you get access to all features so you can decide which plan is right for you.
Try Podia free for 14 days, no credit card required.
Customer Support on Podia
My #3 recommended platform to sell online courses, digital downloads, and memberships is PODIA. It offers almost everything Thinkific & Kajabi do, has a cleaner interface than Teachable, and ultimately LIVE CHAT for content creators.
I like to rate the best customer supporting platform best.
You know, customer support tickets were supposed to make customer service better, faster, and more efficient. But they didn't.
That's why Podia does not use such. They prefer you open up that chat window at the bottom of your screen, you connect with a real person – someone that's there to share your triumphs, support your success, and lend a helping hand at every step of your journey.
Create Course on Podia
If you are looking for a simple, beginners, feminine–like platform to create and sell your online courses, memberships, and digital downloads, then Podia is the perfect place.
Unlike other platforms, Podia never punishes you for your success by charging you more as you grow.
You pay a flat monthly fee no matter how much you sell. There are no additional transaction fees on Podia – ever.
All in all, if you're looking for strong membership & digital downloads functionality, and the ability to increase your sales with the help of affiliates, Podia is a unique and best course builder to check out today.
Try Podia free for 14 days, no credit card required.
4. LEARNDASH

Take nothing away from it. As a long time user and fan of self-hosted WordPress CMS, if I were to create and take total control of my course, I would go with LearnDash. Why is this?
Apart from the fact that most bloggers use self-hosted WordPress, making use of LearnDash is just a sweet spot as the integration with WordPress makes it super cool.
Before we go on, it's worthy to note that LearnDash is my #1 recommended online course software with WordPress integration due to 1. The advanced tools for course creators, and 2. WordPress integration, and the most important, 3. Customer support, and advanced reporting.
So, if you are looking for a WordPress-integrated online course platform then LearnDash is where to go.
Knowing LearnDash & What it offers
LearnDash is an online course software that provides practical and experience-driven guidance for individuals and organizations interested in setting up online courses, with the best use of cutting edge eLearning methodology and infusing it into WordPress LMS – Learning management system.
LearnDash works best for Educational Institutions, Developers, CEU Training Organizations and more.
Some top websites using LearnDash include Yoast, the University of Michigan, Infusionsoft, University of Florida, WP Elevation and more.
Justin Ferriman & Kloé Ferriman are the figureheads at LearnDash (CEO & COO respectively)
Signing up on LearnDash
LearnDash robust system has already helped course creators & entrepreneurs to make people millions of dollars, save businesses tens of thousands of dollars, decrease new customer refund rates, and more!
Now is your turn to join in. Signing up is free. All you need to do is click on this link to "Get a Full 30-Days to Try LearnDash!"
Starting out, the "BASIC PLAN" offers just 1 Site License. To grab up to 10 Site Licenses + ProPanel, then the "PLUS PACKAGE" package will be a good fit.
ProPanel: gives you a clearer dashboard and a reporting infrastructure. (More on this later).
(Selling Online Courses from your Own Website)
If at any point in time you want to sell online courses from your own website, then please, LearnDash is what you want.
With it you can easily create & sell courses, deliver quizzes, award certificates, manage users, download reports, take total control, and so much more.
The key concept of LearnDash is #1. Create Courses #2. Monetize it (them) #3. Administer total control #4. Tech – Build a faster course using provided tools.
Getting Started on LearnDash
To get started on LearnDash you will have to choose a plan. Going with the "PRO PACKAGE", enter your details, verify your account and login to start creating your course.
Build Your Course on LearnDash
When once you've signed up, sign in and see your WordPress Integrated dashboard. To add your course, go to COURSE, and click "Add New".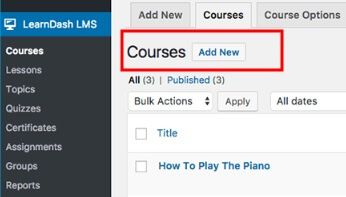 Go ahead and complete your course creation. When you need to preview what you've done so far, click the "Preview button" on the top right-hand side.
Alternatively, you can make use of LearnDash's Powerful Course Builder.
LearnDash's drag & drop Course Builder allows you to easily create multi-layer courses.
It is also the only course builder on the market that lets you re-use your content, making it easy for you to spin-up courses!
You can even rename the labels to anything you wish. For example, you can rename "Lessons" to "Modules".
There are more than enough gadgets on your LearnDash Dashboard for your success, however, here are the infrastructures I like the most.
LearnDash Focus Mode
You can make sense of LearnDash's dedicated virtual learning environment, a feature your learners/students will like.
What LearnDash's Focus Mode does is to eliminate distractions and let your content shine – helping to increase learner retention and completion rates!
Additionally, you can add your own logo and brand colors for a truly immersive, branded experience!
Please note: Focus Mode is an optional feature. (That is if you do not want it).
Advanced Quizzing
With LearnDash, you can choose from eight different question types with the options you need to customize the quizzing experience.
You can use this format: Single Answer, Multiple Choice, Sorting, Matching, Fill-In-The-Blank, Free Text, Survey, and Essay questions all supported.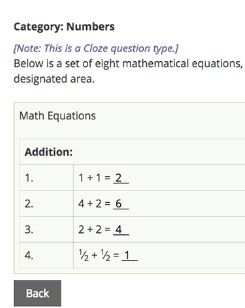 Others:
Display custom messages based on quiz performance.
Enforce Quiz timers and use Question Banks, and more.
Course Points
LearnDash has given course creators the freehand to award points to learners as they complete courses, and allow learners to unlock new courses based on the points they have earned – great for letting them choose their own dynamic learning path!
The truth is, the above is just a tip of the iceberg if I want to consider the infrastructures LearnDash has provided. Find out more.
Make Money from your Course on LearnDash
Having used the provided infrastructures to create your course, to make money.
Go ahead and set your price, choose the payment schedule, and start taking orders!
(If you go with the "PRO PLUS PLAN" you will be able to track and see your reports).
At this time you have to decide how you want to make money. Do you want?
One-Time Purchase?
Subscriptions?
Shopping Cart?
Memberships?
Course Bundles, and more options.
The bottom line is, whatever option you choose, they are all made available on LearnDash.
For instance, if you go with "Course Bundles" that is, sell your courses one at a time, or create bundles.
Using LearnDash for "Course Bundles" just takes a few "clicks"! When someone purchases a bundle they are then enrolled into all of the courses in that bundle. This is a great way to provide discounts for bulk purchases!
Again, LearnDash's drag & drop course builder will help you to easily create multi-layer your course bundles. You can rename the labels to anything you wish. For example, you can rename "Lessons" to "Modules" to "Bundles" and as you wish.
Integrations on LearnDash
When you're done – selecting your monetization method, go ahead and add "Any Payment Gateway you want".
Seriously, I like the fact that course creators can add up to 300 payment gateways for students; PayPal, Stripe, 2Checkout, and 300+ others with WooCommerce. (A feature Thinkific is yet to have).
Apart from these 300+ payments integrations, you are allowed to use "Renewal Reminders" for students who are yet to pay or make full payment and etc.
And on top of this, you can use the "Refund Protection" infrastructure. With it, you can schedule content to lower your refund rates and increase revenue.
There are many more integrations to name them here.
To be frank, LearnDash is so cool. So, when you discover that other course creators are making six-figures in revenue on the platform, an example is Troy Dean, you shouldn't be surprised at all.
#All thanks to unapologetic facilities offered by LearnDash.
Other advanced infrastructures on LearnDash
I have decided to keep some infrastructures out to save your time. Here are some of them;
LearnDash Focus Mode, Drip-Feed Content, Advanced Quizzing, Lesson Timers, Sample Lessons, Flexible Prerequisites, Course Forums, Gradebook, Course Points, Certificates, and Badges.
More…
Multiple Instructors, Simple Course Sales, Subscriptions, Memberships, Course Licenses, User Profiles, Email Notifications, Group Management, Detailed Reporting, Assignment Management, Expire Access, and more.
Kindly Note: Before we go further, in case you do not want to learn all I have said on your own, you are free to use the Video Tutorials provided by LearnDash. They're clear and concise videos of the key LearnDash functionalities.
What I don't Like about LearnDash
Cost.
I don't see any other factor to tag a Con on LearnDash apart from the prices – which is paid annually, anyway.
This is by no way a perfect platform, however, since I can't say much about its cons, it remains the best online course platform with WordPress integration or if you want to sell courses from your own WordPress website.
Prices and Plans on LearnDash
LearnDash offers only ANNUAL payments. The reason for this is to help course creators concentrate on their course, students, and monetization.
The first plan is the "BASIC" goes for $159.
With the BASIC PLAN you can create unlimited courses, and other premiums options, but you're assigned just 1 Site License.
The second plan is the "PLUS PACKAGE" goes for $189.
With the PLUS PACKAGE you can create unlimited courses, and other premiums options, plus, you get Up to 10 Site Licenses & ProPanel.
The Third plan is the "PRO PACKAGE" goes for $329.
With the PRO PACKAGE you can create unlimited courses, and other premiums options, plus, you get Up to 25 Site Licenses & ProPanel
LearnDash's Propanel:
Question; should you go for a plan with "ProPannel"?
Answer: Yes.
ProPanel is an advanced reporting add-on for your LearnDash powered courses.
ProPanel allows for quick assignment & essay management, displays learner data in charts & graphs, enables emailing features, and provides additional learner information (such as total time spent on course).
With it you:
See real-time activity as users take your courses.
Approve, delete, and manage all assignments & essays.
View and download user course progress & quiz results.
All your learning management system data are on your dashboard!
Selecting a plan. I recommend you start with the PRO PACKAGE – to produce a ground-breaking course – since it is a yearly payment. However, if you can't afford it, then the PLUS PACKAGE should work great for you.
You can get started today with a $40 discount and full a 30-day money-back guarantee on their annual plans.
Customer Support on LearnDash
Like Thinkific, LearnDash offers great customer support for course creators. If you need help you can easily click on "Questions" or open the "Help Centre" at the bottom right of your screen.
Create Course on LearnDash

Some Users from Reddit said,
"I just met someone who is using LearnDash and he loves it. I don't have his contact info with me right now but it is working well for his 1000+ employees. I don't know what your budget is but $180 seems like a low barrier to implement a LMS" – R.B
"I've been using LearnDash with a nonprofit client for about a year, and I'm currently procrastinating writing a proposal for another client where I'm recommending LearnDash. I really like LearnDash, especially for very small organizations or consultants who are selling a handful of courses.

LearnDash gives you quite a bit of control. You can add plugins and customize your experience. Need forums? There's a plugin for that. If you do get into Storyline or interactive media sometime down the road, you can add that in LearnDash and even track everything via xAPI. It's on your domain, with your URL" – C.D
"I've used LearnDash for more than 5 years now, and of all the LMSs I have used, personally and professionally, I find it is the most versatile.

Essentially an LMS is just a place to put stuff you've developed using different tools (Storyline, Lectora, etc), but compared to a lot of other low to no cost LMS options out there, LearnDash looks much nicer" – I. D
In conclusion,
If you're a tutor looking for grading systems that compete with the features of college curriculums, advanced reporting, advanced monetization, then LearnDash is a great choice.
(Even without any major issues found), the bottom line is, LearnDash might not be perfect but it is the best LMS for WordPress so far that you'll use. With constant updates, they surely will remain the best!
"We have been loyal fans of LearnDash since we integrated into our company in January. What we particularly love is that you are constantly refining and adding new features. It's great to know that there are always new additions or new partnerships (like the one with Memberium) in the work making this product stronger, more robust and so seamless to use." – Andrea, said.
Get started today on LearnDash with a $40 discount and full a 30-day money-back guarantee on their annual plans.
Before we go on, let's see a comparison of the Top best 5 Best Online Course Platforms.
Teachable vs Podia vs LearnDash
#1. Amongst the other platforms, when starting, Teachable is the only platform that takes Transaction fees of 5%.
#2. Amongst the other 3 course platforms, only Podia provides a Hassle-free migration – if you sign up for a paid plan.
#3. Amongst the course platforms, only Podia & Teachable provide Video Hosting, and between the 2, only Podia allows unlimited video.
What is the Best Online Course Software?
Truth is, I don't have "a most preferred planform, so, no biased review, else, I will be deceiving or defaming your trust – which is not our ethics here".
After testing the platforms except for LearnDash (as I already use WordPress), here is my honest run down of them – excluding popularity BUT prioritizing benefits and modern infrastructures.
The bottom line is, the best online course software or platforms is solely based on your most preferred marketing options.
So far, Teachable and Thinkific toe the same paths.
Teachable is popular and many known internet marketers make use of it. Also, their BASIC pricing plan is about $10 lower than Thinkific.
In conclusion, managing a larger user-base of online courses, and, while the customer support needs to improve, Teachable is worth the price if you can afford it plus the successes recorded so far.
Start with TEACHABLE for Free.

Learnworlds has a super scalable platform for both basic and advanced schools.
With her cloud hosting and advanced options such as the webhooks and JSON triggers, you can manage your school with high proficiency even if it's your first time and the good news is that it is one of the cheapest online course platforms to use in the market.
Additionally, you have many options for support if you feel you need one at any point in time.
Start a Free Trial on Learnworlds
Podia has ALMOST ALL the infrastructures as available on Thinkific and Teachable + their inbuilt add-ons missing on the two.
Like Learnworlds, Thinkific, and Teachable, Podia makes use of third party integrations to help you build your program.
Podia offers 'Unlimited Products, Memberships, and Unlimited Emails, not forgetting Live chat support ".
Fact is,
If all you wanted to be a platform to sell online courses, digital downloads, and memberships, then PODIA was originally built for that.
And LearnDash.

LearnDash is a complete course platform that offers the infrastructures and more like Thinkific and Teachable. The only separable factor with it is, if you want to create an online course using your website and having total control, then, LearnDash is ideal for you.
With the LearnDash plugin installed on your WordPress website, course creation wouldn't have been easier.
Also, it is worthy to note than LearnDash is the cheapest course creation software among the top 5.
LearnDash is already used by top websites such as Infusionsoft (now Keap), University of Michigan, OptinMonster University, Yoast Academy, and more, and as ultimately helped to make people millions of dollars, save businesses tens of thousands of dollars, decrease new customer refund rates, and more!

Get started with LearnDash – the WordPress course machine
Top Content Creators Who Have Generated Income Source via Online Courses
Danny Iny is a known blogger. He started the popular Firepole Marketing blog to share his knowledge of marketing. After rebranding to Mirasee, he started creating and selling online courses to monetize his audience.
Mari Smith is a well-known leading expert on Facebook marketing and consulting for countless companies. After some time of sharing valuable information, she monetized her hard work via her online courses.
There are just a lot of them; talk about John Lee Dumas, Pat Flynn, and more.
How To Create An Online Course For Free
How do I create and sell online courses? This question can be tricky for beginners, most especially when they consider stuff such as "topics, revenue, and marketing".
Because a lot of digital marketers above all started as beginners and succeeded, you have no reason you shouldn't succeed as well. Now let's answer the question of "How Do I Create and Sell Online Courses"
Step 1. Identify Your Market, Ideal Customer and Audiences
You can do this before or after you've set up your course. How do I mean?
If before,
Creating an online course means you've found a vacuum that needs to be filled – this is how I found one in another niche on Quora. In fact, I had to bookmark the question because a lot of people had no credible answers to it.
The good news is, this was something I did for over a year using a smaller platform and seen success.
If this is where you are, you can pinpoint a pain point and move on to create your course using any preferable platforms already reviewed. At this point, your target audience is already established.
If after you've identified your market,
Once you have set up your online school and equipped it with great courses, the next move is to get your first customers and that begins by identifying them.
This means that you will need to get as much information for your chosen 'target audience' as possible. This will help you associate their biggest needs with your services and products, hence increasing the chances of selling your course massively + upselling for recurring income.
Step 2. Estimate the Production Cost
Compiled by raccoongang.com, a research by Chapman Alliance conducted back in 2010 states that an hour of eLearning costs ~$10,000 to produce. (This goes for basic course interactivity and media richness level; more features — more time and money).
Below is an infographic that shows an overall estimate.
While the above can be staggering, truth is, figure out what you need and the ones you don't as you can create a good course under $186.
Also, the good news is that any of the above course platforms have done the majority of the enlisted work for you.
Step 3. Start Course Research & Compilation
If you want to write around your course topic you can do this after it, else, go ahead and start researching your subtopics, statistics, and industry data that will help you to produce the best in the world course.
For me, I like to add a 120% value to my audience. If you want to go for 150%, it's even better as you can easily upsell your students and make recurring income (upselling is as good as the REAL course).
To start with, use platforms such as Reddit, Quora, Topic + Forums. Do the same on Bing, Qwant, Search Encrypt, AOL, Swisscows, StartPage, DuckDuckgo or more if you want.
Step 4. Choose your Course Topic
It's time to choose a comfortable topic for your course. Truth is, no matter what you name your course it will be profitable as far as you've produced 95%+ super content.
Wait! Because you can name it anything doesn't mean the name should be ridiculous, right? So, just choose a relative name you find interesting, and you are good to go.
See an example of Guitar Lessons.
Guiter Junction
Guitersy
Guiter Diamond
Guiter Limitless
Guiter Coco
Guiter Prism
Guiter Flow
If you are puzzled about a name to use, jump to this site and generate a name for your course.
Step 5. Proof the Effectiveness of your Half-Written Course
I learned this from Seth Godin. If you want to test how effective your product or program is, give it out to your trusted friends, if it is as good as you think, they will be your first customers and referrals. That is exactly what you want to do.
That said, go ahead and share a sample or the page link of your MODULE 1-3 course to your F& F for them to have a piece of it.
Wait, what if you do not want your F & F – Family & Friends to know you want to make money online? My Gosh here is it.
Go to any online forum, let's use Reddit.
Go to a related niche sub-reddit and create content around your topic and leave a link to your course by saying" hey, I created a full FREE course on your TOPIC in case anyone wants to check it out, kindly leave your comments to help me", thanks.
You're far from being done.
Don't get excited yet until 5-10 hours later. Only get excited if your content is still there because some Reddit Moderators are always paranoid.
If they delete your content, go ahead and open a conversation with them. With this, there is a high chance it will be reapproved.
BUT, if after 3 times they are still showing their bad-asses, move to another forum. Check out Indiehackers.com
When you do this, DO NOT FAIL to ask the readers or testers to subscribe to your email list so as to get the full Modules.
You can use an effective tool like GetReponse for it, or EmailOctopus if a free tool is what you want.
Course Creation Tools to Use
You might not need this part if your laptop or computer has a built-in camera and a microphone. But if not, here are some tools to help you out.
Screenflow – screen-sharing software out there. It will capture your screen and voice as you navigate your computer and explain your actions.
Others: Camtasia, Screentomatic, ScreenRec (Free), OBS studio (Free).
Audio Technica ATR 2100 – The ATR 2100 is an affordable microphone for most online course creators.
Or,
Blue Yeti USB Mic– for Recording & Streaming on PC and Mac, 3 Condenser Capsules, 4 Pickup Patterns, Headphone Output and Volume Control, Mic Gain Control, Adjustable Stand, Plug & Play.
Logitech HD Pro Webcam C920 – a high-quality video camera where you can clip it on to your computer and start recording HD videos.
Or Panasonic HC-V380K, has Wi-Fi mobile device Twin Camera feature adds multi-camera scene picture-in-picture recording.
(The last 2 tools are on Amazon.com)
Step 6. Create Your Course Content in Full
Now the teaser is out, and you've got a bite of your stand – good words about it or bad reviews. If good, you are free to write full content, and if bad, you might need to revisit your root and plan.
Just as Seth Godin will say,
"Marketers make things better by making change happen."

"Don't find customers for your products, find products for your customers."

"You can't fool all the people, not even most of the time. People, once unfooled, talk about the experience."

"People don't want what you make. They want the way it will make them feel, and there aren't that many feelings to choose from."

"You'll never be able to serve everyone, which is comforting since you're less likely to be disappointed when it doesn't happen."
Just find your missing piece from Godin's quote, and re-write your course.
However, do not focus on perfection because I have learned that no matter how GREAT & IMPORTANT a video is on YouTube it will still get DOWNVOTES – by some group of persons I can't really describe.
So, edit what you need to then go ahead and set out the top considerations before composing your course in full.
Top Considerations & Questions for a Perfect Course
From the lines of Thinkific,
Take a really critical look at your proposed curriculum. Try and get rid of any extras or unnecessary steps. Ask yourself things like:
Is this Step crucial to getting to this Milestone?
Is my student actually learning anything here?
Can these Steps be combined?
Would my audience already know this going into the course?
Is this Chapter too long? Too short? Can I combine it with another?
Would I have taken this course when I was getting started?
At the end of this exercise, you should have a solid structure for your course.
Having done some or all of the above, go ahead and create a stunning course you would like to make money off it in the next 1 -2 years.
This is so important because a course creator like John Lee, since 2013, has been making money off the very one course he created 7 years ago…So, do it well as if you want to get paid forever.
Step 7. Choose a Platform to Host Your Online Course
After creating irresistible and unapologetic content, the next step of action is copying and pasting your content on your preferred course platforms.
We have talked extensively on it. Just go ahead and choose one that fits your needs.
As a reminder,
If you want to use your WordPress blog and create your course with total control, you need LearnDash,
If you need a standalone course platform with many integrations + recurring income via Upsells, you need Teachable,
If a platform for Course, Digital download, and Membership + instant customer support, you need Podia.
And for an all performing platform with cheap price to get started, Learnworlds offer you that flexibility with a variety of customer supports.
Make Use of All Integrations
First of all, you want to make use of all available integrations each of the course platforms provides. Popular integrations include tools like GetReponse, Google Analytics, WordPress, and more.
If you are using your own WordPress Blog or course platform like LearnDash you have unlimited tools to use, however, there is no need as what you need is made available by LearnDash.
Step 8. Market your Course
Your course is as good as nothing except people find it.
Here are some places and avenues to share and market your course.
Quora
Podcasting
Paid Traffic
Guest Posting
Pinterest
Facebook Ads
Google Ads
Facebook Page
Instagram
Banner Ads
YouTube Ads, and etc.
Pin-pointing Facebook Ads
For Facebook Ads, you do not have to create a Facebook business account. You can make use of a simple Facebook page and run $20 ad to create the first awareness.
Give Support
I like to give support to my audiences on anything paid, because paying for what you sell means they trust you.
If you want to stand out as a great digital marketer then you might want to provide support for challenging students.
That is it.
With this, the question of "how to create an online course" is answered.
Congratulations. 😀
You've just joined the rest of entrepreneurs to have a test of recurring income.
Final Notes on the Best Online Course Software

Devoid of the platform you use, the best tool is creating an incredible course for your students and audiences. And the good news is that we've done a great job to enlist all you need to make this possible.
Considering the course platform or software to use,
Just as we have seen, all the best online course platforms have their Alphas and non-explorative features and benefits, which allows us to go for what fits our best interest.
While I can say, if you're ready to start creating and selling online courses with a simple platform, then I recommend you get started with Teachable.
However, if you're looking at going for an advanced tool with so many infrastructures plus many customer service routes then Learnworlds is the online platform you want to use.
Going on, if you want to host or sell online courses from your own website, if yes, the best online course builder for this is LearnDash,
And if you want a platform for Course, Digital download, and Membership + instant customer support, you need Podia.
Next Read: 5 of the Best Free Podcast Hosting Services For Beginners of 2020 (Make Money with Podcast)