Many at times a lot of would-be bloggers and online entrepreneurs search for top best web hosting services to use, when what they really need at that moment is a cheap web hosting for a small business owner – to save initial cost and waste.
If you want a web hosting company for a small business website or a new blog then there is no need to over-spend on a top hosting service that does not matter for now.
You know,
When I lost my first money-making website years ago, it was due to a bad website hosting company I used. The thing was, I hardly knew the best benefits to look out for when considering a good Web Hosting company which at the end of the day played out bad, really bad for me.
Before we even go on to see the Top Ranked Cheap Best Web Hosting services for your small business here are the core benefits you need to consider when you are choosing a web hosting service.
Core Factors To Consider When Choosing Web Hosting Services For Your Small Business
1. Ease of Use for Beginners 😆
There is nothing as exciting as getting the responses you need in any task. It makes you happy and less stressful. The same is what you want to look out for when you consider picking the best host service for your business.
The good news is that all the featured hosting recommendations are easy for a grandma to click go and it responds.
2. Performance 😛
As a new blogger or small business owner, you would hardly notice performance effects on your website. Why? Because you are just starting, so, performance will be at its topmost best.
But don't get so excited about it because when your business/blog grows and you start getting 100 visits a day the sky might fall on you. This was my exact experience 2 years ago with my former web hosting company.
But not to worry, I will be the last person to recommend a wacky business tool for anyone because I for one have lost a good business online and I will never want no one to be there. #Not a good place to be. #Regrets.
3. Price Ranges & Support 😀
Just as the price range is important, the support you get when in need is equally important. In this top web hosting review, you will only be presented with the best hosting companies as experienced and one with great benefits.
Other non-core benefits are discounts, backups, updates, and savings at checkout and a lot more as we will find out in a minute.
At the end of this web hosting provider's review for small businesses and new bloggers, you will be #1. Able to choose a suitable web hosting service for your business and #2. How to get the best fitting discounts for your website.
What are the Best Web Hosting Services?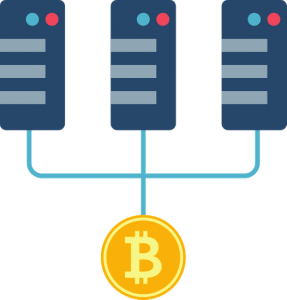 The best web hosting Services have the following in its arsenal. Maximally secure, optimized for speed, uptime – without going offline, ease of use for beginners, hack and malware removal, 24/7 support, free premium migrations, and integrations with your website needs.
Here are my top picks for the best web hosting for small business owners in 2020.
Part 1. (Shared Hosting Web hosting services)
#1. Hostinger
#2. HostGator – most recommended
(Shared hosting is a web hosting environment where each individual hosting account is stored on a single web server. Think of a web server as a very powerful computer loaded with resources. Each of the accounts on the server shares the server's system resources- A2hosting).
Part 2. (Managed Hosting Web hosting)
#1. Cloudways
#2. Flywheel
#3. Kinsta – most recommended
(Managed hosting keeps the day-to-day management of servers, system hardware, and system software in the hands of the web hosting provider. Hardware and other operating features are typically leased to a client as part of a service agreement – Dreamhost).
Kindly Note: the list standings has nothing to do with their overall performance, just the sequence for small business owners based on growth as relative to price.
Top 5 Ranked Cheap Best Web Hosting Services For Small Business & Blog Owners

1. HostGator
(Cheap & Accommodating Web hosting company for Website Owners and Bloggers)
Having heard so many good things about HostGator a few years ago and a few backstabs, I summoned the courage to sign up with HostGator last year for a lifestyle website that was expecting a lot of traffic.
Because I was indecisive on what to expect, I was waiting for a day my site would be pulled down/offline based on some ugly reviews I read.
Turns out I never recorded any single downtime nor did I have any serious reasons to contact the customer support for my website.
With the vote of confidence on HostGator hosting usage without slack, it stands as my #1 shared hosting platform recommendation for small business owners and bloggers.
With HostGator you get to host your site at only $2.75 a month. On top of that, you get a free domain name for your business, free SSL for security, 1-click WordPress install for beginners, get up to 45 days money back guarantee, an intuitive dashboard to manage your site, FTP, and 24/7 customer support for reasoning ideas or help.
Reaching its first 100,000 customers around the middle of 2008, HostGator is also one of the most popular hosting providers on the market with hundreds of thousands of websites hosted on it. So they are definitely well-established and secure enough to host your website.
Owned by the same investors that own Bluehost, with HostGator, you can manage your site when it grows at a cheap price. You can imagine that you can manage 50,000 visits to your website at less than $5/mon.
With HostGator, you can integrate your website easily with Cloudflare for blazing speed and load time.
It's worthy to note that if you are a total beginner, with HostGator, you are offered an easy website building process as you can use a simple drag and drop tool as provided by the company to set up your site the simple way.
And in case you need to migrate your website to HostGator – which was the same thing I did, you will be assisted for FREE. AKA, free website migration process.
Lastly, I like being there for my customers in times of need. Although we have direct communication with the HostGator team, the point is, we give support to our readers who sign up with HostGator using our link.
That is how confident we are with it. So, if you need any support we are here to give you that helping hand.
Because of this, we contacted HostGator's representative to negotiate a small discount for isuawealthyplace.com visitors. Use this exclusive link to activate it today.
How to Save Cost for HostGator Sign up:
Plan: Hatchling at $2.75/month
Term: 36 months (This helps you concentrate on your website growth)
Savings: $169.36
Total cost at checkout: $105.35
How to Host your Website with HostGator (Free domain name)
Visit HostGator.com and click Get Started.
Choose a domain (or add one you own).
Pick your billing cycle. To save costs select the $2.75/month plan for 36 months. 4. Go ahead and enter your billing info.
Click Checkout and you're all set to host your website!
P.S: At any point in time you are stuck, kindly contact us and we will gladly help sort the hiccups out. (But I doubt if you will encounter any challenge).

2. Hostinger
(An Amazing Web Host, Great for New Small Business Owners)

Normally Hostinger should have been my #1. Cheapest Web hosting company for small website owners because you can plug in your website with just $0.99/mo.
However, the disadvantage here is that you won't get a free domain name as compared to HostGator, therefore, Hostinger is my #2 shared web hosting company for small business owners.
With Hostinger's incredible fast host + 99.9% uptime guarantee, they are one of the cheapest in the market with quality service delivery.
With Hostinger, you can also get a FREE domain name to host your new website which starts with her $2.89/mo plan.
Other benefits you will get for your website are, weekly backups of your work, Free SSL Certificate to total security, ability to host other websites on the same host, 24/7/365 Support and a host of other benefits.
Also, with Hostinger, you can build your site using a simple drag and drop tool with 1000's of templates, and of course, get a blazing speed as Cloudflare integration is enabled on your site.
For all beginners, you can easily manage your site using a clean interfaced h-panel which is very intuitive with minimalistic icons. The Hostinger's hPanel is a beautifully designed custom version of cPanel.
Lastly, while new small business owners and entrepreneurs will be happy to immediately host their website as the Hostinger's introductory price is just $0.99, however, if you want to get a FREE domain name which I recommend then you are as good as hosting your site at just $2.85/month.
How to Save 90% Cost for Hostinger Sign up:
Plan: Single Shared Hosting at $0.99/month
Term: 48 months
Savings: $432
Total cost at checkout: $47.52
How to Host your Website with Hostinger ($.099/month)
Visit

Hostinger.com

and click get started.
Choose your hosting plan – the best savings are with the $0.99/month plan for 48 months.
Enter your email and password to create your account.
Choose either WordPress or build your site.
Edit and publish your site.
Host on Hostinger at $0,99 only
With this, we conclude our top-ranked cheap best shared web hosting services for small business & blog owners. Let's go now to see the other ranked best managed hosting services for your blog growth.
The following hosting services are good for #1. Premium Business owners #3. Good for growing websites #3. Simplest hosting services for non-techie people/business owners #4. Premium services at its best.
Top 3 Ranked Best Managed Web Hosting Services For Small Business & Blog Owners
What is the difference between the above 2 recommended shared hosting services and the managed ones?
#1. Total Website Management for Business Owners
The following web hosting services are called managed because you do not have to do anything about your site.
After your hosting fee payment, you freely hand-over everything about the management of your site to them while you focus on publishing content and the growth of your business.
That is to say, everything about integrations, tweaking, setting up speed, and more are handled by the company.
If you look closely you will discover that they are a bit pricy-but affordable because you do not have to manage your site – all have been done for you.

#2. Highly Traffic Sites
In case you want to use the premium services of the managed host, no problem, however, apart from the total site management, if I wanted a transfer my growing business website of about 80,000-100,000+/month visits to another host, I would have gladly done that with any of the following web hosting service.
#3. The Web Hosting Company for Non-Teachie Small Business Owners
Apart from the first two benefits, the following hosting websites are the best web hosting companies I would recommend for the small business website of my mom cause I do not want her to get worried about any shadow effects on her website.
With the Cloudways, Flywheel, and Kinsta, it is zero concern for your business site and a total premium service delivery at the best prices.
With this in mind, let me kick-start with the cheapest amongst them to host your small business website.
By the most recommendation, it goes like this: Kinsta, Cloudways, and Flywheel. But with pricing, Cloudways, Flywheel, and Kinsta.
1. CLOUDWAYS
With the ability to scale and clone sites yourself and install SSL certificates effortlessly, Cloudways is for moms & dads, and business owners that have little or no technical brain or whatsoever knowledge about the back end of any website management.
Coming in as the cheapest amongst the 3 managed web hosting services for small businesses, Cloudways is my #1 place to host your website wholly.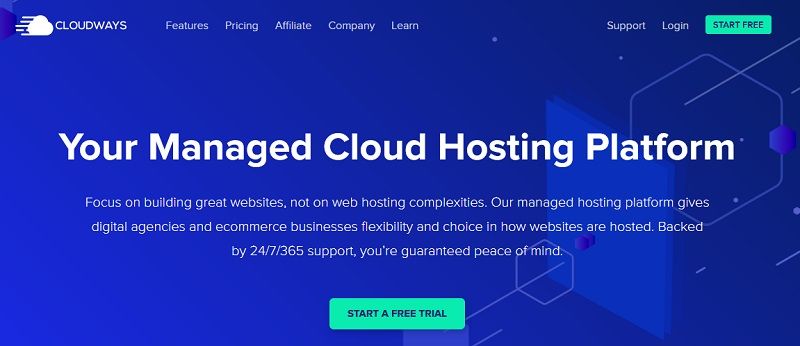 Just as the name implies, Cloudways is hosted on the cloud. A web syntax built for speed and simplicity.
Unlike the shared web hosting plan services as reviewed above (HostGator and Hostinger), cloud servers give you more freedom and resources, which can help with speed and stability.
When you host your business site on Cloudways, you get for FREE SSL, SSH and SFTP Access, get also the latest PHP versions and Apache and Nginx as web servers, MySQL, and MariaDB as databases.
On top of that, the CloudwaysCDN is a blockbuster service that improves your server response times and delivers superior performance with an expert 24/7/365 problem-solving customer service for you.
Lastly, if you want to move your website to Cloudways you can click here which will be done for FREE (without breaking your live website hosted on the old host), so you don't have to worry about migration complexities & technicalities.
The most interesting thing about this is that none of the above technical languages concerns you. Ooooh! Yeah.
With its introductory plan at $ 10/mo – which is the cheapest, if you are READY to host your business site now with Cloudways, click here now and get all the benefits for free.
How to Host your Website with Cloudways ($10/month)
Visit

Cloudways.

com.
Choose your hosting plan – the best savings are with the $10/month plan.
Click on "START FREE"
Enter your email and password to create your account.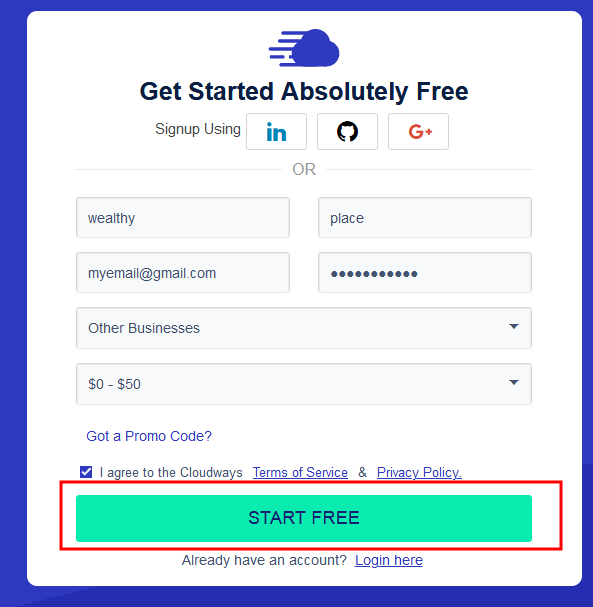 Make Payment.
Choose either WordPress or build your site.
Edit and publish your site.
Start a Free Hosting TRIAL on Cloudways
2. FLYWHEEL

If I was to be biased I would keep flywheel as my number #1 best managed web hosting service – due to the friendship we have with the company.
Nevertheless, standing at #2 is not too bad considering the fact that you (reader) are our consideration first. So what has Flywheel got for small business owners/bloggers?
Whether you have 100+ business sites or a critical-business project, Flywheel will support you as far as managed web hosting is concerned.
The preamble is that Flywheel is a solid hosting company for managed WordPress hosting.
Its intuitive and easy to use interface combined with extras such as backups, staging, and ability to add free SSL certificates, multisite compatibility and optional CDN are some of the staggering qualities that has drawn thousands to her services.
As one who has been privileged to get a feel of Flywheel's dashboards, I can gladly say that my mom will be happy to migrate all her business websites to Flywheel.
With Flywheel, you get a custom control panel. Instead of relying on clunky cPanel, they've built her own beautiful, intuitive dashboard to total beginners.
The amazing thing is that you can get started all for FREE. Click here to see the demo of how your website will look like.
Apart from the above, or the fact that any non-techie business owner will be happy with the simplicity of working with Flywheel, the company has done so much more than a hosting company.
From billing transfer to collaboration tools, they have a suite of fantastic benefits that are designed to make you and your business happier.
And to think that you also get a FREE migration + a TON of workflow tools for agencies, designers, and developers (all sets of business owners) makes the deal more exciting
With its least plan at $15/mo you can manage your small online business that has 5,000 monthly visits.
Get started for Free on Flywheel
How to Host your Website with Flywheel ($15/month)
Visit

Flywheel.com.

Choose your hosting plan – the best savings are with the $15/month plan.
Click on "GET STARTED"
Enter your email and password to create your account.
Make Payment.
Choose either WordPress or build your site.
Edit and publish your site.
Or
See a demo of your business site
3. KINSTA
(The Hero of Highly Premium + Trafficked Sites)
Kinsta is for sure a true version of iPhone X11 for small businesses as you get Premium WordPress hosting services. But don't let the X11 scare you away.
With Kinsta, you can get started even if today is your first day online – they've got affordable hosting plans for newbies entrepreneurs, bloggers, freelancers, and small business owners.
One of the staff at Intercom once said,
"With Kinsta's professional support we sleep safely at night".
There is no lie in that because with the up to date blazing fast servers used at Kinsta, you can only focus on serving your customers better than ever before!
Like the other 2, Kinsta is a five-star+ rating managed web hosting services companies FOR THOSE who can afford true premium service.
Just as we expect more from someone when much is given, the same thing goes with Kinsta. If you go with her services then you are getting TOTAL & UNAPOLOGETIC standard service for your online business.
With the ability to boost your WordPress site's speed up to 200% just by moving to Kinsta, your business MUST gain a new height by force. But how is this possible? Here is it.
Kinsta was the very first managed WordPress host to utilize Google Cloud Platform (GCP) exclusively, and thereby keeping a close eye on Google Cloud's newly released infrastructure.
And if you are moving or hosting today on Kinta, your business will enjoy the GCP's next-generation compute-optimized virtual machines (C2).
Considering the Kinsta hosting plans, every plan you sign up for at Kinsta features resource isolation, auto-scaling, and is optimized for high-performance.
Note (resource isolation – is so important for uninterrupted speed).
And when it comes to the security of your online business here is what Kinsta does. Kinsta takes security very seriously. They implement active and passive measures to stop attacks and malicious intent in its tracks. That is not all.
They monitor your sites every minute for uptime, detect DDoS attacks as they happen and proactively stop malicious code from entering our network.
And lastly, unlike other hosting companies, with Kinsta, your site can NEVER, EVER go off when your blog grows for your hosting package or traffic surges. How is that? There is a special Kinsta benefit called Auto-scaling.
Auto-scaling essentially means that its infrastructure is ready to handle your sudden surges in traffic and load. Here is the measurement.
"If you reach your plan's visits limit, Kinsta will keep your sites running but charge you a fee of only $1/1,000 visits after a specific number of additional visits. So, nothing like downtime or whatsoever.
Verily, you can see why Kinsta is the best in the market and why they command the authority in price and everything.
With Kinsta, you can host your small business site with their least introductory hosting package which is $30 monthly.
Take nothing away from it, having built up to 4 business websites now, my personal development website, gracefully, will be built on Kinsta so that I do not need to work on anything from the backend like speed, scaling performance and etc.
Again, while I use many WordPress plugins to get good performance for my current sites, with Kinsta, all the features you would have needed are custom built and automatically installed on your hosting package.
Now you see why its least plan is $30. Sincerely, it is for those that want to launch a site and never worry about any epileptic performances.
I did say that we will give support if you go with HostGator, with Kinsta, believe me, you won't need our supports because I am 98.9% confident in their service. Think I'm joking? Nope.
You can try them out for 30 days and see what I mean. Click here to try Kinsta for 30 days.
If at the end of 30 days you and your business site are not swept under your fit, then I joked with your business growth. Please kindly ask for a refund.
Yes, you will get your money back, and I will delete KINSTA from my review page – I don't want any disappointment for my reader's businesses.
Want to join the likes of Trustpilot, Intercom, G2 crowd and a host of other small, medium and large businesses to FOCUS solely on your business growth, while Kinsta does the dirty work at the end?
If yes, then you need Kinsta. I cannot recommend Kinsta more.
Click here to sign up and start your online business site without borders or move your site for free to Kinsta.
How to Save Cost for Kinsta Sign up:
Plan: Starter (Annual) at $30/month
Term: 12 months
Savings: $60
Total cost at checkout: $300
Host For 99% Performance on Kinsta
How to Host your Website with Kinsta ($30/month)
Choose your hosting plan – (start with the STARTER PLAN) which is a $30/month plan.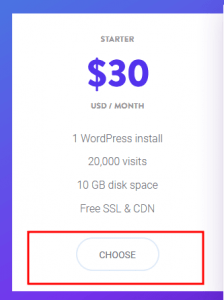 Click on "CHOOSE"
Enter your email and password to create your account.
Make Payment.
Choose either WordPress or build your site.
Edit and publish your site-LIVE.
or
How to Start a Blog with Kinsta in 2020
Top Web Hosting Comparison & Review, in Summary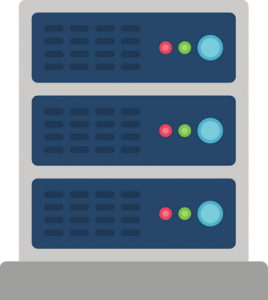 If there is anything so important, it is the web hosting company you use for your business. I lost my thriving online business due to a frustrating hosting company (the success I couldn't replicate for over 2 years again), so I know what it means.
At IsuaWealthyPlace, our aim to replicate the wealthiness in our writings, results, and recommendations, hence the reason for the top 5 ranked cheap best web hosting for small business & blog owners.
There are absolutely no doubts that you can't go wrong choosing any of the featured platforms offering the best hosting for small businesses here.
They are all more than capable of serving any business and also leave a lot of room for growth, most especially the managed web hosting services.
The best approach you want to take is to always look into the individual features and parameters of each of these hosts, and pick the one that really looks like it's been tailor-made to fit both your client's needs and yours.
Without having a second thought, if you want to go with the shared hosting services – HostGator or Hostinger, then I recommend HostGator first, and if with managed hosting then I recommend Super Kinsta.
Nevertheless, if you can't start the premium package at $30 with Kinsta which is TOTALLY worth it, then go with the cheapest – Cloudways or Flywheel where optimum speed is also guaranteed.
And note, we support every one of the recommendations made on this list because I know what losing a thriving online business means.
Therefore, at any point in time you need our help you can always talk to us as we have direct communication with some of the listed companies; all for your good.
Super Cheap Hosting Services
When choosing a website hosting provider you want to focus on security, reliability, speed, and technical support. I hope this review guide gave you some context around which hosting companies fit your exact situation.
HostGator
(most recommended) – host at $2.75/month with a free business domain name.
Hostinger

– host at $2.85/month with a free business domain name. Or, at $.099 without a domain name