As we already know, the UBA Prepaid cards are funded directly by cardholders which nullifies the need for you to have a formal bank account.
It is a multi-purpose card that provides customers with easy access to cash through ATMs and purchases at merchant outlets as well as web transactions.
How long Does it take to get a UBA Dollar Prepaid Card in Nigeria?
It takes 45 minutes to 2 hours to get an Afri Dollar Card from UBA once your request has been approved. But you can get it in 1-2 business days if the bank is out of card prints.
It's also worth noting that the UBA Prepaid Cards (either Naira or Dollar denominations) are free and you don't need to be a UBA customer to get the Card, hence, the instant approval of your request after filling in your details on the form.
But How Long Does it take to Get a UBA Africard Replacement?
Getting a replacement for the Prepaid Dollar Card from UBA takes 1 business day, and if it's a sensitive case (related to crime) may take up to 2-3 business days or you won't be issued a new one again!
But as long as you used your Card rightfully, and it got stolen or you lost it, a new Card will be printed for you in a matter of hours after the first is blocked.
UBA Prepaid Dollar Card Approval Time frame Summary

New UBA Afri Dollar Card: 45 minutes to 2 hours after request approval by the bank. 

Replacement of Prepaid Dollar Card: 1 business day (2 or more if the case of replacement is sensitive).
The UBA Prepaid Card approval and issuance timeframes are pretty standard. The fastest way to get a UBA Prepaid card in your hands is by applying offline – that is walking into any nearby UBA banking hall and requesting one. 
What are the Requirements to get a New UBA Dollar Prepaid AfriCard?
The following are the documents you need to go to the bank with for the prepaid card enrollment:
1 Passport Photo
ID card (international passport, voters' card, or NIN slip)
Utility Bill (either water or electricity bill).
Bank Verification Number (BVN).
How to Get the UBA Dollar Prepaid Card from the Bank in Nigeria

Follow the steps below to get your UBA Prepaid Card from anywhere in Nigeria:
Walk into any UBA Bank branch near you.
Request for the Prepaid Card form and enrollment.
Select the USD card and fill in the other details.
Wait and get the issued Afri Visa card.
Fund and activate it for usage. 
How to Withdraw from UBA Dollar Prepaid Card Online/Offline
How To Get A UBA Prepaid Card Online
To get the UBA Afri Prepaid Card online, go to ubagroup.com.Prepaid cards, download the form, fill it and take it to any UBA Branch close to you for the physical card collection – since it is not a Virtual Card.
To apply online, click here to download the form or click here to go to the UBA forms portal.
After getting the Prepaid Card, the next step is to fund and activate it.
FAQ
Can I get the UBA Prepaid Card 100% Online?
No, you can't because digitalization is not 100% perfect yet as you will still need to go to the bank and pick up the physical card unless you want a special delivery via a courier service. 
If the latter, then write to the UBA Prepaid Card team at +23412808822 or email them at cfc@ubagroup.com. 
What are the Requirements to get a UBA Dollar Prepaid AfriCard Replacement?
If your Africard gets stolen or misplaced, you will need to supply your customer ID for the former Card to be blocked, your National ID and BVN for validation, and a new Card will be printed for you. 
Note, if you have any funds remaining on your Prepaid Card balance, first of all, move it out before requesting a new one. 
Thinking of where to move or exchange your Africard Dollar Card Funds? Search no more. How?
Click here to Swiftly move your Prepaid USD funds to fnfSwap for exchange at the best market rate. 
How do I Operate my Prepaid Card Account?
Once you get your UBA Prepaid Dollar Card from the bank, simply fund the card and change the pin at the ATM to activate it.
When done, go to gtpsecurecard.com and create a card account and start using the Card.
How Can I Get UBA Prepaid Card?
Go to the bank with your documents including an ID card, passport photograph, BVN, and Utility Bill (Nepa or Water bill)
Further Guides on the UBA Prepaid Cards.
---
Want to Load or Swap UBA Prepaid Card Funds? Get Done Instantly

Load AfriCard

If you want to fund your card, click here to Load with fnfSwap [lesser than the Black-Market Rate]

Swap Funds

Request to Swap AfriCard Funds online & get Naira in less than 15 minutes.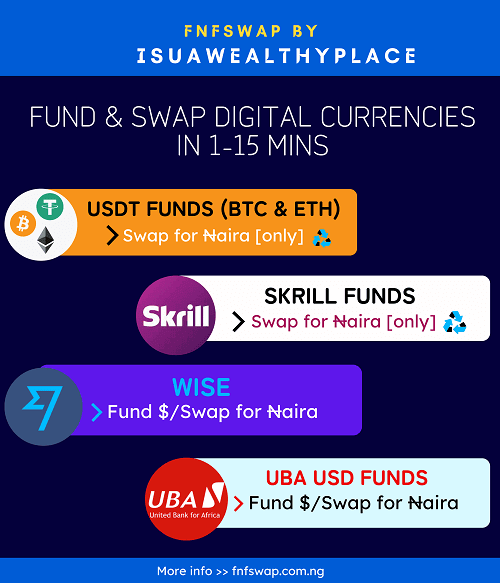 About fnfSwap

FnfSwap helps Swap Freelance PayPal Sourced Funds for Naira. Fund & Swap UBA Dollar AfriCard, Fund Wallet Africa & Wise Balance, and Swap USDT for Naira.

They fund AfriCard at rates and exchange at a high best rate as well. FnfSwap is committed to helping freelancers/digital experts transact flawlessly.

Learn what others are saying about us on Trustpilot, or visit us at https://fnfswap.com.ng/ . If you have any questions, send us an email at hello@fnfswap.com.ng | fnfswapgo@gmail.com
---