It's easy to check your UBA Prepaid Card Balance, as long as you have your email account linked to the account or you have an active AfriCard Card Portal account.
Before you think of checking your balance, make sure that you've funded the card and also activated it, without that, you can't view any balance.
To proceed, make sure you understand the types of UBA Prepaid Cards we have and how to withdraw from PayPal. Let's get started.
Ways to Checkup your UBA Afri Prepaid Balance
There are 3 ways to check your Card Balance. You can check using your AfriCard Card Portal account, Email, and the UBA mobile app.
Of the 3 ways, the most reliable ways are via your Card Portal and Email/phone number linked to your card account.
And while the mobile application is okay, it is not 100% functional to review both your Naira and Dollar Prepaid Card Accounts (the app flops big time).
How To Check My Uba Prepaid Card Balance Fast Online
To check your UBA Prepaid Card balance, log into your gtpsecuredcard account. 
Enter your Customer ID and Passcode.
You'll find your UBA Prepaid Card balance in the top margin dashboard of your main account page on the website. 
How To Check UBA Prepaid Card Balance via Email or SMS
To check your Card Balance via email or SMS, check out the last incoming fund's email or SMS notification you received from UBA linked to your Card account. There you will see your balance shown.
How to Check UBA Prepaid Card Balance via Mobile App
To easily check your UBA Naira Card Balance, you can download the UBA mobile app and activate it, when you log in, you will see your balance placed on the dashboard.
Wait a minute!!!

Have Prepaid Card FUND for Naira Exchange? Click Here to Swap Your Prepaid Card Funds At over ₦700/$
---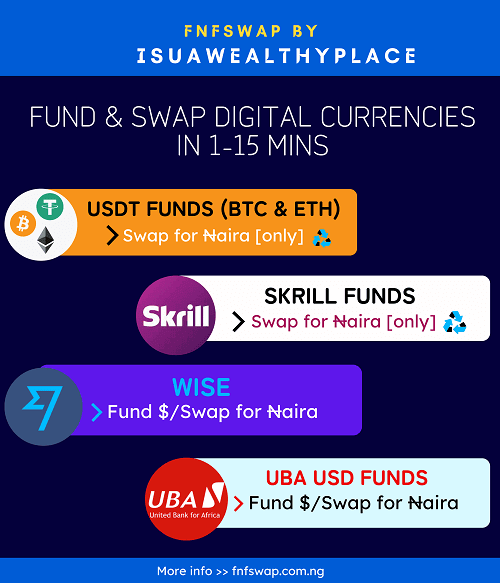 ---
How to Create A UBA Prepaid Card Account to Check Balance Online
Please, if you don't have a UBA Prepaid Card portal account already, follow the steps below to get it today to enable checking your funds' balance.
Sign up by going to gtpsecurecard.com (the card portal).
Click on Set up New Account and Enter your client ID and web code as on the paper attached to your card when you received it from the bank.
Enter the code sent to your phone and get a success notification.
Select preferred security questions.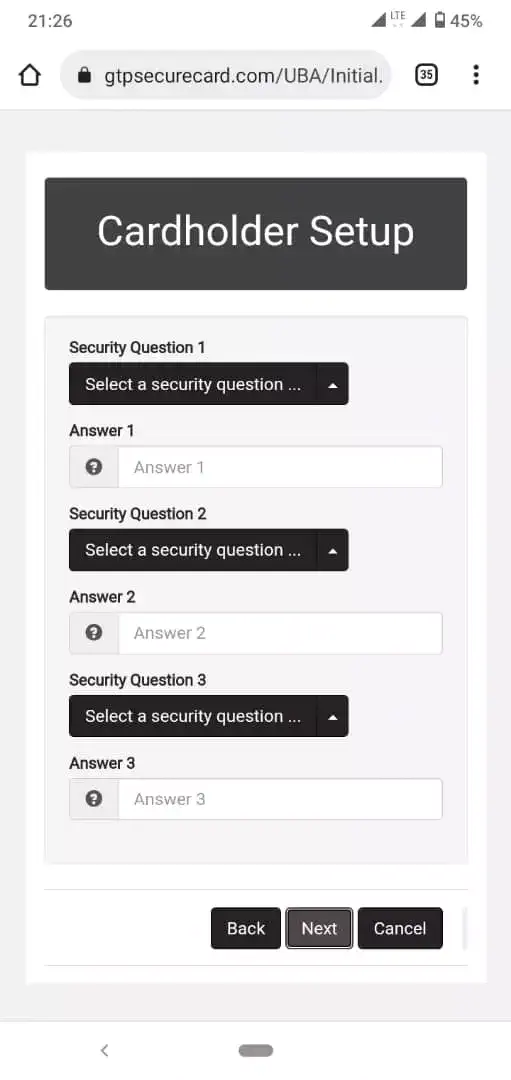 Set up your cardholder account by selecting your preferred username (must be at least 6 characters long), password (must have at least 8 characters), email address, and phone number.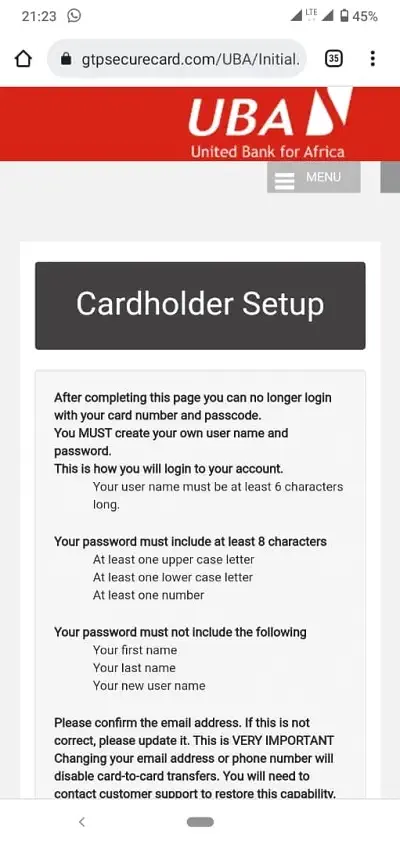 Finalize the setup by entering the code sent to your phone number. 
Sign into your account and manage the options there.
Having signed up, sign in and you will see your money balance on the dashboard.
Additional FAQs
Can I Create Multiple Prepaid Card Accounts?
No, you can't. Each customer is entitled to only 2 Prepaid Card accounts, that is one for the Naira account and the other for the USD Denominated account.
What is Prepaid Card?
The UBA Prepaid Card is an independent debit card that is not connected to any bank account and is free to get for international transactions such as funding digital platforms, shopping online, paying for subscriptions, and transacting with PayPal. 
Your Prepaid Card Experience
Checking your Prepaid Card balance is probably the easiest thing to do as a UBA Prepaid Cardholder. It works pretty much the same across all devices. As long as you enter your credentials and log in, you will be able to see your balance immediately.
What's the Best UBA Prepaid Card for PayPal?
The best and recommended UBA Prepaid Card for PayPal withdrawal is the USD or Dollar denominated Card because you get a better PayPal to Naira exchange rate of over ₦600/$ as compared to the Naira variant where you get the funds directly to your bank account at the local bank rate of about ₦428/$. 
Also, with the USD Prepaid Card, you get your funds instantly using fnfSwap, but with the Naira variant, the bank might take up to 2+ days to process the funds to Naira before hitting your account. 
With the UBA USD Prepaid Card, you can easily transfer funds from one user to the other. 
Wrapping up.
Have you managed to make things work on your Prepaid Card, or having the challenge of withdrawing your funds from PayPal? If yes, ask any questions in the comment section.
And if you've to a UBA Dollar Prepaid Card fund, see below.
Click Here to Exchange Your Prepaid Card Funds at over ₦700/$