Are you asking, how do I fund my TransferWise account or deposit cash into a TransferWise account? 
If yes, ask no more because this guide will show you how to fund the TransferWise account in Nigeria without going to the bank, all done online. Great, right? Yeah.
Going forward, you will learn how to find your TransferWise account number, how to transfer money to the TransferWise account, how to activate the Wise account and how you can add the TransferWise account to your PayPal account without issues.
But What is and How Does 

TransferWise 

Work?
First off, I recommend you check out everything you need to know about the Wise (former TransferWise) account here.
Now, Wise is a payment website or platform with multi-currency accounts that make international money transfers cheap, fair, and simple for users.
For Freelancers, Wise offers foreign virtual bank accounts to receive digital and freelance funds from clients or family & friends abroad, and also allows integration to and funds transfers from PayPal, and lastly, has a good Naira to Dollar exchange rate value spend for your money.
For the TransferWise Personal Account – which is available to Nigerians, there is a daily transfer limit of $1,000,000, and an annual limit of $5,000,000.
Requirements To Fund a TransferWise Account in Nigeria
Before you deposit cash into your Wise account, the following conditions must be met.
You must create your Wise Account.

You must verify your email address and profile info.

Enable receiving money via Email Address and Contacts on your account.
[Note – when you verify your profile info, you will get this same info below]
How To Open TransferWise Account in Nigeria
To begin with, before you create a Wise account, you must be at least 18 years old and have a valid government-issued photo ID. For Nigerians, the 2 recommenced ID cards are International Passport and a driver's License.
(Additionally, if you have the National ID in hard copy form, you can still provide it to Wise if it will be accepted, but NIN is not accepted at all).
Follow the steps below to open a TransferWise account in Nigeria. Alternatively, here is the full guide on how to open a new account, verify and link it to PayPal.
Select "Personal Account" – this is the account open to Nigerians

Choose your Country of Primary Residence.

Verify your phone number with a code.

Verify your email address.

Access your Wise Account.
Let's talk about depositing and funding your amount for activation and full usage.  
To fund your TransferWise account, you must switch on the "receive funds from Contacts option".
To do that, go into your WISE Account.

Go down to settings, and go to Contacts on Wise".
Go ahead and turn the 

Email 

and 

Phone Number

 buttons on.
With this option switched on, it means, anyone can help deposit cash into your TransferWise account for funding.
How Do I Fund My TransferWise Account?
Currently, TransferWise accepts funding and deposits from foreign Credit Cards (non-Nigerian cards) and transfers via Wise email address from another account owner/user.
Note: the initial deposit requirement by TransferWise for account verification is $20 only.
For me, I always reckon you fund more than that a bit. Let's say, $21 or $23 thereabout.
Why a little above $20? 
Nothing special, but an initial deposit above the required $20 informs the platform of your long-term goal of being a customer.  
All right, let's see how to deposit the first default cash of $20 for verification.
1. Fund TransferWise Using fnfSwap
Step 1: Verify your Profile info – if you did not. (Check your email account for the link)
Step 2: Enable receiving payments via email and contacts from your profile
Step 3. Contact fnfSwap and make Naira Deposit.
Step 4: Drop your TransferWise email address.
Step 5: Get your account funded in 15-45 minutes
That's all.
Now, go ahead and provide your National ID for verification. When you do, you will get an acknowledgment from the Wise Team.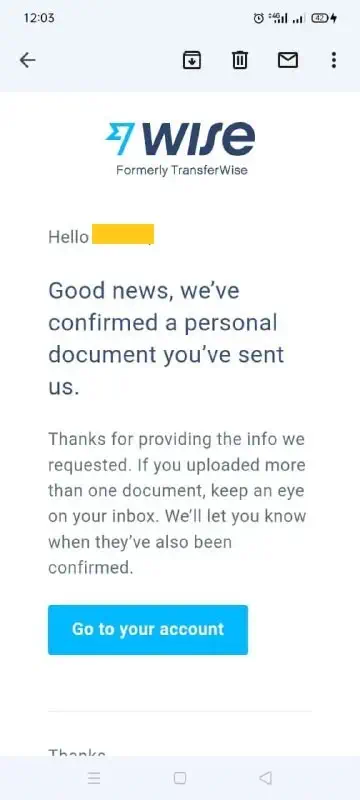 Kindly note that the funding AMOUNT of your Wise account by fnfSwap is more than $20.
You will get up to $21 or with some fractions. And the cost of service is cut short from ₦25,000 to ₦23,000 only (with the exchange rate and transaction fees factored in).
So, you get to pay only ₦23,000 and get more than the default $20 deposited into your Wise account.
Click here to Contact FnfSwap by IsuaWealthyPlace for Wise funding. 
2. Fund with Foreign Credit Cards
Another way to deposit funds into your TransferWise is to use any USD currency Credit or Debit Card that is not issued in Nigeria. Examples of such cards are from Skrill, Payoneer, Pyypl, etc.
If any of these cards are handy, log into your account and click on "deposit funds", and follow the prompts to do the same.
The Con of using Foreign Credit Cards
 Now, if you are using this method, you will have to create individual accounts on the mentioned platforms (Payoneer, Skrill, or Pyypl, verify the account, and fund it to enable using a credit or debit card for the funding process).
So, it is almost like the same procedure of funding for Wise.
3. Fund via Family and Friends
Now, if you have any loved one that has a TransferWise account, he or she can help you deposit $20 for the funding process. But to use this route, kindly make sure you would have clicked on "Receive Money from Contacts" – so you can be found on their contact list.
The BIG question 🙋 is – Can you Fund a Wise Account from PayPal or Nigerian Cards?
For PayPal funding, you cannot fund from it. Why?
It is because you first of all have to verify your TransferWise account to generate bank account details to enable linking to PayPal for the movement of funds.
For Nigerian Cards funding, at the moment, Wise does not accept cards from Nigeria including the UBA Dollar Card, Chipper-Cash card, Bartercard, and the like.
However, if you have a Domiciliary account Card, you can try this if it will work out as I have not tried it before.
Overly, the BEST, TIME FACTOR, and EASIEST way to deposit the initial $20 cash into your TransferWise account is to work with fnfSwap.
Note – you can fund more than $20 with fnfSwap if you need more. Just talk to them.
Click here to Contact FnfSwap by IsuaWealthyPlace for funding.
Providing TransferWise Verification Documents after Funding
Going forward, after the funding process, you will be asked to provide your ID information and take a face photo of yourself. Go ahead and provide these details, submit, and finally wait for the verification result.
When received and fully verified, you will be given the option to click and get your USD Bank account.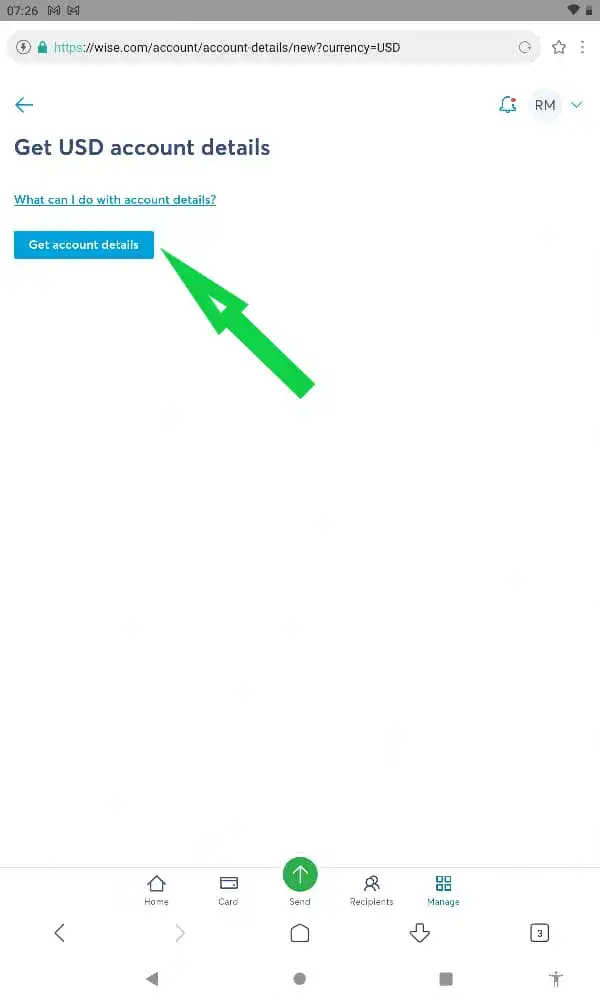 With this, you are fully ready to use your TransferWise account.
By the way, how do you find your TransferWise account number/details after funding? Let's discuss this.
How To Find TransferWise Account in Nigeria
Login to your account

Go down to Balances and Click the USD option.
Get your USD account details such as – account holder, Routing Number, Account Number, Account Type, and Wise's Address.
Copy your account details. Go ahead and click on the "Copy Details" to save it for future use.
That is how to find your TransferWise account details in Nigeria. Let's move to PayPal-Wise linking before we close.
Can I add TransferWise Account to PayPal?
In case you are asking if it is possible to add a TransferWise account to PayPal, the simple answer is yes. And how do you do this? Also, simple. See below.
Log into your PayPal account and go to "Pay & Get Paid. Then select Banks & Cards.
Go to Link a new Bank and Click on Add a New Bank Account.
Copy your details and add as provided on Wise.com

Select Personal or Business. And lastly, click on "

Agree and Link Bank

".

Confirm PayPal Deposits

Enter the EXACT Deposits on PayPal 

Get Status Confirmation

 – Account status will turn to "Confirmed". 

Finally, get 

PayPal Confirmation via email. 
To see the full image-depicted guide on Wise to PayPal linking, click here to go to the section. 
How Can You add TransferWise to Payoneer?

Like PayPal, you can easily copy your TransferWise Account details and add them to Payoneer to enable the withdrawal of funds.
This is even an advantage for new Payoneer users as most Nigerian banks do not allow or encourage withdrawing from Payoneer to Bank accounts anymore.  
If you do not have a Payoneer account, you can create one by clicking here and getting FREE $25.
When you click the link above, you will land on the page as shown below.
[Click on "Sign up and earn $25]
Verify your account by clicking on the link sent to your email address.  

Log into your Payoneer Account.

Go to "Withdraw & Transfer, and click on "Manage bank account
Click on Add bank account.

 

Enter bank details – select Personal, Bank Country – US, currency.
Enter other account details and Confirm Payoneer account details.

Wait for Account Approval and Get your Wise account added to Payoneer.
With this, you can move your Funds from Payoneer to Wise and get them exchanged at a higher Naira to USD rate.
>> Click here to ask questions on Wise to Payoneer-or-Wise to PayPal linking and withdrawals.

Frequently Asked Questions on TransferWise in Nigeria
I know you didn't ask for linking Wise to Payoneer, but just add to give it to you. Now, let's answer some frequently asked questions about TransferWise transactions in Nigeria.
What is a TransferWise account?
A TransferWise account is a foreign virtual bank account generated to receive payments and funds from clients and loves ones abroad.
What Is My Transferwise Account Number?
First off, you need to check out if buying a Wise account is acceptable, if yes, you can search for account owners on Nairaland and purchase from them. But then, be careful of scammers – they are everywhere on that platform.
Kindly note that – as an account seller – it is risky to sell a verified account to someone else because you will be traced if the account is used for suspicious activities.
Therefore, I recommend, if you want to sell a Wise account, check Wise Terms and Conditions, and if allowed, then only sell UNVERIFIED ACCOUNTS.
What To Do If Your Transferwise Account Was Deactivated
To start with, try logging into your account and you will meet the account deactivated by Wise.
Go ahead and follow the prompt by clicking " Read more in our Help Centre." and provide your details and reasons for re-activation.
After submission and with no response after 14 days, you can contact Wise on social media platforms – the Twitter handle is the most effective.
To contact them, you have to, first of all, follow the page so you can send them a DM.
Please, always contact – only the Verified Wise Twitter account which is @Wise with a blue tick ✅. 
Also, you will see "OFFICIAL" depicted. 
Notice that there is a fake Wise Twitter account handle as seen below
The only page to contact Wise on Twitter is via https://twitter.com/Wise
Why Is My Transferwise Account Deactivated?
There are several reasons for the Wise deactivation of accounts. One of them is transferring money or funding an account that was banned but re-activated on Wise. Others include receiving suspicious funds or other factors against their Terms and Conditions.
How To Reactivate Transferwise Account
Provide Wise with all the information required from you such as your photo and ID snapped together, and info about your account transactions. When done, wait for them to confirm and reply with reactivation steps or what is next.

How to Download the TransferWise Mobile App
Got any questions? Let's hear it below.