A lot of people have been asking if it's possible to connect or link a PayPal account to a Prepaid Card. The answer is Yes. 
And while I'm not certain about other prepaid cards in Nigeria, for the UBA Afri Prepaid Card, I've personally linked both the Naira and Dollar denominated cards to my PayPal successfully (even 14 days ago as of the time of publishing).
Talking about the UBA Prepaid Card, the cards are independent debit cards you can load, use, reload and use for both local and international transactions. 
Differences between UBA Naira & USD Dollar Prepaid Cards
There are two types of UBA AFRI cards; the Dollar-USD and the Naira variant. They both serve the same purpose and work the same way – the only difference is the currency denomination. 
While the Naira-denominated spending limit is $20 per month on international platforms and over N400,000 a month on local platforms, the USD-denominated spend is at $10,000 max per 3 months. 
➡ Check out the UBA Africard Limit here.
Also, any of these cards are free and you do not need to have an account with UBA to get it. Just walk into any UBA bank, request the card, enter your details and get the card issued. 
Most importantly, with the Naira UBA Afri card linked to PayPal, when you withdraw from PayPal, your funds enter your Nigerian bank account directly after processing it at the local bank exchange rate of about ₦418/$- ₦420/$.
Processing time can take from 1-2 days or more.
However, if you go for the USD Prepaid variant Card, when linked to PayPal and funds are withdrawn, you get a higher and better exchange rate as compared to the former – at over ₦640/$.
You get funded instantly in Naira by fnfSwap.
For the fnfswap clients, the best UBA Afri Prepaid Card we've been using is the USD denominated.
Therefore, when you go to the bank, request the UBA Dollar Prepaid Card.  
The Benefits of Connecting your UBA Prepaid Card to PayPal
1. Funds Withdrawal from PayPal
By linking your PayPal account to your UBA Visa Prepaid Card, you can move your funds to the account and either spend online for items or exchange it at either the local bank rate if the Naira variant and a higher-up and better exchange rate of more than ₦600, if with the USD variant card. 
2. Payment for Online Services
By linking your PayPal account to your UBA Visa Prepaid Card, you can pay for your online purchases and send quick and convenient international money transfers without entering your card or account information each time.
3. You Add Authenticity to your PayPal
When once your Prepaid Card is linked to your PayPal account, more limits on your account are lifted and you can transact flawlessly. 
The List of Best PayPal Account Countries to Withdraw Funds to UBA Prepaid Card
Kindly note that while you can link your prepaid card to literally all PayPal accounts, not all PayPal countries allow or enable withdrawal from your card. 
In that case, below are the top PayPal countries you can easily withdraw funds to your Afri card in Nigeria. 
Lesotho Business PayPal
UAE Business PayPal
Senegalese Business PayPal
Serbian Business PayPal. 
Nigerian Business Account PayPal
Iceland Business PayPal 
Later on, I will show you how to verify your PayPal Account country.
What Happens if I fail to confirm my Prepaid Card before Activation?
Kindly make sure that you follow the required steps to activate and validate your UBA Prepaid Card before linking to PayPal, else, if it fails 5 times or you enter your card code incorrectly five times, your card will be disabled from the PayPal system.
The resultant effect here is that you will need to contact PayPal customer service for the card to be reset.
On a lighter note, you will receive a notification that the card is declined.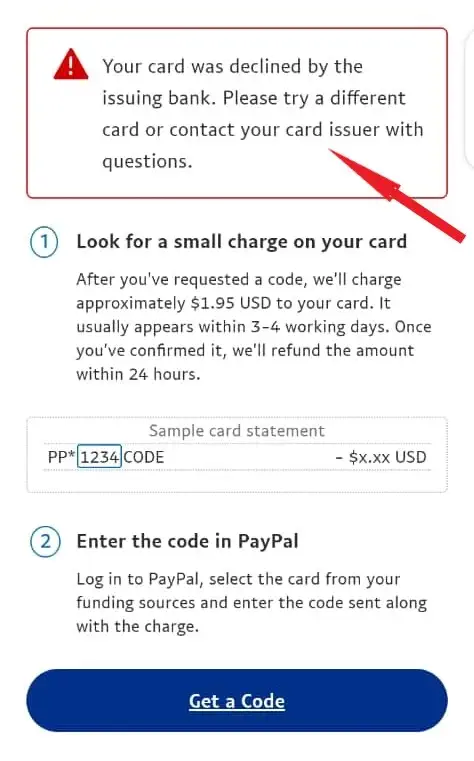 If you don't see the one above, you will see the one below.
All in all, fund, and activate it before linking because contacting PayPal is not always a sweet spot to be. 
How Do I Link My PayPal Account to My UBA Prepaid Card?
Follow the steps below to get it done.
1. Fund & Activate your Prepaid Card
As already stated above, the first step before you think of linking your Prepaid Card to PayPal is to, first of all, fund the card and change the pin at the ATM point to activate it.
For the Naira prepaid card, fund it with at least ₦2,000, and the USD with at least $7-$10.
As already explained, if you ignore it and go ahead to link it, you will get a prompt by PayPal that your card is not endorsed or declined by the issuing bank.
2. Log in to your PayPal Account & click wallet
Log in to your PayPal account with your email address and password. Then click on " Wallet" near the top of the page.
Alternatively, click on "Pay & Get Paid" > then click on Bank & Cards.
3. Click on Link Card & Enter the details
Now, click on "Link a new card".

Go ahead and enter the card number, expiration date, CVV, and billing address. When done, click on the Link card Button.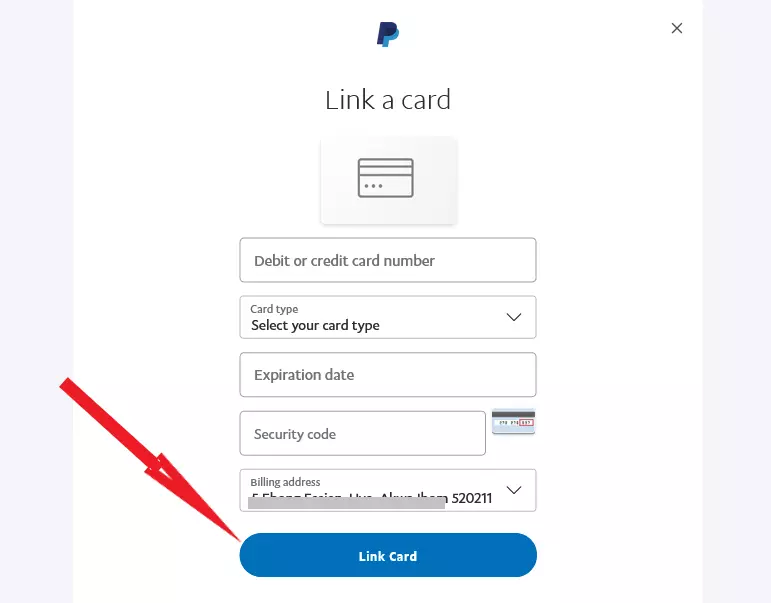 4. Confirm your Card Details
Since this is a new card, you may need to confirm your card with PayPal by requesting a PayPal code. To do this you will need to:
Log in to your account (if you're logged out already)
Click Wallet followed by the card you want to confirm.
Click the Confirm card link.
Check that the information is correct, and then click OK.
Wait for the $1.95 temporary charge to be applied to your prepaid card as notified by UBA with the code to enter.
You will see something like this: PP*9247*CODE 402933333333LU
The code you're to use is "9247". See the image below.
5. Confirm Code from Bank Account
Now, check your PayPal dashboard and click on the "confirm your card" link to validate the card connection.
---
---
Go ahead and enter the 4-digit code that appeared on your bank statement or transaction history along with the $1.95 charge from PayPal and click Confirm.
It looks like this: PP*9247*CODE 402933333333LU. Use 9247 as the confirmation code.
6. Get a Successful Linked Card Prompt Notification
After entering the code, you will get a notification that you've successfully linked your UBA Visa Prepaid Card to your PayPal account.
---
Now, you can add and withdraw money to PayPal from your card.
Should you Withdraw Immediately from PayPal After Card Connection?

From experience, PayPal bots are very strict, therefore, I recommend you allow the card linking to settle for 24-48 hrs before you move the funds out of PayPal, or else, their annoying bot might flag the process as suspicious
Alternative Debit Cards you can link to PayPal in Nigeria
Apart from the UBA prepaid cards for PayPal account linking, the following cards can be used.
First Bank Gold Card (tested)
Barter by Flutterwave (tested)
Vella Finance card (not tested).
The Best Prepaid Card to Link to PayPal in Nigeria
The best Nigerian Prepaid Card to link to PayPal to enable withdrawal and spending is the UBA Dollar USD Visa Card.
With the card, you can exchange your freelance & digital marketing earnings at over 80% above the local bank rate which is at about ₦420/$.
To exchange your Prepaid card funds at over ₦640/$, click here to see how it works, or click here to instantly exchange with fnfSwap.
---
Withdraw & Exchange your Prepaid Card Funds from Dollars to Naira bank account – Why Swap with fnfSwap?
fnfSwap is a fully registered business in Nigeria under IsuaWealthyPlace Publishers.
You get paid above the market $/₦
You get paid instantly with the company's business-to-client signature. 
You get a FREE $1 if your payment exceeds 15 mins (as of the time of sending your funds).
You get the best exchange relations customer support. 
You can exchange your funds even after the close of work at 9 pm.
You can fund your funds on weekends (Sunday inclusive).
You can exchange as low as $15.
>> Click here to exchange UBA Prepaid Card Funds for Naira with fnfSwap
Final Note
The UBA PLC has offered Nigerians a great deal by partnering and enabling the linking and withdrawal of PayPal funds to Prepaid cards so that you can easily spend your money online without entering your card or account information for each purchase. 
The interesting part of the UBA prepaid card is the fact that it is free and it's not linked to any bank account, meaning, you are free from the worry of hackers/anyone having access to your personal bank accounts. 
Going forward, you can use the cards to enroll on UBA online banking platforms to manage your account, check your balance, transfer money to other users, and more. 
And lastly, with both cards, you can transact internationally, but for the USD-denominated card, you can exchange your funds for Naira at a great market rate of over ₦600/$. 
How can I Transfer Funds from my USD Prepaid Card to another User?
First off, this is possible. To do this, simply go to gtpsecurecard.com/UBA and click create a new account if you're yet to get an account, but if you do, sign in, go to Card-to-Card transfer, enter the recipient's ID number, enter your Passcode and finally click on continue to make the funds transfer. 
Let's see more points.
FAQ about Linking the Afri Card to PayPal
How Do I Determine the PayPal Account Country?
Step 1. To verify your account, go to the login page of your PayPal web address (as on your web browser), it will be something like paypal.com/country
step 2. Look down and you will see the country's flag. See Lesotho below.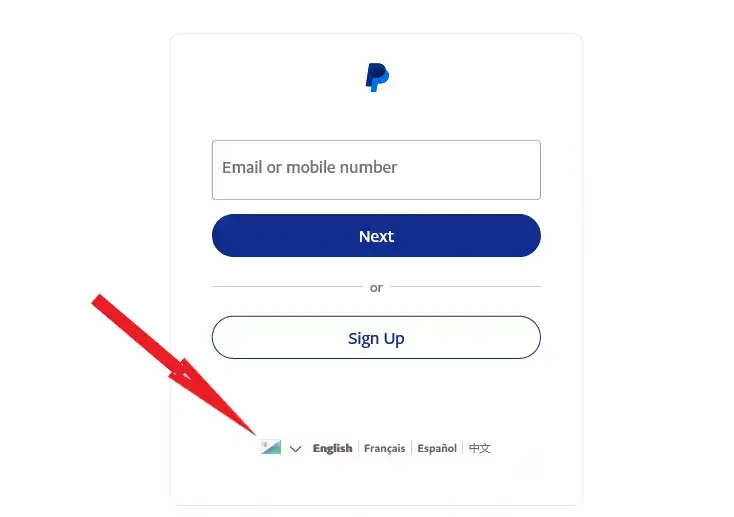 Step 3. If you don't know the PayPal country, click on the flag and you will be taken to the county's page to see it.
See a few PayPal account login pages below to see their flags to determine the accounts.
How Can I Connect my other Nigerian Cards to PayPal?
Now, should there be any other Nigerian bank cards you might want to try out, the linking process to PayPal works exactly like linking a debit card. Just follow the steps above to link your Visa or MasterCard.
Why did PayPal deny my UBA Prepaid card?
There are a few reasons your card was denied, a few are listed below:
Your card is not funded.
There are insufficient funds on the card.
Your card is not activated.
You already linked the card to another PayPal account…
You made a mistake while entering the numbers, including the card number, expiration date, and CVV.
Does it cost anything to open a PayPal account in Nigeria?
No, it is free to sign up for a PayPal account – no matter the country of interest.
Will I be charged a fee when I send funds to my Prepaid Card?
Yes, you will be charged a little fee of about 1.6% when you move funds to the card from PayPal.
Can I link my Prepaid Card to more than one PayPal account?
No, your UBA card can only be linked to one PayPal account at a time. However, you can add more than one card to the same PayPal account.
How do I change the Expiration Date of the Prepaid Card linked to my PayPal account?
To do this, Login to your PayPal account and click Wallet at the top of the page. Choose the UBA card you'd like to update, click Update card, enter the new information and click the Update card button. That's all.
Can I remove my Prepaid Card from my PayPal account?
Yes, you can. Now, if you no longer want your debit card to be linked to your PayPal account, simply follow the steps below to unlink it:
Log in to your PayPal account with your email address and password.
Click the Wallet link near the top of the page.
Click the card you'd like to remove and then click Remove card, which is near the bottom of the page.
Click Remove this card.
Comment, by experience: unless you have to remove the card from PayPal, kindly let it be so it does not trigger the PayPal bot. And if you must, after removing the card, do not transact in the next 48hrs to avoid any form of suspicion.
How does PayPal work in Nigeria?
PayPal remains one of the top online payment platforms in the world that allow you to send and receive money online from almost anywhere. 
Although it has restrictions per country (maybe for security reasons), they are widely trusted because it uses encryption software to help users send electronic money transfers to other PayPal customers, allowing you to instantly pay for purchases online and on your phone.
As a Nigerian, you can't transact 100% with a personal account opened using PayPal.com/ng, but with a business account, you can send and receive funds. 
Also, in Nigeria, the popular PayPal to UBA paid account countries are Lesotho, UAE, Senegal, Iceland, and Serbia. 
That is all.
Let me know below the comment section if you have any questions.