So you came here because you are a Nigerian looking for ways to earn some money from the internet. Hmm.
Though your nation is rich enough as the oil wealth could pass around to everyone comfortably yet you are here looking for legit ways to make money online.
Well, I share in your anguish because we saw videos posted on October 24, how a massive crowd of people surrounding a State Emergency Management Agency warehouse in Jos, and the capital of Nigeria's Plateau State.
Some broke into the building and made their way to the roof to toss bags of grains to the hundreds of people gathered below. Sad that we are where we are today in Nigeria.
Be it as it may, the confidence is before you are through on this page you would have learned all the profitable ways on how to make money online without apologies in Nigeria.
More so, we will consider how you can make money online with 100 Naira, using an app, and lastly, how to make money online in Nigeria without spending a dime.
Just before we start, here we publish daring content like the one you're about to read, see below.
Listen Up Now: Truth Is, There Are a Series of True Life Success Stories | Case Studies | Building An Authority Business Online & Beating 9-5 Jobs Lessons Coming Up. Click the notification "Pop up above the page". Also, click here to join the Community
Best Ways to Make Money Online in Nigeria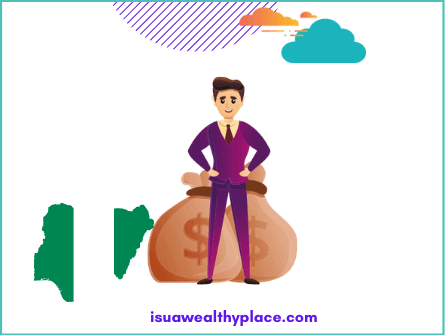 Below are series of ways to make money in Nigeria, and as a Nigerian, knowing how tough it is as far as online is concerned, I will be giving you my life-saving money-making methods so you can earn some money to your Bank account.
Let's get started.
1. Make Money Online in Nigeria Reselling Cryptocurrency
Hi there. Have you heard of cryptocurrency? I guess no. And if yes, then we are good to go.
Here is what you want to do.
Now, you will buy cryptocurrency from one crypto exchange in Nigeria and resell it to your circle/clients.
For instance, if we check a crypto exchange like Topupgold, you will discover that their cryptocurrency rates differ from others like Blockvilla, Luno, Quidax, and more.
What to do is compare the top cryptocurrency exchange crypto rates. And any of them that has the lowest rate, you buy from them and sell out to other buyers.
Alternatively, there are groups of crypto traders (buyers and sellers) on Telegram where you can buy low and sell higher to your clients.
Because this is a sensitive way to earn money online, what hundreds of Nigerians are actually using to go out of Poverty, if you want to join, I would have simply shared the link here, but I won't so as not to take it for granted?
Unlike you that will value the link if dropped, on the other side, a lot of us will not value it and will push it aside.
For that reason, if you want the link to join other traders and buy crypto low and sell high to your customers then I am giving out at a fee of N2,000.
Note. The group is FREE but the reason for not giving out free is stated.
When you get started with this money method, you will come back to thank me. Why?
Because it is not a bullshit money idea as far as Nigeria is concerned.
If you think it is a joke, just go to Nairaland and check out many advert boards about Bitcoin exchange. That alone will show you that this money idea is booming.
For instance, when I landed on https://www.nairaland.com/, here was the ad board I found.
And have you considered the cost of placing an ad on the front page? Just check out the cost from Nairaland.
On a short note, it means that the board is making the advertisers money else they wouldn't have continued with it for months, right?
Let's see another.
Going to the Investment section on Nairaland, you will see crypto ad boards.
And yet again, in the Business section.
See, I don't mean to charge us for this, but so that you will appreciate it when you join in.
Now, if this is what you want to do, then stop reading other make money online ways in Nigeria because you have found a gold mine.
You have the option to buy from the exchanges above low and sell high for your clients you can source for on Facebook, Twitter, WhatsApp, and Nairaland as well.
For the best way, if you want the Telegram link, send an email here with the caption "Crypto Telegram Link" and you will get further instructions to get access to the room.
(By the way, so as not to complicate things for you, cryptocurrency is a digital currency just like PayPal money where you can send and receive payments).
Unlike PayPal where it is centralized (controlled by PayPal), with Cryptocurrency (it is not controlled by anyone or the government). It is the users that have control over it.
To learn more about Cryptocurrency, see this video.
Using Crypto trading method
Now if you want to trade crypto and resell from your profits to other Nigerians, you can start trading on a crypto exchange I use for this which is Binance.com.
Below is a video on how to create an account.
Like the first, what to do is trade cryptos and from your profits, you sell at a higher price for your clients in Nigeria.
Note: Even though this is profitable, going this route is advanced, so, only go in with discretion because crypto can be volatile.
I use Binance for trading, below is how to create a crypto trading account on Binance.
Related to Crypto is Forex trading business. Like every legit business, you need to make due diligence in terms of research to clearly know how the market works.
For Nigerian traders you can check regulated brokers in Nigeria to get more info about trusted brokers.
2. Make Money Online in Nigeria Creating PayPal Accounts for Online Business People
As far as you are a blogger, affiliate marketer, and digital entrepreneur in Nigeria you will end up needing a PayPal account for your online business.
For instance, 90% of the affiliate programs I promote pay commissions via PayPal, and as a Nigerian, you know that you can't use PayPal.
If this is the case, what do you do?
You need to find a way and create a PayPal account that sends and receives money.
And guess what?
I paid N5,000 for the blueprint on how to open a verified PayPal account.
Can you guess how you can make money using this method? Here is it.
Sell a blueprint that shows many Nigerian bloggers, affiliate marketers and digital entrepreneurs how to create a verified PayPal account that sends and receives payment and you would be smiling with bank alerts legitimately. 
While others sell the blueprint for N5,000 you can sell yours at N3,000.
So where do you find the blueprint? You can source for it online.
However, if you are a blogger or affiliate marketer you will get it for free from me, but if you are in to sell it for others, you will grab it at N2,000.
Why not free as bloggers and affiliate marketers are getting it?
Because some will take it for granted as well.
So, if you pay the N2000, you will value it that something went out of your pocket.
Here is my PayPal account and my last withdrawal to my First Bank here in Nigeria.
After getting the PayPal blueprint
After getting the blueprint, open an account for yourself and see that it works before selling to others so you can answer follow-up questions from your clients.
With the above settled, you can start looking for business people in need of a PayPal account.  
Start with Nairaland and Facebook groups.
Going advanced. You can run a simple Facebook ad with N2,000 and advertise the blueprint and make money.
Just imagine this. If you get the blueprint at N2,000, run a Facebook ad at N3,000, and sell it to 30 persons, you would have made a little income to keep body and soul together.
And if you think it is profitable, you are free to continue with the ads.
 To get the blueprint, send me an email with the subject "Get Verified PayPal account".
If you are a blogger or affiliate marketer, use this email address – isuamfon@isuawealthyplace.com to it get for free (I will request for proof.)
3. Make Money Online in Nigeria Creating Upwork Account for freelancers
Like PayPal account creation, your work is to create a verified Upwork account for potential freelancers that are having a tough time doing it.
By the way, like Fiverr, Upwork, is an American freelancing platform where enterprises and individuals connect in order to conduct business.
If you can successfully create an Upwork freelance account for Nigerians, then you can make money doing it.
Here is a Nigerian already doing this.
Related: Top Job Examples you can offer as a Freelancer.
To get started, I will give this out for free.
After struggling many times on how to create an Upwork, I successfully nailed it.
Request to download the free Upwork Account Creation Blueprint – in the comment section (you can jump and request now before you forget.)
As before. Make sure you first of all do it for yourself before re-selling for others.
4. Make Money Online in Nigeria as an Affiliate Marketer
Starting out as an affiliate -video is not costly. In fact, if you don't want to pay for anything, you can start all for free – video.
But what is affiliate marketing all about?
To get started with it, here is a full guide to affiliate marketing.
Basically, what it means is promoting a product or service to people in need of it and making money off it via commissions when the people you recommended the product/service to purchase the same.
Where can you get products to promote as an affiliate in Nigeria?
You can get started on Jumia or Konga, but the best and recommended website for digital marketers to start with is Expertnaire.com.
Why Expertnaire? You can read more about Expertnaire here.
How do you make money with Expertnaire?
Join as an affiliate
Select a product to promote.
Promote the product in front of those in need of it
Make sells.
Now the most important aspect in affiliate marketing is #3.
That is, promoting the product in front of those in need of it.
Because let's think about it.
I will never buy a program from Expertnaire on "how to import cars from the UK" when I am not interested or ready for Customs wahala, right"  
It, therefore, means that if I promote how to import cars from the UK program to people like me I will make ZERO sales.
If that is the case then how do you promote the right products to the right audiences? You need to learn about digital product targeting.
You can check out YouTube for lessons on it – even though they might not give you the full insights on it until you buy a course. Bad.  
However, if you want to learn how to sell digital products on Expertnaire in Nigeria to the right audiences then you need to learn how to do it through a program called 72ig Implementation.
When you go through the course, you don't need to pay money again to join Expertnaire, you get automatic access.
To learn more or find out why you need the 72ig training to make money in Nigeria as an Affiliate marketing see the 20+ reasons review of the program.
5. Make Money Online in Nigeria Reselling Domain Names
Do you know that you can make money buying a domain at $4-$9 and selling as high as $9,000?
By the way, a domain name is the brand name of a website.
For instance, Facebook.com is a domain. Nairaland.com is also a domain.
So, if you can buy a domain name with a unique name you can resell it and make more money.
Here is what I did.
I bought a domain name on Namecheap.com in January 2020.
The domain was for a blog site that I wanted to write content that covers the international scene.
Recently, I decided to focus only on Nigerians because of the gap on the topic in the country, I listed it on Namecheap to be sold.
Here is it. I did that 4 minutes ago as of the time of writing this article.
Guess how much I asked for the domain name? See the image above. Lol.
The thing is, you are free to list your price based on the uniqueness of your domain name.
For me, I listed the above because I believe the domain is easily brandable.
So, how do you start this online business as a Nigerian?
You need $4-$9+ to start with (more money, more commissions).
Think of unique domain names and put them on paper. Alternatively, use name generators and generate good domains.
Sell it at Namecheap at a higher price or go to a site like sedo.com and list it for sale.
I tell you the truth, you won't appreciate this money method until you see the number of Nigerians making money off it.
6. Make Money Online in Nigeria Reselling Website and Blogs
The domain name above I just listed was for this purpose.
I wanted to build the blog to 100+ articles wherefore it could make at least $500 a month with AdSense, therefore, selling it out at X30 in profits.
Here is what I mean.
If you can start a blog in any topic/niche, build it to make at least $500 a month, you can sell that same blog from $8,000+ when listed to a website broker like FeInternational or EmpireFlippers.
Think it's fallacy or a joke? Let's head over to EmpireFlippers.
Above you can see that a blog that makes $937 a month is listed to be sold for $40,000+. You can do the conversion in Naira. 
Also, a blog that makes $1,752 is listed at $66,000+.
I know that this method of making money online in Nigeria is completely new to you. I get it. That is why it is not cheap.
If you can sit down and create a blog and make it profitable then you can list your blog for sale as well and go home with a fearful amount of income for the sale.
To get started, here is how to build a WordPress blog you can sell X30 the earnings per month.
Also, here is how you can sell your website with FeInternational. (I work with this team).
7. Make Money Online in Nigeria Creating a 1 page Service Website
Apart from creating a blog that makes money in Nigeria, you can also create a service website and make an insane amount of money.
Here is how it works and a few examples.
Have you ever gone online to look for a site to download YouTube videos to MP4 or MP3?
On such websites what do you always see? Adverts, right?
And do you think they make money off it?
Even if you say no, the truth is, they make money off it. Let's look at a few of them.
Case Study 1 Savefrom.net
After clicking the download button, the next page leads me to this Bet9ja betting site page.
While the advert is not Google AdSense-based, it seems they are using an affiliate link from Bet9ja which raises the question that, it might be that the site is owned by a Nigerian?
What do you think?
Even if it is not a Nigerian, here is how the site makes money. Click here to see her adverts page. 
The big question?
Do you think that the keyword "download YouTube videos" get traffic/searches on Google?
Very well. The keyword has hundreds of thousands of searches per month.
So, you can imagine the money Savefrom.net makes for anyone that wants to put ads on their site.
Here is the traffic stat.
Case Study 2 Prnt or Lightshot
Have you ever gone online in search of free tools to take screenshots of your computer screen? Perhaps yes.
Also, it might be that you used LightShot because it is quite popular but you ignore the income they generate per month.
Going to her 1-page service website, you will discover that while you use the site for screenshots, they place ads on the page where the money is being made.
Now there are a lot of them you can copy and do the same.
Do you want some more examples? Yeah, get them below.
You have Compressor.io, Smallseotools.com, easymp3converter.com, and more.
How to create a 1 page Service Website

Since this is not a normal website, you need some programming skills to come up with the service you want to offer.
If you can do it or have a friend that's a programmer, then you can bring an idea while he does the coding.
Alternatively, go to Fiverr.com and hire a freelancer.
While on Fiverr, I recommend you hire only pro freelancers for the best service.
Use Fiverr Pro freelancers or Fiverr Business
On meeting up, you can tell the programmer what you want – a site that does what you want like the above.
Check out https://www.fiverr.com/
When you are done with your service site. Apply for Google AdSense and place the codes on your site.
And if you don't want to use Google AdSense, create a page as seen on Savefrom.net and sell advertising space for your advertisers.
Related guide: Here is how to get approved on Google AdSense for your service page website.
8. Make Money Online in Nigeria with Admob
What is Admob, and how can you make some money as a Nigerian? Here is a simple explanation.
AdSense is to blogs what Admob is to Android Apps.
Meaning, while Bloggers make money using AdSense on their websites, as an Android developer, you make money using AdSense too but it is called Admob. (Ads for Mobile).
I know what you think. I can't build an app. I laugh in Italian.
Wait a minute.
Do you think there is any GTB or Access Bank Staff that can build an Android app they use for her individual banks?
If no, then, you have to think beyond your scope or excuse of not being able to build an app.
If there is nothing to worry about it, then how do I build an app without coding?
Considered as the most powerful app maker for iOS & Android, BuildFire is a powerful and easy to use mobile app builder that will help you build a fully custom mobile app in a fraction of the time and cost.
While I haven't used her services, the good thing is that you can create a number of apps with them.
Also, after a free 14 days trial with them, you will be required to pay from $159 for her developer platform.
If you think their pricing is on the high side, then hire a freelancer on Fiverr Pro or Fiverr Business to build an app for you.
A list of Android apps to build (list taken from Buildfire)
Ecommerce app
Internal employee communication apps
Fitness apps
Educational apps
Apps for managing field service workers
Apps for events
Podcast and media apps
Apps for religious organizations
Restaurant apps
Small business apps
Nonprofit apps
Real estate apps
Membership apps
Sports apps
Social media apps
For me, I recommend you build an app that downloads YouTube Videos to MP4 or MP3 and watch it sell.
When you do. Contact me and I will review your app for FREE.
Assuming you've built your app on Buildfire or Fiverr, it's now time to make money. How can you go about it?
Visit Admob to get started for free.
9. Make Money Online in Nigeria as an Agent of Payment Platforms & Network Data
I don't know the exact name of how they are called, but I know that my loved one sells Recharge cards and makes some money using her WhatsApp timeline.
Also, I know a church member who opened a shop where residents go to buy recharge cards, pay Nepa bills, GoTv & StarTimes subscriptions and all sorts of things.
You can as well do that, right?  
While I am not affiliated with any of them, I think checking out a platform like Baxibox.com will open you more to the online business many Nigerians are using to earn extra income.
And for Data, you can check out a site like Mobilenig.
Please, make your research (es) with each of the companies as I haven't used their services.
Read also:  How Much Do Bloggers Earn In Nigeria? My First $100 Blogging – Case Study #3
3 Legit Platforms to Make Money Online in Nigeria
Having seen the above unpopular ways to make money in Nigeria, let's consider a few Legit Platforms one can make money online in the most populated West African Country.
Let's start with Mini Importation.
10. Make Money Online with Mini-Importation using AliBaba
This month I ordered some items for my online business from AliExpress.
But why did I bypass Jumia for AliExpress? I guess you know.
Now, when I went to another online retail service website called ChinaVision, I discovered that the same things on Jumia and the site were different in terms of prices (which wasn't surprising though). 
For instance, the Flameless light on Jumia (excluding shipping fees) is N3,360.
But when you go to the site called ChinaVision you will discover that the same light is being sold for $3.


With the currency exchange rate now at 379.38, $3 = N1138.14.
Therefore, N3360-N1138.14 – N2,221.86
So, plus or minus, Jumia will make N2221.86 if it were to buy from a non-wholesaler like ChinaVision.
The earning is more. Why?
If you are starting a small importation you won't be buying products from sites like Jumia, you go to where you will be given discounts when you buy in Bulk, and that is Alibaba.
Wait. What's the difference between Alibaba and AliExpress?
AliExpress – buying for personal use, not for merchants.
AliBaba – buying in bulk and reselling.
As you would guess, Jumia buys from Alibaba or sites like it and resell at N3,360.
Going with Alibaba – if you were to buy in bulk and resale in Nigeria, you will get the product at Maximum US$1.60/Candle light.
And if you buy more, you get them at US$1.40. 
The profits from AliBaba to Jumia
Let's say Jumia ordered like 1,200 pieces of this item at $1.59 -N559.5, they would have been making N2800.5 per sale of the candle led light.
Over to you.
This is what you want to do. Buy from a large store and resale in Nigeria.
If this is the business that interests you, then you can get started and make money off it.
Going forward, if you want a program that shows you everything from the beginning till the end then consider checking out this mini-importation lesson by Jonathan Melody.
11.  Make Money Online As an Agent on JiJi
It was not until I searched for an apartment that I knew the hustle was real on "Jiji".
Before moving to my apartment, I went to Jiji and to my greatest surprise, there were a lot of houses to choose from at different prices.
But even more interesting, each of the houses was listed by agent who is given his or her commissions when the houses are rented.
Last, last, I paid agent fees when I got a house. So, what am I saying?
It doesn't cost you much to get started as an agent.
How to get started as an Agent on Jiji
Ask around and get to know other agents already in the business.
Learn from them.
Search for apartments to let.
Take pictures of the properties,
And upload on Jiji and wait for your opportunity.
Go further to add a little money for ads for more exposure.
To take it further, use your Facebook and WhatsApp timelines and advertise the houses, and who knows, your first client might be around the corner.
An alternative site to use apart from Jiji?
Go to a site like Olist and get started. And do not forget to leave your phone number to reach out.
12. Make Money Online on Amazon kindle
I wrote my first Amazon kindle book in 2015. Don't ask me if I made money enough to buy a Lambo off it.
Although I never had a breakthrough with it, the thing is, that love for writing led me to what I am doing today. And guess what?
I crazily love what I am doing. That is, putting out valuable content that helps people out there – answer their questions.
By definition, Amazon Kindle is writing books and uploading them on Amazon which helps you sell it.
As a beginner, if you have daring stories and "knowledge to share", you can couple that as an EBook, properly format it, and upload it on Kindle and let's see if you can start earning money.
Truth is, I can't advise you confidently on this because it never worked for me, and however, if you are interested in it you can visit YouTube to start with.  
Also, check out this blog post from SmartBlogger on it.
Going further, if you want to master the art of publishing kindle books step-by-step, consider seeing this Amazon Kindle Program that has helped other Nigerians generate income online via book publishing.
13. Make Money Online on Flywheel as a Reseller
I don't know if this route to making money will make sense to us.
Be it as it may, it is a line of business I will/might consider later on when all my blogs are well placed at 200+ blog posts or so. Now here is how it works. 
Flywheel is a super web hosting company I love with lots of accommodation for business partners.  
Apart from its features and what it can do for your business, now, if you are a Nigerian and you're tired of lame web hosting companies that have frustrated a lot of businesses in Nigeria, you can sign up as a reseller with Flywheel and resell her web hosting accounts for small business.
How to get started with Flywheel as a Reseller
Visit GetFlywheel and sign up an Agent Partner
Contact the customer care representative and explain what you want to do – buy web hosting for reselling.
Get the idea and the best package to do this.
Get insights on how to do it.
Get your first client here in Nigeria.
I know this sounds a little bit advanced, but truth is, if I had found a reliable and accommodating web hosting company, I wouldn't have lost my first successful money-making blog in early 2018.
Visit GetFlywheel.com to get started.
Just before we close, let's see a few ways you can make money online in Nigeria without spending a dime.
How to Make Money Online in Nigeria without Spending a Dime in 3 Ways
I know you would love this, some here are complete routes to earn some income in Nigeria without investing anything.
14. Make Money Online in Nigeria without Investments on Mobrog
Have you ever heard of taking online surveys for money? If yes, then today is your day. Hahaha.
While there are a lot of simple ways to make money online without spending a dime, taking surveys is one of them, and as a Nigerian, the coolest I have tried is Mobrog.
I know you won't earn much, however, if you take Mobrog surveys you can earn some cents & dollars from the comfort of your home.
Here is how Mobrog works and here are other top-paying surveys in Africa. See below for an overview.  
Read also: Definitive Guide to Make Money on Clickbank in Nigeria
15. Make Money Online in Nigeria without Spending a Dime on Creative-Market
I don't know if you've heard of Creative-Market. Well, in case you've not.
Creative-Market is a website you can sell simple designs if you can draw.
As defined by Wiki, Creative Market is an online marketplace for community-generated design assets.
The company sells graphics, WordPress themes, stock photography, and other digital goods for use by web creatives.
By the way, Creative Market has over one million users and more than 250,000 purchasable items.
It doesn't have to be complicated, right?
If you can use platforms such as Canva, PicMonkey, or Stencil then you can submit graphic images and earn some money on the side without spending a dime from your pocket.
To learn more about it, see Creative-Market.
17. Make Money Online in Nigeria without Spending Paying with Social Media Handles
If you go online, particularly, Nairaland, you will see a lot of guys listing social media accounts for sale. What about you?
If you can create a Twitter account and build it to like 10k followers in a particular niche, nothing stops you from making at least N15,000 from it.
How about Facebook groups?
You can do the same and list it for sale and make cool money without spending N1 to start.
Here is how to get started with Social Media Gigs

Choose a preferable social media platform (Twitter, Facebook, Telegram and etc.)
Learn how to grow the account – on YouTube and blog posts lessons.
Create an account when you are good with the process of building it.
Build it to 10k+ followers or members if Facebook groups.
List it on Nairaland for a sale.
And just before we go, let's behold how you can make money online with just 100 Naira.
18. Make Money Online With 100 Naira Using PiggyVest
PiggyVest is a popular Nigerian online saving bank and app where many have saved up money to buy cars, occasions, and all sorts of interests. "You didn't hear it from me".


As an online hustler, you can make money from it as well.
How?
All you need to do is register on the platform (Get the app version preferably).
Verify your account using BVN (it's secure – according to report).
Transfer just N100 to the account (you can save more, right?)
Get your referral link from the platform and invite your friends and peers
Each of your invitees earns you N1,000.
By the way, apart from making you some money on the side, I think it is a recommendable app to help save up your money if you are comfortable with it.
But for some strong men, they save their assets in the form of cryptocurrencies and gold.
And lastly, which app do you think can make you money in Nigeria?
What's the best app to make money online in Nigeria?
While there are a lot of such apps that I don't know, the one that looks awesomely legit is PiggyVest.
What of you, do you have any other? If yes, then let me know in the comment section.
A Final note on Making Money Online as a Nigerian
I know that this took me time to come by. But never mind.
The most important thing is that any of them makes sense to you.
If you were to ask me, Isuamfon Offiong, "what is the best way to make money online in Nigeria", I would say the first 9 ways are a gem.
Particularly, it was through #4 using my blogs that I was able to move out from my parents' house in November 2020. Glorious.
And how did it start?
It all started with earning a small income to earning my first $100 online.
While I don't know if you like affiliate marketing.
If you are interested in it, you can start learning about it today or join a program that shows you how to start from the beginning till the end.
And if you feel like joining me to blog to stardom, then here is how to start a profitable blog site in Nigeria.
So, that is it, guys.
Do you know what?
Most of the guides and ways you've seen above are from my personal experiences of using them.
All in all, which of the above ways to making money online would you love to get started with, and do you think that PiggyVest stands out as the best app to make money in Nigeria?
Let me know in the comment section.
Reference: Images @ Canva.com