Welcome. I don't really know how to start this content because there is no end in mind of ranking for the terms used. However, I figure out that as a beginner, if I was handed this gem as you will get in affiliate marketing I would have made at least some sells and stopped my struggles.
Here you are today, getting this for free. Please put in into action and let's see how far we can go with this.
Today we are going to focus on making your first $500 with affiliate programs using a simple Facebook ad campaign.
Here is how it will go. #1. Get an affiliate program to promote #2. Build a landing page for it #3. Promote it using a simple Facebook Advert.
And let me comfort you. Perhaps you are afraid of running Facebook ad campaign. While it is true it can be overwhelming at the beginning, the good news is that we are not going to use a business ad account which is too complicated for newbies.
What we will rather do is to create a simple Facebook page and run our ad campaign from there. That way, you do not need to worry about pixel and other confusing ad ons.
Wait a minute. You said Facebook pixel. What does that mean?
Facebook pixel is a code you insert into your website to track visits to your landing page.
If you do not own a website, you do not need it unless you want to use a tool like Clickfunnel as your landing page.
Using Click funnel?
You can use ClickFunnel but I am considering using a free landing page from GetReponse. Maybe a tutorial for CF might come on later.
Visit Clickfunnel to learn more.
All in all, the essence is making your first $500. So, let's crack this down.
Tools You Will Need To Make Your First $500 In Affiliate Marketing + Using Facebook Ad
#1. An affiliate Product to promote. Get one here or see this 2,000 list.
#2. Get a Free landing page from GetReponse.
#3. Create a simple Facebook Page and Run our ad campaign.
The results? Our first $500.
Making your First $500 in Affiliate Marketing
Step #1. Getting Your Affiliate Links.
There are many affiliate programs to choose from. You can choose one here or get from the top marketplaces listed above.
However, in this tutorial I will be promoting Video Games from Jumia.com.ng marketplace. Feel free to replace Video Game with any tool or product you would like to promote.
The Steps…
I will visit Jumia.com.ng and hover to affiliate program page – at the bottom.

I will sign up and login to my account.
Getting the Video Games Affiliate links from Jumia.
What to do here is visit the video games page > copy the URL.
Head over to your Jumia affiliate dashboard > Login > Go to Advertising > Go to Link Builder.
What happens using builder is, we will direct your audience to any Jumia's page and get commissions for the whole purchased order. So, whichever games is purchased you will make money from it.
Go to Select Country > Under "Jumia URL page", paste the "Video Game's Page URL you copied.
When you do, the system will automatically generate an affiliate link for you to use – that is the link we will use on our landing page.
Note: You can edit the channel so you can track your sales. For this tutorial I renamed it as "Jumia Tutorial" and if you look closely you will find it labelled long – my newly generated affiliate link" https://c.jumia.io/?a=182612_campaign=182612&s2=Jumia+Tutorial
The essence of the last suffix – Jumia+Tutorial – is so I TRACK where (the products) the sales is coming from.
We are done with Step 1. We've got our affiliate link which we will use in the promotion.
(You can do this on Clickbank, ShareAsale, Expertnaire, JvZoo, Warriorplus and more – just get your product affiliate link).
This guide will show you how to do with Clickbank as well. 
Next Step.
What do you think? The URL is ugly and lengthy, right? How about shortening it? Would that be nice? Yeah, right? Okay, let's do it.
We will head over to Bit.ly or TinyUrl and shorten it. I prefer Bit.ly in case you want to track the visits as well there.
What I will do here is to copy the Link and paste here. I have gone ahead to customize the link, see below.
We are done with making our link beautiful. So, my new link looks like this http://bit.ly/jumiaviideogames . Looks interesting, right? Great. 😉 
Step #2. Build A Landing Page
As a way of introduction, in online marketing, a landing page, sometimes known as a "lead capture page", "static page", or a "destination page", is a single web page that appears in response to clicking on a search engine optimized search result, marketing promotion, marketing email, or an online advertisement.
This is a page all our visits from Facebook advert will land. Because we are promoting a video game product what we will do is to create a top 3 Video Games Article. Ours will go like this. "Top 3 best Video Games for Teenagers under 17 years".
Step #2a.
The next step of action is to get the details about the 3 games. Good enough there are reviews about it. Go ahead and gather your contents and let's build our landing page.
Step #2b.
At this point we are through with gathering our top 3 video games content. What we will do now is to copy it and paste onto our landing page. But wait a minute.
How do you write this kind of review, a top 10 or top 5 review? Here is how to from A-Z.
And how do you build a simple GetReponse landing page? Here is the short guide on it.
Step #2c.
(As a practical guide, the top video gamers we are promoting are; PS4 FIFA 20 Standard Edition – PlayStation 4 | Sony PlayStation 4 Slim Console 500GB | Konami PS4 Konami Football PES 2020 – PlayStation 4.
We are off to GetReponse Landing page Builder.
 
Basically,
Our purpose here was to create a "Top 3 Best Video Games Review for under 17 Teenagers". Let's say we had gathered our content, all we need to do here is copy and paste the video games content.
After reviewing each of the video games, at the end of the page, we will leave a call to action. As in, we will create a button and name it "Click here to see the game" | Visit the Game | Check out the Game.
Just use whatever you want – a nice call to action for your audience to click on it and check out what you're promoting.
Below is our landing page article page built with GetReponse.
Please note: 1, 2 & 3 links are your affiliate links – pointing back to the affiliate products or affiliate programs website. When a visitor clicks on it/them, makes a purchase you take your commission. 🙂 


Now we've gotten #1. Affiliate products to promote and #2. Created a landing page for our visitors from Facebook to land and take action, let's go ahead and create a simple Facebook Ad to promote these 3 products. Facebook, here we come.
Please note: 1, 2 & 3 links are your affiliate links – pointing back to the affiliate products or affiliate programs website. When a visitor clicks on it/them, makes a purchase you take your commission. 🙂 


Now we've gotten #1. Affiliate products to promote and #2. Created a landing page for our visitors from Facebook to land and take action, let's go ahead and create a simple Facebook Ad to promote these 3 products. Facebook, here we come.
Wealthy Place creates the bridge for and against a baggage known as 9-5 Jobs. Therefore, if you really want to build an authority online business, then make no mistake to join others that get value today!
When you join in you will get weekly, ground breaking, useful and high quality informative emails with the latest money-making strategies with details and 120% value.
Step #3. Creating A Simple Facebook Ad Campaign To Promote Our Product
#1. Create & Name your Facebook Page
Head over to Facebook and create an account if you do not have. Go ahead and create a page.
Name it related to what you are about to promote. For us, it's top 3 video games, we can name is Gamers Den. But hang on.
If you wish to promote other products apart from Video Games you can name it something like "Smart Digital Products" that way, you won't be seen as weird to promote Radio Set in a Video Game Page. Hope you get me.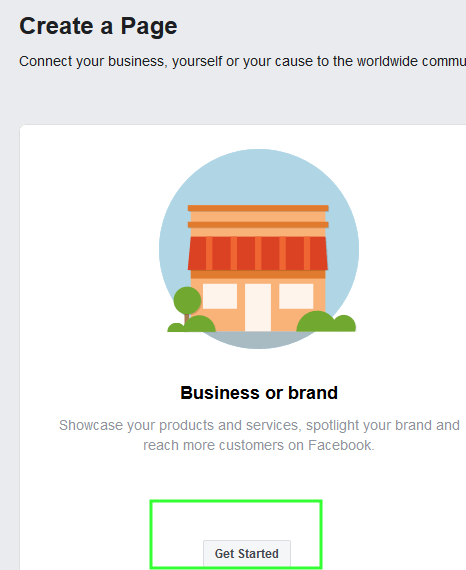 #2. Customize the Page
This is optional, but I like premium stuff so, I will encourage you to create a Facebook page banner for your page. This is as simple as visiting Canva.com (you have premade templates, just choose one and rename it, upload it to your page and you are done).
What next? If you want, you can go ahead and post some games stuff. It's optional so you might choose to move on. 
#3. Creating the Ad Campaign
Go to your page > go to Ad Center > Create Ad
On the next page, you can choose other options if you want but we will go with "creating Facebook ad for affiliate promotion".

It's time to customize the ad. (Please use the infographic below for guidance)
URL:
Our shortened affiliate link from Bit.ly goes here. The link content will reflect in your ad. See a-a using this image.
Format:
Choose the type of image or video format you'd like to use in this ad. Here you can choose a single image, carousel or video. We will go with a single image.
And note, the approved image size is 1200 X 628.
To get the image, go to Canva.com, enter the dimension above and create the equivalent image size.
Headline:
This depicts your ad topic. Since ours is video game ad, you can write, "Top 3 Teenagers Video Games". What you enter inside the headline box is what you will see.
Text:
This is where you can write some lines about your ad copy. I mean, you can introduce the video games review to the Facebook audience. It is a way of hooking them with your ad – to entice them to click.
Please see the image below for clarification.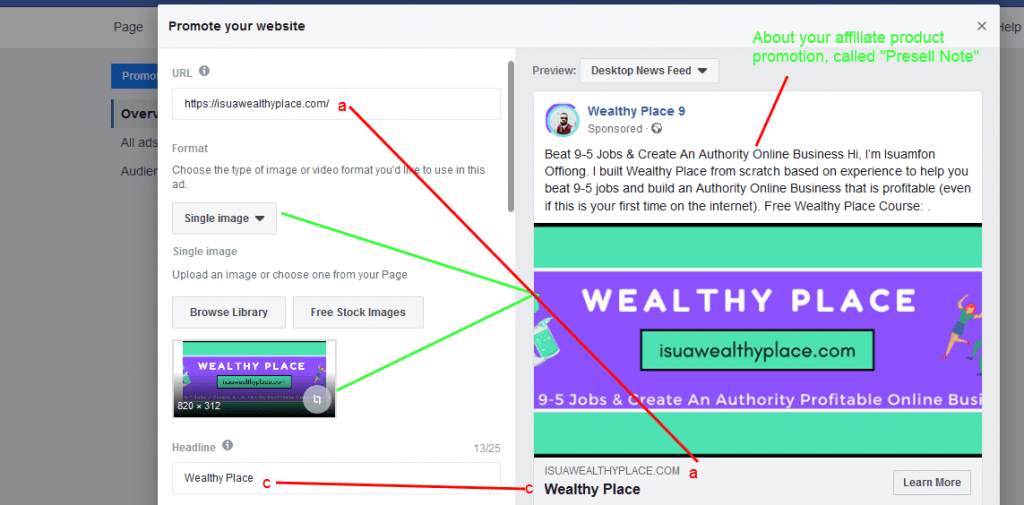 Audience:
This is the most important part so pay attention. Since we are promoting video games for teenagers, that means we will be targeting video games audience | Game Console Lovers and Teenagers under 17.
The more relevance your audience the more the better and low cost for your ad. 
To do this click on "Create new audience". Name the Audience Target.
Gender:
Here you need to specify if you want your ad to be shown to both girls and boys. And of course, with video game we know it is for boys, so, we will select only for Men. Hmmm.
Age:
Select the age range. We will select 19-35. Why I include 35 is that, a dad of 35 that has a 17 year old son may choose to buy the game console for his son.
At this point if you think a mom can also do that then select both "men & women" under Gender.
Locations:
Select the region you want to target. If it is USA, just select United States. And if it is a particular state, select it and you're done.
Detailed Targeting
This is the place to specify your target audience – that is, those you want the ad to be shown to. For instance if we choose "Video Games", any one in United States that has talked about Video Games on Facebook will be shown this ad to.
Entering Video game into the "Detailed Targeting" I discovered more than 90,000,000 people that are interested in Video Games.
While this looks nice, we do not really want to target 90 million people because some of them are interested in a general video game niche –  
Puzzle video games
Action games
Interests
Role-playing games
Interests
Ketchapp
Interests
Arcade game
Interests
Sports games.
The interests we will focus on are "Sport Games | Game Consoles, etc. .
Amazingly we can choose to target those that played games yesterday, 7, 14, and 30 days ago. How sweet.
---
I have trimmed down the list, below are our targets…
Also, we have been able to cut out the 90million + audience to 12 Million only. Still, I would have preferred a 5 million audience. Let's go with this since the best keywords are targeted.
Include people who match
    Behaviours > Digital activities
        Console gamers
    Interests > Additional interests
        FIFA (video game series)
        KONAMI Europe
        Pro Evolution Soccer (video game)
We are done here. Go ahead and click save…
Select the days you want the ad to run…1, 2,3 or more? Just select what fit best, but the ideal days to test the campaign worthiness of an ad is 3. You can spend $10 per day to see your progress. 
Automatic Placements:
This is an option that shows if you want to show your ad to Instagram and Messenger users. If yes, then allow it. And if no, deselect to off it, and select only Facebook.
When done, click on "Promote"
Great job. Wait for Facebook ad's team to review and evaluate your ad for approval.
When approved you will get the message below.

The end….That's all baby. 😀 
Now, #1. We got our affiliate link #2. Created a Landing Page #3. Ran a Facebook Ad Campaign.
For everyone that clicks on the ad > they'll be taken to your landing page – review page > if any of those thousands of visits clicks on buys any of the products, you get your commissions. The END…
All in all, that is how to make your first $500 in affiliate marketing using a simple Facebook ad campaign. Mind you, you can make more than $500, oh yeah, I only choose $500 not to scare you.
One more reminder.
#1. Get your affiliate link – from these 100+ programs or here
#2. Create a simple review Landing Page; use GetReponse.com
#3. Run a Facebook Ad Campaign.
#4. Wait for your first sale.
Good luck.
Yea, just finished this guide at 12:48am, took me hours I can't figure out. Now is your turn.
What do you make of this? Will you only read and smile away? Lol.
Have a blessed day. Let me hear you in the comment section. 
Listen Up Now: Truth Is, There Are a Series of True Life | Practical | Building An Authority Business Online & Beating 9-5 Jobs Lessons Coming Up. Subscribe below To Get Em All.