Welcome to Wealthy Place. There is a new method to making up to $2,000 with CPA offers which I will show you the exact process you need to follow, meander when you need to, and ultimately coming out victorious.
You know what?
I am excited as this is our next journey to creating an authority online business that will finally beat 9-5 job, and without doubt, this guide is another handsome route to follow. Let's see the "HOW".
How To Start CPA Marketing From Scratch In 2020
First things first, CPA means, Cost-per-action or CPA is a bidding model where affiliates charge advertisers whenever users take a qualifying action like submitting a filled form, signing up to a newsletter, or even making a purchase. These actions may vary depending on the industry or target audience, but most of them are taken after an ad is clicked.
CPA networks also play a critical role in the expansion and popularization of CPA offers as they work like middlemen that connect affiliates with advertisers.
Lastly, consumers are arguably the most important part of the equation, so many CPA advocates believe they should always be aware that they are being exposed to a form of advertising. Insight from propellerads.com.
It's important to note that affiliates can choose from two main types of CPA offers – a direct affiliate program or go through a CPA network.
To know more about the intro about CPA, please see the guide by Propellerads.com. And just to brush up everything, I would gladly say that to succeed with CPA, you might need the insight of affiliate marketing.
But if you are not ready to learn the skill now, this CPA marketing technique will cover your ass so you can move on to making money with CPA offers. Let head in now.
I forgot to tell you about Popups. Now, do you wonder why we have so many popups? Here is why.
Creating or making sense out of popups simply work and are an easy way to generate passive income. I know, I know. Some of us hate popups. Perhaps you've not seen it on at Wealthy Place now. The truth is, I am losing some percentages of subscribers for not using it.
The Usual Phrases & Worries about Popups
It sends visitors away.
Let's be frank. It can be challenging to get into the popup-game and a lot of people will give-up on them after being told popups have too low of a conversion rate to be profitable.
It's true that the conversion rate of popups is low as compared to other ad-methods, but with a bit creative thinking and a little bit of practice you can start making money very easily!
The good news is that in this ultimate guide to making money with CPA using popups you will see how to be helped so you understand the strategy and finally making money with it.
The great thing about popups is that it's an easy way to create a passive income. When you would have found a popup strategy that is profitable and works, it will keep on working and making money for you without you having to do any work. How do I mean?
You can then start popup campaigns for similar offers and scale your operation with a couple of clicks on your computer.
Talking about scaling, you can scale $100 to $1,000. Here is how.
An Overview to Making Money with CPA Offers + Popups in 4 Steps
All you need here is a 4 step process and you are good.
Create a popup page
Find good relevant CPA offer to put in popup
Start popup campaign
Keep running campaign if it's profitable.
The process
When you find a strategy that works, you keep running the campaign and scale it up by increasing its budget and starting parallel campaigns based on the same strategy. If you have found that your strategy doesn't work, you start again at point 1 and try again.
Your success with popups depends entirely on this cyclical principal! If you stop trying because your first strategy was not profitable like most people do, you will fail making money with popups and will become one of those people who tells people it can't be done.
If you follow the cycle and be persistent you will succeed and your campaigns will keep bringing in money for you passively. The more times you go through this cycle, the more money you'll be able to make.
Let's say there are these magical dice that will give you 5000 dollars if you throw a three. Will you stop throwing the dice after 1 throw or will you keep throwing the dice until you get a three?
The answer is obvious in this case, but it's hard to realize that this principal is true when the choice isn't that apparent.
In this post you will be guided through these 4 process so you can follow through. The only fire you will keep burning is the persistent-fire + throwing of the dice!
See: TOP 120 Best Affiliate Programs For Beginners in 2020.
The No B.S Ways To Make $2,300 With CPA Marketing For Beginners + Popups
Step #1. Create the Popups
There are 2 ways to create Popups here. You can either use a free tool like Sumome with your WordPress site or use a Popup tool. Let's start with WordPress site + Sumome.
First Option: WordPress site + Sumome.
Here you need to create a simple WordPress website, which you can do it in 5 minutes. When done, you go ahead to install a plugin called Sumome, it is free as you can create variety of popups with it.
Second Option: A Real Popup Tool + Your WordPress Site
Here all you need to do is get a cheap-but effective Popup tool to use. For this guide, we are using Purelander tool
Side Note: Checking GetReponse, I saw a popup option there but it is not as effective when I tested it to what we will be using now – PureLander. Nevertheless, you can check out GetReponse's popup tool as it is free to start with.
Knowing a bit about PureLander
Purelander is a landing page website with hundreds of popup templates you can edit online and then download as a .zip file you can upload on your website.
Purelandner is for beginners and those who do not wish to edit html files. With it, you can make popups and edit them very quickly without much hassle.
The upfront cost is, Purelander is only 25 dollars for six months of access to the template editor.
When you sign up, you are free to use any pre-made templates. For me, this saves times so you can concentrate on the important thing which is making the money.
Using Purelander to create the popups:
-Login to Purelander.com and go to Landing Pages.
-Browse the landing pages and choose a template you like
-Edit the page to your liking by clicking on "use it"
– Download zip file with popup page you can then upload.
When you click the link above you will see various templates to use. Alternatively, you can also browse around on the internet without an adblocker browser to see the different popups in action. If the popups are used in the wild by others, good chance they are profitable!
Personally,
What I do when I see a great popup is to screenshot to my PC. And I tell you what? I have so many of them. That way, I do not need to reinvent to will to create any template from scratch. I simply design what I saw. See more here.
How To Edit Your Popup Using Lander
Step #1. Login once more, choose a template you want to use, and click on "Use it"
Below is what the popup editor looks like:
Going on…
Go ahead and edit the title and the text the visitor will see when your page pops up.
You can also choose features like javascript alerts to warn the visitor when they try to close the page and a buzzing feature for mobile.
Try them out and check if you like them, these can improve the conversion rate immensely or can annoy the visitor depending on their use.
The Crucial Part
The most important thing to edit is the destination the – CALL TO ACTION. (Call to action is the button written – Use it & Preview – see above).
And of course, the CALL TO ACTION will be the affiliate link of your CPA offer (more on this later)!
Click preview to see what the popup will look like to the visitor. When you are satisfied with the popup, click on download to download the popup as a .zip file.
The .zip file contains an index.html file and a directory called "CSS".
(Go to your web hosting cpanel and upload index.html to the root directory. Make a directory called "CSS" and upload the contents of the zip file under CSS.) What to do here is accessing it via your Cpanel link – check your email address – inside the document your hosting company sent to you.
And that's it, your popup is LIVE!
Try the popup under different web browsers to check if it scales correctly with the window size and all of the features work.
Please take note, if some of the features don't work with certain browsers, this information will be valuable in step 3.
Now that we have a working popup, let's see how we can find the best CPA offer to use!
Step #2. Finding A Good Paying + Relevant CPA Offers
There are a lot of CPA offers that will work with popups and be profitable, the art is to find the right one.
Since the conversion rate of popups is very low, what CPA offers should we pick?
We should pick CPA offers that:
-Have a high rate per action
-Are easy to fulfill for the visitor
-High value for the visitor
What does this mean in practice? We are looking for CPA offers that offer something for free to the visitor that is normally not free or the visitor can win valuable stuff by completing the action.
Good offers are for example:
-Free app install with a redirect to the Playstore
-Free registration on an adult webcam site ("free registration, chat now!")
-Win prizes (iPhones e.g.) by completing a survey
To start with, look on CPA websites for PPI (pay per install) offers. The best kind of PPI offers are the ones that redirect to an appstore.
People trust appstores and completing the offer is one click away for them. Popups with webcam links are great too if you can find a webcam site that allows you to embed a cam directly into the popup.
So how can we predict whether a CPA offer will be profitable? It's pretty easy with this formula:
Minimum actions per thousand to profit= CPM/CPA
So let's say you found a CPA offer that will give you 0.60 dollars for every action completed by the visitor and it will cost you 1.20 dollars per thousand impressions to show the popup.
This means that the minimum number of visitors that have to complete the offer to be profitable = CPM/CPA = 1.20/0.60= 2 actions
Therefore, if more than 2 visitors complete the offer for every 1000 impressions, you will profit!
1 in 500 people that see the popup will have to complete the offer, if you think this is a realistic goal taking in regard the value of the offer, you have found the correct CPA offer. Now let's move on forward and start our popup campaign!
Read Also:
➡ The No-Nonsense Guide to Building A Business Brand Online In 1440 Minutes.
➡ How To Build Amazon vs Clickbank vs Jumia Product Review Sites In 2020
Step 3. Start Your CPA Popup Campaign
Now it's time to finally start our popup campaign so visitors can see our popups and complete the offers.
You can make a deal with website owners in the niche you are targeting to show your popups, but this is a lot of hassle and too much work for the value you get back. The best way is to find a popup-network that is specialized to show popups.
A good popup network:
– Let's you choose your target group very precisely (geographic- device – browser – language targeting)
– Has good tools to track the performance of your popups
– Let's you blacklist poor performing website on a site per site basis
– offers popups, popunders, tabunders and tabovers
– Fast approval of your campaign
– Let's you adjust the speed of your campaign.
Look around to find the network you like the best. One of the best to use Popads adnetwork because you can target niches very easily by category and pinpoint the exact combination of device, browser, language and location of the group you want to target.
Below are the options you have in Popads: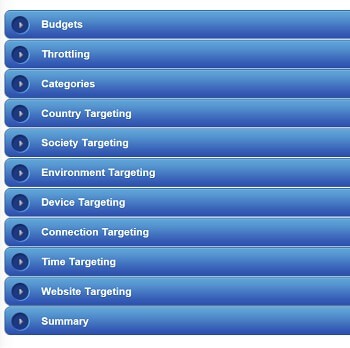 How to win with CPA Popup Offer
Whenever someone visits a website, there is an auction to decide what popup is loaded for the visitor. The highest bidder wins. The more you choose to target high tier, valuable visitors, the more you will have to bid to have your popups shown to the visitor.
If you put your bidding limit too low, your popup will never show. If your bidding limit is very high, a lot of visitors will see your popup in a short time, put you'll pay more on average.
Whether these more expensive impressions actually convert more is up to debate and depends on whether you have defined the target group well and the quality of your popups.

When you have finished filling in the campaign details, clicking on "summary" will give you a prediction on the number of impressions per day. This depends on your bidding limit and the value of your target group.
If the average bid for your traffic is on the high side, try a larger target group. You will have to play around with the bidding limit to see what will work for you.
If you have a well-defined target group, try and aim for 10,000-30,000 impression per day for starters.
Let's take a look at an example of a bid distribution map you can find under "summary"
So let's say this is the bid distribution map you see. We can see that for this target group about 90,000 impressions per day are going for a rate between 0.15 dollars and 1.24 dollars per mille.
For starters you can put your limit on 1.30 dollars to win these auctions and have your popup shown for these 90k impressions per day.
Try to think why people are willing to pay more for certain target group traffic by playing around with the targeting parameters in your campaign and watch the bars change. You can learn a lot by trying to analyze these prediction numbers.
When you are done, you can start your campaign! The campaign will have to be approved and will then start showing popups to visitors.
Step 4. Keep Running Your Campaign If It's Profitable
Now here's the exciting step. Follow your campaign and check how many offers are fulfilled. If the number of actions is more than the minimum we calculated in step 2, the campaign is profitable!
If it's not, try and change your bidding limit in your campaign settings and play around with the target group parameters. Check how fast your popup loads under a lot of traffic.
Check the number of people who click on your affiliate link compared to the number of impressions, is the call to action good enough? Make hypotheses of what can be improved and test them by playing around with the settings.
Still not profitable?
This is perfectly normal, go back to step 1 and try the cycle again. Because you already have a template ready for your popup and since your campaign is approved, going through the cycle will just take a couple of minutes. Keep on throwing that dice until you hit a profitable campaign!
So what do you do if your campaign is profitable? Scale up the number of impressions per day to increase your profit. How?
Copy the campaign for similar CPA offers and start parallel profitable campaigns. Now you're making real money! Congrats on your new passive income!
Some Tips and Tricks
– If you want to test a hypothesis you can try a/b testing the changes and compare the conversion rate of the two variations of your popup. But beware of increased loading times though, these are disastrous for popups.
Some black-hat tricks in your popup to increase the conversion rate:
-javascript alerts
-buzzing for mobile
-disabling back button
-Make whole popup clickable
-chaining popups with timer
Adding these features can dramatically improve conversion rate. With this, a CTR of 5-7% CTR is possible.
What you want to do is just trying out some of these features and compare results via A/B testing. If good, great, let's do more.
FAQ About Making Money With CPA Offers + Popups
Question: Won't Ad blockers affect this Business?
Answer: Ad blocker by default won't impact this business that much honestly. Popup networks already have the option to exclude visitors that use ad block and most popups break ad blockers.
For instance, I can't imagine Google including an ad blocker by default though, it would be an abuse of their monopoly position in the market excluding advertising competitors that way. Nothing to worry about for our purposes anyway!
Question: How Can I scale this to $2,000?
Answer: The great thing about this method is that it is a very scalable form of passive income. When you hit the 1k-2k, scaling up to 10k is very easy.
It's just the start of learning the ropes, getting your popups to become profitable in the first place that is the tricky part.
But when you have some working strategies and you start to make some profit, you'll find that scaling up to 10k is very achievable.
(2000$/month in the title was more of a conservative amount, because most people won't have the persistence to even hit that because they'll give up too soon!)
Question: What can I do if I need to Geo target other regions? That is, does translating content to targeted country language makes CR difference? Is it worth the extra work?
Answer: Most of the people running campaigns use a site like onehourtranslation.com to translate.
Final Notes on your $2000 with CPA OFFERS
I hope this method will help you in your journey of making money online with CPA affiliate marketing + popups!
I am short of words as this might position someone to earning up to $2,300 monthly, that is, when you consider you invested like $25 for the popup tool, and paid about $2.75 for a hosting space.
Making money with this CPA method is super scalable when once you hit a working campaign.
Over to you.
Let me know what you think about it.
Ref: CPA + Popup AD was inspired by Loyal0.
Tools. Keyword-Revealer. Image Optimization. TinyPng & Compression.io. Graphics: Canva.com