You need a new podcast hosting site? If yes, have you considered the best free podcast hosting services? Yes or no? If yes, but which should you choose is what you might be asking now.
In this post, we've taken a look at three of the best podcast hosting sites on the market and pinpointed their key differences.
Whether you're just starting out, or you're evaluating your current solution, this detailed comparison of Podbean vs Buzzsprout Vs Blubrry will help make an informed decision.
We're kicking off with Buzzsprout, then we'll move on to Podbean and Blubrry. You'll find a comparison and overall verdict at the end of the post.
But note: the standings has nothing to do with their recommendation . We have taken all the time to analyse each of them so you might love Podbean over Buzzsprout which stands first, the same with Blubrry. Also, later on you'll get the comprehensive podcast hosting platforms comparison.
1. Buzzsprout
Buzzsprout was co-founded by Kevin Finn & Tom Rossi in 2008 with a goal to create the easiest way to start a podcast.
Since then, it has grown to be one of the most popular podcast hosting services used by over 100,000 small businesses, podcasters and entrepreneurs around the globe.
What We Love About Buzzsprout
1. Signing up
Signing up to Buzzsprout is straightforward.
Click the big green button to start your 90-day free trial.
You'll have to provide some basic details, like your name and address. Plus you don't also have to enter your credit card details.
2. Getting started
Once you've completed the formalities you're ready to start.
If you're new to podcasting it explains the first few steps required to get you started:
Account setup
Record your first podcast
Upload it to Buzzsprout
Once you click the "Upload New Episode Now" button, you complete the three steps, ready to start.
3. User interface
The Buzzsprout user interface is clean and pleasing to the eye. There is a logical menu, and there is always help on hand.
The first section highlights the main components of the system: Episodes, Players, Website, Directories, Resources, Podcast Settings, and, Statistics. The information on this screen gives you an overview of your account across these areas.
The second section highlights four different types of help that are available: Podcast Overview, Episodes Downloads, Apps & Devices, and Listener Location. This shows Buzzsprout catering to how different people prefer to learn.
The third section gives you a quick overview of your podcaster's profile, recorded podcast and a help section in case there is a need. You also get a glance of other options by clicking the stroke menu button.
4. 90 Days of Unlimited Access To Podcasting Tools & Guides
Buzzsprout has allocated a daring 90 days for new podcasters to make sense of, play, and professionalize their podcasting business.
Additionally, when you join up you will get more than enough in-depth podcasting guides and tutorials to make sure you come out as the next big thing in the podcasting world.
5. Listeners Retention via

Chapter Markers
No other podcast has the kind of Buzzsprout infrastructure (Chapter markers) to retain users.
With the provisioned infrastructure known as Chapter markers, listeners can easily navigate to their favorite segments, see what's coming up, or skip spoilers they don't want to hear.
6. Making Money on the Go
When you host your Podcast on Buzzsprout you don't need to worry about monetization as the podcast powerhouse already has partnerships with some amazing brands to help get you started to stardom.
What We Don't Love About Buzzsprout
Not enough Upload hours. If Buzzsprout can give better upload hours per month then they can be perfect or match a host like Podbean.
No Website Builder: Buzzsprout does not offer a free website builder to integrate with your podcast. So, if you're interested in a website, with Buzzsprout, it means you will have to create a simple WordPress blog for your podcast.
No Instant Support: Buzzsprout does not offer instant chat for her users yet. The best communication route is opening a ticket.
No Video Hosting: Buzzsprout does not offer video hosting along with the audio version.
Buzzsprout Hosting Plans
Buzzsprout offers a 4 tier pricing option. You can get started for free, $12 for 3 hours upload per month, $18 for 6 hours upload per month, and $24 for 12 hours upload time.

It is worthy to note that all paid plans include stats icon Podcast statistics, website icon podcast website, play audio icon custom embed players, podcasting icon get into podcast directories, and icon 250gb bandwidth per month.
For serious podcasters, I recommend the $24/mon plan because you will have 12/hour upload time, and also save more overhead costs (dollar) than any other plans on their pricing table.
> Check our price comparison section at the end of this article to see how Podbean stacks up against Buzzsprout and Blubrry.
2. Podbean
With an office address at New York NY 10022, Podbean has been providing innovative podcasting services as an industry leader for more than ten years.
Podbean has so many innovations under their belt. They provide high performance podcasting service, live streaming enabled service, free website builder and lots more.
Even so, the Podbean app is one of the most popular podcast apps for iOS and Android, and can also be used to play podcasts via Amazon Alexa.
It's a great option for podcast audiences to enjoy their favorite podcasts anywhere, anytime. Podcasters can also record and publish right from the Podbean app.
The big point:
Podbean is the best hosting service (apart from Blubbery optimized for WordPress) for podcasting unless you're a total beginner which Buzzsprout comes to play. Let's see what you get if you go with Podbean.
What We Love About Podbean
1. Signing up
Signing up to Podbean is as simple as Buzzsprout. Also, you can get started all for free. They offer a forever $0 podcast for everyone /newbie podcasters to get their feet wet.
Click on the "Get started for free" button to launch in.

2. Getting Started
From experience, hosting with Podbean is very easy, your RSS feed is created and easily accessed for you to submit to any library you choose (iTunes, Spotify, Google, Stitcher, etc.).
3. User interface
The Podcast user interface is quite different from that of Buzzsprout. Although also clean and pleasing to the eye, still, it is not the most intuitive.
When you sign in to your account, you are presented with a simple logical menu.
The menu section highlights the main components of the system: Dashboard, Publish, Episodes, Media Manager, Layout, Statistics, Private, Settings and uses. The information on this screen gives you an overview of your account across these areas.
I must say, whilst the interface is not the most intuitive, the good news is that it is the simplest and most straight-to-the-point menu for podcasters.
4. A Super Live Streaming Enhancement
Yet to see in other podcast hosting sites, till then, Podbean is the only host with a Live Streaming Enhancement function for podcasts.
With this Live podcasting enhancement, live podcast is made exciting. With it, a co-host or guests can call in from anywhere in the world using live stream with the free Podbean app.
5. Multiple phases of Monetization
You do not have to use ads or affiliate marketing to make money off your podcast. With Podbean, you are presented with an awesome list of monetization opportunities.
I hate to say it, but this is why over 300k are podcasting with Podbean.
6. Working with the easy & popular Podcast App
No doubts, the Podbean app is one of the most popular podcast apps for iOS and Android, and can also be used to play podcasts via Amazon Alexa.
The most interesting fact about the app is that with it, you can record, edit and publish podcast episodes right from your phone.
What We Don't Love About Podbean – CON
Comments via the Podbean App: With Podbean, listeners can only post comments via the Podbean app
Subscription Antics. The website they provide pushes people to create Podbean accounts in order to subscribe (they can still add the RSS to the directories of their choice without an account).
Kindly note: the above affects the listeners/audiences and not the podcasters.
Money Back Guarantee: while you can try out Podbean for free, there is no Money Back Guarantee offered for now.
Podbean Hosting Plans & Pricing
Podbean has a 2 tier hosting plans, the "Unlimited Audio & Unlimited Plus".
Unlimited Audio plan is best for: Audio Podcasting at $9/month if billed annually, while
Unlimited Plus is best for: Video & Audio Podcasting at $29/month if billed annually.
> Check our price comparison section at the end of this article to see how Podbean stacks up against Buzzsprout and Blubrry.
3. Blubrry
Todd Cochrane founded Blubrry in 2005. Blubrry, subsidiary of RawVoice, is a privately owned and operated company that – unlike other podcasting companies – is based 100 percent in the United States.
Like Podbean, Blubrry offers almost and more inbuilt infrastructures.
If you are a diehard user & fan of WordPress self-hosted websites you will love Blubrry because your podcast is as simple publishing content on your WordPress blog.
Plus, you get 24/7 support via chat, a nice website builder, exploration of over 750,000 podcasts, and lots more.
What We Love About Blubrry – PRO

1. Signing up
Signing up on Blubrry is simple. Along the way, they will ask for your information which will be vital for your hosting setup.
Most interestingly, there is no credit card payment taken at this stage.
Blubrry offers a free accountfor 30 days.
2. Getting started
The function of Blubrry is clearly stated. Host your podcast, know your audience and make money. In fact, at times, Blubrry talks much about monetization than anything else – a super advantage for creators.
For those that have used WordPress blog, Blubrry will be an easy-peasy tool to use.
All you need to do to get started is to write your show notes, drag and drop your media file, then publish. It's that easy!
3. Powerful Website Options
Blubbery offers the most powerful website options among other podcasting platforms. With the tool you can make use of more than 45,000 plugins and themes.
Also, the tool has key podcasting features such as iTunes compliant RSS feeds, subscribe tools including a subscribe sidebar widget and subscribe page template, in-page media players, podcast SEO tools and more.
4. Proactive Customer Support
Blubrry, apart from their WordPress hosting integration & monetization strategy, is known to offer the best customer support for challenged podcasters.
I personally tried their customer care to see if the buzz was true, turns out it was.
Plus the only podcast hosting company amongst the rest to offer free phone support. Cool, right?
5. An IAB Certified Podcast Host
Blubrry is the first and only podcast hosting company to have an IAB Tech Lab certified podcast stats platform.
It's really kind of a big deal, because it means that your stats are on a platform that is certified to the highest standards in the industry. Which means you can trust the numbers and your advertisers can trust the numbers.

6. Devoid of No-Fault Overage
Just like a web hosting service would send you a notification that you've used up your resources, with Blubrry, the case is the same but quite different. How?
Whether your podcasting files are too big, and might push you over your limit for the month you need not worry as Blubrry's exclusive No-Fault Overage for podcast hosting covers you.
What We Don't Love About Blubbery – CON
The only thing I don't like about Blubrry is their statistics option. If you want to take accurate podcast stat you will have to use a third party tool.
However, if you want to use an inbuilt option, then you can wisely pay $5 for it. Except this, Blubrry is unapologetically the BEST podcasting hosting site for those that are familiar with WordPress.
It is simple. "Create content, upload and publish. The same thing we do with blog posts.
Blubbery Hosting Prices and Plans
Blubrry has up to 5 hosting plans to launch your podcast business. For starters I recommend the "Medium" plan as you get to test out the flexibilities of using both "Audio and Video" podcasting enhancements.
In the same vein, if you are migrating from another podcasting service, I recommend you get started with at least their "Large" plan at $40/mo.
With the 500MB that comes with it you can measure your growth adequately.
Else, the other big plans are "Extra Large at $80 & Professional – by negotiation".
If you want or looking for the best WordPress podcast host, I highly recommend Blubrry, even better with their "Large Plan".
(The best WordPress podcast host)
> Check our price comparison section at the end of this article to see how Podbean stacks up against Buzzsprout and Blubrry.
Just to remind us of the steps.
How to Start a Podcast
Here are the five Simple Steps for Starting a Podcast as a beginner.
Pick a topic and format for your podcast.
Choose your podcast name and create a podcast logo.
Record your first podcast episode. You can record right from your phone using the piodcast app (an example, Podbean app) or other mobile tools.
Publish your podcast episode to your podcast hosting site.
Submit your podcast to Apple Podcasts and other directories.
Conclusion on Blubbery vs Podbean vs Buzzsprout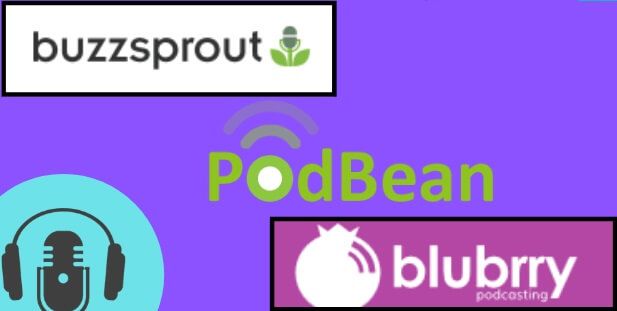 I promised you some comparison tables to help inform your decision on these three excellent podcast hosting and marketing sites.
But first, I wanted to cover the topic of Free Website Builder, as this is a common factor for whichever solution you select.
Podbean and Blubrry all have their own Free Website Builders that you can use on your podcasting business, with Blubrry, offering the best if it all. Just note that Buzzsprout does not have this infrastructure in its arsenal.
A simple solution is, if you need a website for your podcast then you might consider building a simple WordPress blog.
Final Decision on Blubbery vs Podbean vs Buzzsprout Comparisons
There is no doubts that each of these podcast powerhouses has their major and minor points, which translates to the fact that there is no perfect or all-including hosting platform; I don't know if I am making sense here.
This almost or nearness in infrastructures means you can test all of the platforms as you get free migration in free all of them.
Podbean, Blubrry and Buzzsprout all offer free trials, whereas Buzzsprout offers a 'Free Forever' plan which support the basics but with limited features.
Podbean & Blubrry offer free site builders while Buzzsprout does not.
While Buzzsprout offers open ticketing option for customers support, Podbean & Blubrry offer instant support with Blubbery going further to offer phone supports as well.
Podbean – all-inclusive users,
Buzzsprout – for beginners,
Blubrry – all-inclusive users and best for WordPress enthusiasts/bloggers/would-be podcasters).
Blubbery vs Podbean vs Buzzsprout Comparison Tables
OK, so as promised, we've put together some handy comparison tables on features and pricing.
Features
First, we have a feature comparison chart to give you a quick checklist of what each platform has to offer:
Pricing table
Next, we have a pricing comparison table to give you an overview of how each platform compares.
Our Top Hosting Platform Pick
I must confess, all three of these Podcast hosting services are top notch.
The bottom line is, all three hosting platforms – Buzzsprout, Podbean and Blubrry – are run by great teams of which is the reason they are so popular in the podcasting communities.
For instance, Podbean, commands a user base of over 300,000+, Buzzsprout with 100,000+, and Blubrry 70,000+.
If you're just starting out, and you need to control costs, then Buzzsprout 90 days + Forever Free option is great. You get a lot of features packed into the free service, and if you need to extend a little, you can move up to the Prepay option.
The monthly pricing from Buzzsprout is also very attractive to new starters because it includes all the premium infrastructures. This is an excellent option for a small business or podcaster that is making steady growth. Plus, it offers the cleanest beginner's interface.
As someone who has been using self-hosted WordPress for a very long time, I like Blubrry. And if, you're in that category then go with Blubrry (get a free month usage).
Additionally, you can integration hundreds of plugins to spice up your podcast site, and most importantly you get instant chat, phone and video call supports.
Podbean is an all-inclusive hosting platform. They offer some of the most attractive infrastructures as stated above which has seen over 300,000+ podcasters making use of it.
Plus, you get to interact with other users using its forum/community, and to hack your journey you can do everything using her popular versatile app.
Overall, Podbean shades it for growing & already pro podcasters,
Blubrry, simple and great for those who have used a Self-Hosted WordPress before,
and Buzzsprout shades it for Beginners – best interface.
That is all about the Podbean vs Buzzsprout Vs Blubrry review and comparison.
Which one is for you?
If you're still undecided then I recommend diving in and taking advantage of the free trials that each platform offers.
Happy Podcasting.
#Success
Disclosure: This post contains affiliate links. This means we may make a small commission if you make a purchase at no additional cost to you.
Next read: 5 of the Best Free Podcast Hosting Services For Beginners of 2020 (Make Money with Podcast)