Ever heard of foot fetish pics selling? I know it's funny but can you imagine being paid $150 to sell feet pics online?
It's totally insane, right? Even more, it's interesting that of all the easy and free ways to make money online, selling feet pics stands out as one of the most sidelined profitable side hustles. So much that it pays more than per hour if you were to work in an 8-hr shift.
Yeah, selling feet pictures is really a thing and in this guide, you will learn how to make money selling it effortlessly, the best places to post it, and how to beat cheap scammers.
Going on, we will discuss how much you can make if buyers & clients ask for a full image or video of you.
Also, we will see how to sell Feet Pics on OnlyFans, Instagram, Craigslist, Esty, and more websites.
Without further, let's see the best steps to take when considering selling feet pics online.
How To Sell Feet Pics in 7 Steps As A Pro
Here are all the steps you need to sell feet pictures as a side business
1. You must be 18 & Determine to get started and work hard
Because selling feet pics is considered fetish, it is categorized as adult business, and you need to make sure you are 18 years old before you consider this side business.
And talking about getting started, I've seen a lot of people who want to start selling feet pics, but you know what?
They never get to start because procrastination is such a big deal.
Apart from determining that you can use this side hustle and make money, another hustler virtue you want to have is putting in the hard work now.
Just as Tim Notke, the basketball coach said it "Hard work beats talent if talent doesn't work hard".
For this side business, you might have the best feet size and specs where smart pictures of them will blow buyers away, but if you are not willing to do the initial hard work of taking the pictures and uploading them to your social media handles/websites, then you ain't ready.
Call to action: if making money online by selling feet pics online is what you want to do then decide to get started with the mind of putting the initial work today.
2. Get a Pedicure
One thing I love about the feet pics industry is that they are not judgmental. So, yeah, no one will call your feet names or ugly.
Nevertheless, to beat any arguments, you want to get a pedicure for your feet if this is the business you want to try out.
And apart from the dead skin cells that are rubbed off the bottom of the feet using a rough stone, with the right pedicure, your skin will look spotless due to the granular exfoliation, moisturizing, and soft massages.
And the result?
You will attract the best buyers.
Call to action: locate a pedicure shop around you or ask a friend for a recommendation and get it done.
At this point that your feet are being massaged and fine-tuned to match what buyers would need, you can use that opportunity to create a few social media handles & Fetish community accounts for your feet pics sampling.
While we will list out the best places and where to sell feet pics, the recommended sites to get on ASAP includes Twitter, Instagram, and Onlyfans or Patreon an as option.
Later on, we will discuss the best hashtags to use for promoting the feet pics, but for now, get on with them.
A lot of mistakes some of us make is that we think people do not perceive professionalism from the word "go". No, they do.
Personally, only God knows how many times I have to scrutinize someone's Twitter profile before I follow them.
As a feet pics seller, you want to build the best persona for your social media handles while you link other pages. And I promise you that this does not take much.
Taking Twitter, for example, to get started, go to your profile page.

If you're using the Twitter mobile app, select the "Me button. If you're on a desktop web browser, select the Profile icon near the upper-right corner, then choose View profile.
From the above clicks, your profile settings will appear.
Go ahead and upload a new profile picture and header image. Also, make sure to add details to your Bio section, and more.
Finally, when you checkmate that all the information is okay, select save to save your changes.
For Twitter profile pics & Size: use your pics head shot if you want to work long-term with clients or use Canva and create 500×500 pics if you do not feel comfortable with a real head shot.
NB – using a head shot shows your humanness.
Twitter header image – the recommended header image size for Twitter is 1500 x 500 px.
Call to action: start creating community accounts. And for custom images, use Canva.com.
4. Take Feet Pics & Videos
It's now time to take some cool feet pictures with your mobile phone or camera (if you have one).
This is not much of a big deal as you can lay on your sofa and take one, while sitting, and different poses you think will make buyers want to strike a deal with you.
To get started, go to Instagram and check out a few samples or wait to see some from the recommended websites you can upload and promote them.
Here is one from "Pezinhos & feet_hand___lover" on Instagram.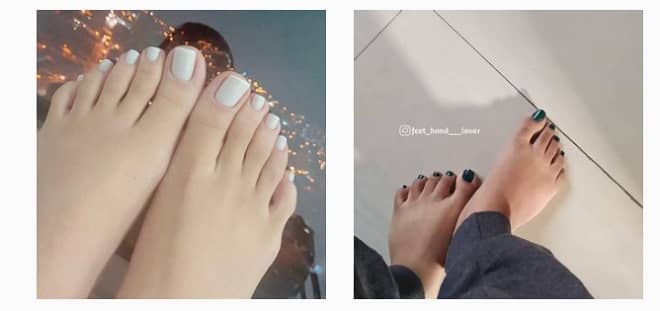 About videos. Now, if your clients are happy with your samples already such that they want more, which is always a video, you might want to shoot some videos showing them the full feet (and to your knee level if you want).
Note, if you are taking videos, you will charge more as compared to pictures. More on the rate later.
How to Edit Pictures & Videos for Pics Feet Selling
I might not know if you need to edit your feet' pictures, but if you need, the beginner tool to use is Canva or some free online websites.
Photoshop is also an option if you have the skills.
And for video, if you need a free editor, you can use the VSDC tool to get started.
Alternatively, if you DON'T want to spend time doing all of these, you can hire some dudes on Fiverr to design the images.
Let's continue.
How to post your feet pics today and get likes and buyer requests from a new account will simply be enhanced by using the best converting hashtags.
And yes, even if you created a new Instagram account today, and started posting your feet pics after pedicure the next day, you will get seen.
From here you will build a user following and still with the hashtags used, you will get both organic traffic, likes, and views.
To get started, a few hashtags you can use for selling feet pics include: #keralafeet #mallufeet #feet #kerala #indianfeet #kolus #ankletfeet #anklets.
More on this later.
If I can, I will list all of them for you in a text file & pdf you can easily download and use even on your mobile device.
How to get buying Requests Fasts
Be it on Twitter, Reddit, or Instagram, you want to make sure that you give buyers and potential clients the chance to easily reach out to you.
For Twitter, you want to keep your DM open. And for Instagram, do not limit conversations from only the people that follow you.
Do the same for other feet fetish account communities.
6. Build Relationships with Buyers
With the initial traction and successes recorded, you want to build relationships with some clients. And how do you do this?
After they might have ordered and paid for the first feet pics, go ahead and ask them "if you can supply them with more feet images".
While some may not want it, the good news is that those that do "might go on" to give you money for a pedicure. #Sweet.
Of course, this sounds like a fairy tale. But it is a true business life event.
And for those that require that you send them money first to verify that you are legit, kindly block or exit from such a conversation because they are cheap scammers. More on this later.
Call to action: always ask after the first order if you can be supplying them with cool feet pictures.
7. Sell Online on Feet Pics websites
Apart from going solo – doing it on your own, you can still sell your feet pics online for a price.
For instance, on a site like Instafeet, you can charge your subscribers $10/month to see your feet pics.
Also, on Onlyfans, you bill your subs as high as $25 to access your cool feet.
Not to worry as we will soon list out the best sites you can list and sell feet pics online and make money.
All in all, the above 7 steps are all you need to get started if you want to make money on the side selling cute feet pics.
13 Best Websites & Feet Fetish Communities to Sell Feet Pics Online 2022
Thinking of where to sell feet pics? Here are the best places and communities to get started with.
1. Instagram
The very first website that will help you get traction to sell your feet pics is Instagram.
As an established image & video content site, as a beginner, you want to make sure that you complete your profile before you start posting.
Again, if you already have an account, you can go ahead and start posting feet pics using the best-related hashtags to reach more audiences.
Also, as soon as you post pics, use the search bar and search for other feet' pics and comment on them.
And finally, you want to make your comments personalized and helpful which on a scale of 1-10, will convince 4 persons to click on it to see your profile.
Here is the number of likes (1,000+) Lindos got 4 days ago from her Insta feet pics with the right hashtags which helped as well.
As a beginner, you might get 10-30 likes, it's still something, right?
2. Twitter
Like Instagram, on Twitter, Hashtag is everything.
After creating and profiling your account to look professional, go ahead and use the right hashtags for your tweets.
Method #2. Use the popular & trending hashtags for your tweets.
For instance, as of the time of writing, the trending hashtags are:
Messi and Ronaldo 26.9K Tweets
Didi 31.1K Tweets
#cryptocurrency 40.6K Tweets
Liverpool 248K Tweets
Wenger 37K Tweets
Glazers 32.1K Tweets
JP Morgan 10.7K Tweets
Batman 38.1K Tweets.
To check for the trending hashtags, click on the search button.
Also, click on more to see other hashtags you can use for more exposure of your tweets.
3. Only Fans
Already, we know that OnlyFans is a content subscription site where creators can earn money from users who subscribe to their content—the "fans".
Because you can earn money directly from your fans on a monthly basis as well as one-time tips, you want to put in the efforts to come up with the best feet pictures.
Additionally, if your subscription is from $25+ then you might want to include videos.
Note: just a video of your feet to the knee level is the professional way of doing this side business.
Anything more means, you are giving more than what is expected which might lead to sending good deal breakers away.
To see how this is done on OnlyFans, here is Ceesta page with 80+ posts.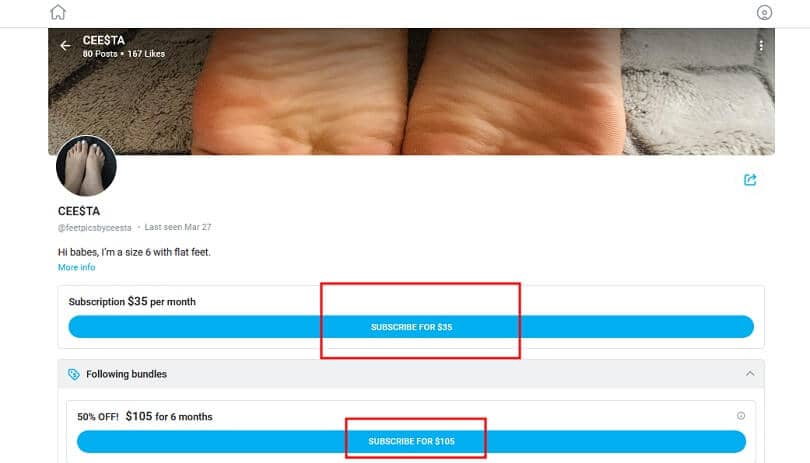 Did you ever imagine that you could charge $105 just for people seeing your feet pics? Well, you have it there.
Later on, I will tell you how to get started on OnlyFans Selling Feet Pics.
Let's move on.
4. Patreon
What comes to your mind when you hear of Patron? Membership monetization, right?
Yes, like OnlyFans, you can use Patreon and earn a monthly income by providing the best feet pics to your subscribers.Again, before jumping here, you need to create that fan base first using Twitter or Instagram as discussed.
To see a sample, here is how Danielle does it with a monthly fee of $9.99 or $14.99.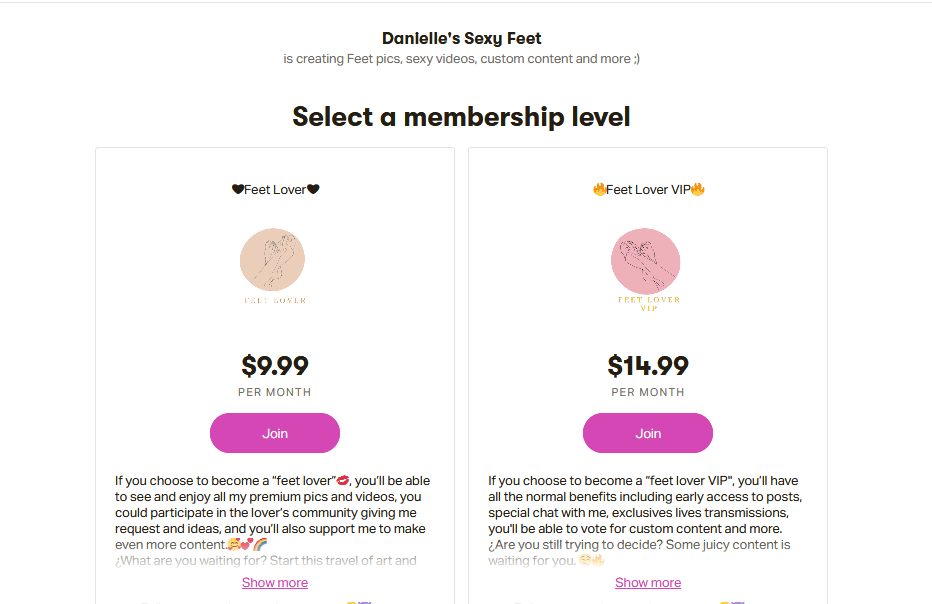 I believe you get the idea of the best sites and how to positions your feet pics now, right? Let's go on to list other sites you can use.
5. Reddit
Reddit is another cool place to promote your feet pics.
Before we get started, you already know that spamming Reddit will get you evicted, right?
So, the right thing to do is search for feet pics Sub-Reddit communities and join.
When you join, engage with the users and recommend your social media page(s) or OnlyFans for those that want it to learn more.
You might have doubts about Reddit but it works.
In fact, I use the same method to make $75 selling an affiliate program on the site.
So, post good stuff, be helpful and follow up conversations.
How To Search For Feet Pics Communities On Reddit
To check them out, enter "feet pics" :reddit.com into Google or Bing search engine and join all the quality sub-Reddit communities.
The most popular community on it is r/feetpics. Also, r/Female_Foot_Fetish and r/FeetFetishHeaven/ are options.
6. Tapatalk MousePad Groups
Regarded as the best female foot fetish board in the world (by them), the MousePad tapatalk is an exclusive community where you can upload your feet pics and make money.
With a membership of over 70,000 feet pics sellers, you can join in and showcase your feet.
Again, the end goal is to build the community and lead them to your premium content.
7. Facebook and Groups
If you are confident about using your personal Facebook account to sell feet pics, then no problem.
However, if you are concerned about it you can check out a few Facebook groups and join to see opportunities to post your feet pics.
To get started, go to Facebook and search out a few groups to join.
Join in, post your pics and interact along the way.
Like Reddit, people can always learn more from your premium pages (Patreon or OnlyFans).
As of the time of writing, I saw a group called "Feet Pics for sale". I think you can check it out if it fits in.
On the other hand, for some of us who might not want to use Facebook due to privacy issues, there is an anonymous option.
How about trying Whisper?
8. Whisper
Available for both Andriod and iOS users, with over 10million downloads, Whisper acts as an anonymous social media where you can post and share your feet photos and video messages anonymously.
The best news is that the Android and iOS mobile apps are available without charge.
9. Kik Messenger
Kik is a freeware instant messaging mobile app. With it, you can search for feet pics and join the communities and start interacting.
You can learn more about Kik here.
10. Omegle
Omegle is a free chat room that allows you to connect with millions of people with no need to log in. All you've got to do is start chatting.
You can learn more about Omegle here.
Let's go on to see some websites you can upload your feet pics and get paid.
11. Your Website/blog
If you have a WordPress site, you can create a widget section/page and list your feet pics, and make money on the side.
To receive payment, you can use the PayPal payment gateway plugin where your audiences will have the option to pay you via PayPal or via credit cards.
Want to start a WordPress site ASAP? Here is an ultimate guide on it.
12. Feet Pics
Feet Pics is a simple website and marketplace where feet pics are traded.
With it, you have a dedicated page where if you upload sleek pics you attract more fans and make money.
Check out Feet Pics to learn more.
13. Feet Finder
Feet Finder is a popular website to upload your pics and get paid.
It's kind of funny, but it was here I discovered that men also sell feet pics. Lol.
Check out Feet Finder to learn more.
14. Insta Feet
Insta Feet is another website you can upload your content and get paid.
Like OnlyFans and Patreon, they allow you to personalize your price per subscriber/to your audience.
Where to Sell Feet Pics in America – Best 5 Places
The recommended USA places include:
1. OnlyFans
OnlyFans is a popular website in the United States of America, hence, one of the best places to sell feet pics and make money.
Also, I like the fact that as a content creator you can easily receive your money via bank accounts, Venmo, or PayPal.
Interestingly, if you set up an automatic recurring payment, your earnings will transfer directly into your linked bank account.
About making money on OnlyFans, it's amazing that people take this as a big-time business.
Imagine getting $500-$3,000 per month to show your feet pics from your OnlyFans subscribers. This is insane, Lol.
Here is how you can go about it.
How to Sell Feet Pics in the USA Using Onlyfans to make $3,000 per month
Step 1. Create an Account
Go ahead and create an OnlyFans account. When done, complete your profile and move ahead to set the preferred payment option.
Step 2. Upload the best shots
Since this is where you showcase your best feet pics content, you want to take the best shots using several poses.
Step 3. Apply for the Monetization of your OnlyFans Page
Just like Google AdSense monetization, you will have to apply for account monetization.
When you do, wait for the approval and start getting paid by your audience who are eager and want to see your beautiful feet.
While people with large subscribers monetize as high as $35 per month, you can monetize your OnlyFans page at $7-$9 per month as a beginner.
And then with a larger audience base, you can hype yourself, engage more and make it $50 per month (if you want).
Step 4. Promote your OnlyFans Account
If you already have an engaged following on Twitter, YouTube channel, your blog, or whatever platform it is, you can link your OnlyFans to it for more subs and pay.
Actually, Ceesta uses YouTube as one of the major traffic sources.
Step 5. Engage with your community
With a growing community, you want to engage your audiences to learn more from them.
To get started, you can ask them the color of shoes they might want you to wear, the type (sandals, covers, with shoes or barefooted, etc.).
2. Instagram
Instagram is the mother of visual content, so, it comes in as the number 2 best place to sell feet pics in the USA.
With it, all you need to do is use the best hashtags to get the initial likes, followers, and tractions, from there you link users to your OnlyFans subscription page or your website where they can buy the premium feet pictures.
In all these, make sure that your profile is complete – looks professional.
How to sell feet pics on Instagram & make $100 per week
Step 1. Create an account on Instagram & set up the profile.
Go ahead and create an Instagram account.
As we already said, make sure to complete your profile from A-Z.
Also, if you are using OnlyFans or Esty shop, link the pages in your bio so premium users can easily go there and pay for exclusive feet pics.
Step 2. Post excellent shots (watermark some)
When your account is all set up, you want to post good and clear images.
For the picture size, a 1080 x 1350 is okay. However, the good thing is that you can upload them originally as it is from your smartphone or digital camera.
Don't forget that people can use your Feet Pics and make money, right?
Yes, they can create an account on Kik or Craigslist and sell your pictures as theirs. So, you want to watermark some of the feet pictures with appropriate "descriptions".
Step 3. Describe the pics, Comment & use Hashtags
About description. Yes, you can tell your audiences that "P.S – for full images without watermark, check out my bio or get in contact with me".
And if you had linked your payment page in your bio you will sure go to the bank.
Another hack to more views is using the right hashtags such as #keralafeet, #mallufeet, #feet, #kerala, #indianfeet, #kolus, #ankletfeet, and more as we will see later on.
Lastly, as a beginner, go out there and comment on other feet pics stories, and posts.
And of course, you want to leave a medium to long comment as an expert which will force others to come to check out your profile.
Step 4. Run simple ads for more sales.
If you've already built an audience on other social media accounts, go ahead and link your Feet Pics Instagram account to them for free traffic.
And if you don't, you can spend some dollars, maybe $5 per day to run simple Facebook or Instagram ads for more viewership.
Note: do not forget to keep your DM option open. Plus, make sure you link your payment page in your bio.
Step 5. Build Long term Relationships.
With your account profile completely set up, long-term clients will always communicate with you where you can make $2,000 upfront or more per month.
3. Craigslist
The golden place for selling things we do not need in the USA is undoubtedly Craigslist.
With over 336.13M people transacting on this website in the last 6 months, you can make a lot of money if you know how to work it out.
In fact, I saw someone who in a few weeks sold over $1,200 of stuff on the site.
Like Instagram, if you want buyers to understand you easily, just post a detailed picture of your feet.
Here are the steps to sell Feet Pics on Craigslist
Step 1. Create your Craigslist account.
Take some time and learn how to use the platform properly if it's your first time.
Most importantly, you want to set up your payment options after the initial account verification process.
Basically, PayPal is a popular payment option, so, you can use that.
Step 2. Prepare to Upload your Feet Pics
One thing you need to take note of is that on Craigslist there are a lot of scammers, hence, some of them might want to reap you off your pics.
So, to guide against this, you want to watermark most of your images to beat these dudes.
You can use a free tool like Canva to do this.
Step 3. Get Placement
With your upload(s) ready, go ahead and create an ad to advertise your feet pics.
Don't forget to list your price tag. If you are a beginner, you can start with lesser pricing.
Step. 4. Scrutinize buyers & strike a deal
From the ad placements, you will get some potential buyers.
At this point, what you want to do is check if they are serious or just cheap scammers/time wasters.
If they are legit, you can go ahead and make your first feet pics sale, and not forgetting building a relationship for more.
4. Esty
Esty is the fourth website you can sell feet pics in America and make cool money.
And do not be surprised that Esty is recommended as the #4 site. This Google trend showed that Craigslist beats it.
So, the good thing about Esty is that they have advanced options where you can customize your feet pics shop the way you want.
With your shop, you can create out of stock option for buyers, get customer representative support, and more.
All in all, Esty is a one-stop place you can showcase your feet pictures and get good conversion rates.
The bad side is that you will have to pay transaction fees for the shop and little charges per sale of the pictures.
(Note: you can use your website to do all of these – read on).
How to Sell Feet Pics on Esty in the USA & make $80 daily
Step 1. Create an Esty Account
The first step is to create an account and allow the evaluation process to take place. That is, Esty will review your account and give you feedback if you can be accepted or not.
If accepted, move to the second step.
Step 2. Validate and add payment option
If it's your first time with Esty, I recommend you take some time and check out how the platform works.
Additionally, go ahead and add your payment option.
Step 3. Watermark your Feet Pics & Set Price
With your feet pictures already on your device, use Canva or online photo editors and watermark them.
When done, go ahead and upload, and of course, set your price for each feet picture.
Step 4. Make Sales
While you wait for your first sale, go ahead and promote your Esty shop via other social media accounts for exposure.
Also, make sure to use Feet pics tags for more outreach.
Additionally, if you sell more than feet images in your Esty shop, you want to segment your Feet pictures into one category.
As we already said, kindly note that Esty takes a cut both when you sell and in transaction fees.
Specifically, they charge you about $0.20 when you list the pics.
Step 5. Run Ads – optional
If you do not want to wait for organic or social media traffic, you can go ahead and spend some cents on the ads.
Also optional. You can tell your friends that have an Esty account to give you positive reviews.
Lastly, like Fiverr freelancing, when you start getting clients, you can offer them bonus feet pics for a 5-star review. And yeah, we need that free & organic traffic recommendation by Esty.
5. Feet Finder
For people who might not want to put in the initial work of building a profile about this side business, you can simply upload your pics on a site like Feet Finder and get paid in real-time.
And apart from Feet Finder, Feet Pics is an option, and more as was discussed.
Here are some Hashtags to use on Twitter, Instagram, and other platforms to sell more feet pics as per the traffic reached.
#keralafeet, #mallufeet, #feet, #kerala, #indianfeet, #feetqueen, #instafeet, #feetlovers, #feetlove, #nails, #beautifulfeet, #barefeet, #feetpics, #chilanka.

#feetgirl, #feetgirls, #feetqueen, #barefeet, #beautifulfeet, #perfectfeet, #lovefeet, #feetinstagram.
So as not to make this look spammy, I have created a list of hundreds hashtags to use for your audience reach. (Many more than as shown in the image below).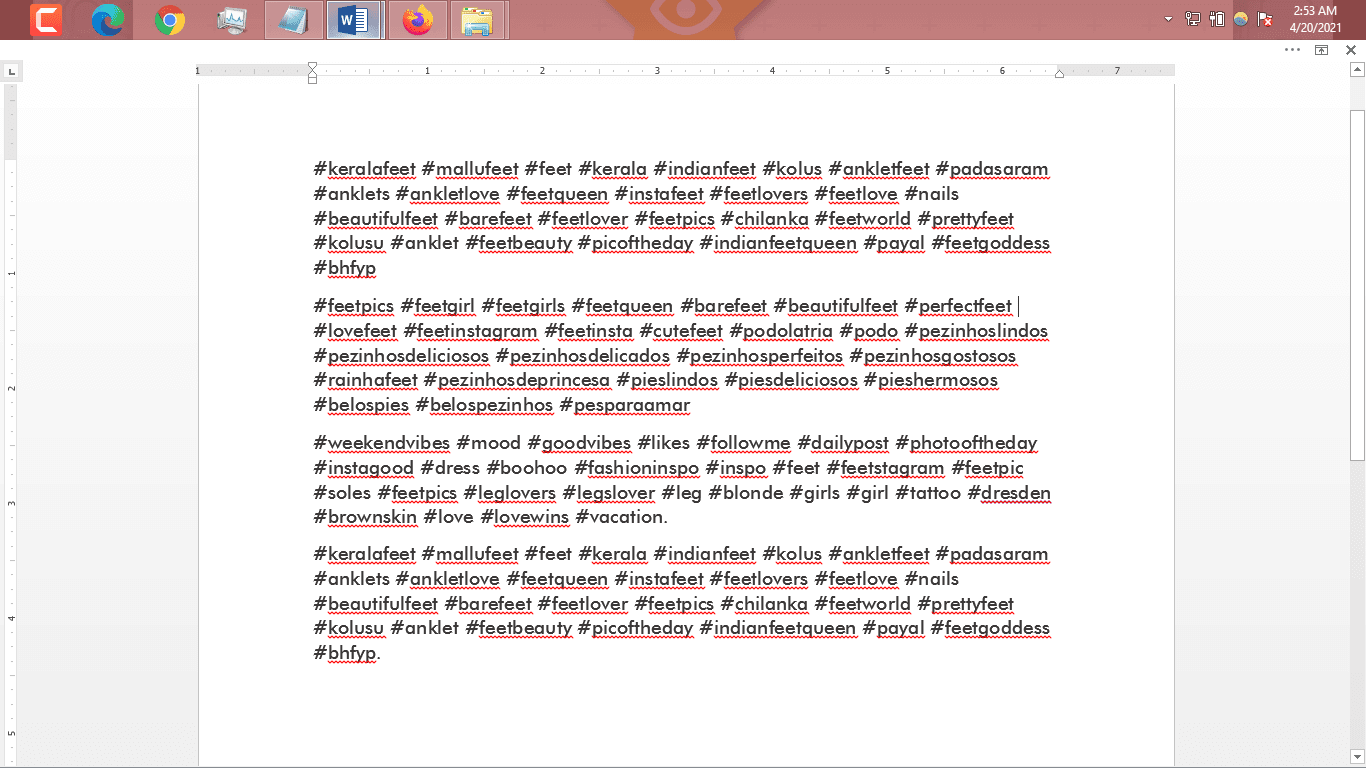 (To download the free hashtags in Text file & Pdf format) – click here for instant download.
P.S: would you want hundreds of these hashtags for Instagram, Twitter, and other media pages? If yes, then let me know in the comment section.
How much is Feet Pics Selling worth?
As a beginner, if on Craigslist, OnlyFans, Esty, and other platforms you can list it for $5.
Then with more audience trust, following & user base you take up your price to $10 on Esty & Craigslist, and for OnlyFans or Patreon, you can ask for $20-$35 per month.
Also, you can create urgency & discounts for users who might want to subscribe for $100 per 6-month access.
Overall, selling feet pics can make you $3,000 per month or more when you stay in it for a long time plus the long-term deals happy clients might pay for.
How to Know Fake Feet Pics Buyers/Scammers & Tips to beat them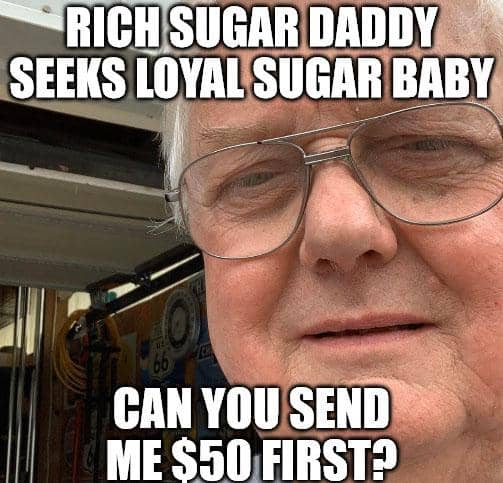 #1. Payment validation
If anyone asks you to pay any money to validate that you are genuine, know that a scammer is in town. Just block the person.
#2. Social Media Account login details
Isn't it funny that random people will ask for your social media account details just to know that you are real? Not just that.
Some of them even might ask about your SSN – Social Security Number, and the front & back of your ID cards.
Who does that, but poor scammers?
#3. If they ask for Nudes.
Feet pics selling is not about sexuality.
Just so you know, your feet can be used for advertisements, promote good health care products/services, pedicure billboards, and more, you need to block and disengage anyone that asks for more than Feet Pics because they are fake and cheap time wasters.
#4. Body shaming & Bullying
While the feet pics industry is not judgmental, nonetheless, you can always expect some crazy acts from a few scammers.
Therefore, anyone that body shames or bullies your beautiful feet needs to be blocked ASAP because there are hundreds of buyers/clients waiting to reach out to you for your special feet specs (just get on social media and promote your page to see them).
7 Best Decisions before Settling With Selling Feet Pics
Here are the golden rules you need if you want to go into feet pictures selling business.
#1. It takes some time & patience
Starting an online business takes some time, most especially if you have no following on social media or any audiences.
So, be patient, use the hashtags you need to, and grow steadily because the assurance is if you follow rule #2, you will make money with the feet pics business.
#2. Dedication & Consistency
Dedication and consistency are no easy virtues, hence, you need them to be successful with this online business.
When you see 50 subscribers on OnlyFans instead of 130 you were expecting in your first month, will you keep posting, knowing that the little 50 subs can give you $500 on the side if you price your page at $5/mo?
#3. Caution with time wasters
People are people, meaning, some of us are weird, so expect absurd comments when you get started.
And if you don't see any, well, good for you. But if you do, you know where they belong? In the spam section.
Immediately block and restrict them from contacting or seeing your feed/page.
Do the same with any spammer.
#4. Check DM & Requests
If you are on Twitter & Instagram, make sure that people can DM and send you requests, or even contact you if you used your blog.
So, go ahead and enable that feature if not already.
And if you are using your website, you can create a simple contact page like this one.
#5. No Ugly Legs
More than 30% of the people reading this post will talk down on themselves that they have ugly legs.
Well, if I can remember, you were to show your feet pics and not how your legs are.
Again, if you think that your feet have some special features, then write it out because there are niches in the health sector your type of feet will fit into. That's the world for you.
Different needs and types of feet to different clients and industries.
To beat any self-defeating words about your feet, see below.
#6. You need Pedicure
You need to go out and get some pedicure to set your feet in place/sparkling.
And do not worry because if you can create a business relationship with your clients, some of them will appreciate by sponsoring your pedicure.
#7. Assertive & not rude
Some clients and contacts will be annoying, this I know.
What you want to do is show them that you are a professional feet pics seller, how?
Engage them being mildly assertive & not rude.
Assertive: having or showing a confident and forceful personality.
Before we wrap up. Let's answer some of the questions beginners and potential feet sellers ask.
FAQs on Feet Pics Online Business

Where can I Instantly see feet pics for sale?
You can see a lot of samples on Instagram.
How Much You Can Make if Feet Pics Buyers & Clients Ask For a Video
You can make up to $15-$30+ if a client wants you to film your feet.
How Do Sellers Get Paid Selling Feet Pictures Online?
Sellers receive feet pics commissions via Venmo, Payoneer, Cash APP, PayPal, Bank wire, Apple pay, Google Pay, Amazon gift card, and more.

Overall, PayPal is the most popular.
Who makes money selling Feet Pics shoes?
Thousands of people make money selling feet pics online. For instance, on Reddit, there is an engaging community of over 250,000 feet pics lovers.

Specifically, not just that Sativa of Ogfeet makes feet pics selling a full-time business, she makes more than $5,000 a month.
Is selling Pics fees likened to Porn?
As already said before now, the feet pics business is not about feet porn pics or sexy feet pics.

If you want a long-term relationship with big clients and brands, here are 3 ways you can do that.

#a. Adopt Creativity: Apart from showing just your feet, you can wear socks, different shoes, nail polish and etc. to show different personalities.

#b. Keep your clothes 100% on. You are too exclusive to allow some random dudes to see your most endowed asset.

As a seller with branding in mind, just like Sativa does in most of her shots, you want to keep your clothes on because no sexual activity or poses is required to sell feet pics or make $5,000 per month doing it.
Don't miss:

➡️ How to start a WordPress Blog as a Nerd – A-Z Guide
Final note: how to sell feet pics online & make $2,000 per month
If you want to make feet pics business as one of your main income streams then here are the steps – based on real-life example.
#a. Focus on 2 social media accounts (Twitter & Instagram).
#b. Create an OnlyFans account & a website.
Here, we have an option to use Esty, but since you will be charged every time you make sales and transaction fees, plus, your account might not be accepted or taken down, you want to create your own website where you control everything.
You can start a simple website with Bluehost at less than $2.9/mo. Check it out here.
#c. Build the site and link it you your Twitter and Instagram accounts.Also, create a page (use a free plugin called Elementor or a site builder that comes with your Bluehost account) and build a page, upload your feet pics to the page and link them to your social media accounts as well.
With your website built, link it to your OnlyFans account and also use the PayPal payment plugin to receive payments for the feet pics sold directly on your website.
P.S – make sure that your DM is open for chats and requests from potential clients.
Here is a sample from Toe Daddy who makes $4,000+ per month with feet pics using OnlyFans, Twitter, and her website.
Observation: hope you see how she completes her profile, links the website where she lists feet pics for sale and an OnlyFans account, plus her DM is opened? That is exactly what to do.
#d. Promote your social media pages (Instagram recommended);
Drive organic traffic to your Twitter and Instagram accounts by commenting and using the right hashtags on both your posts and others.
Run ads on Instagram to reach more audiences.
Make sales and increase your price per month when your user base grows.
That is exactly how to do this silent but profitable online business.
> Don't forget to download your FREE organic reach enhancement hashtags. Go here to download for free.
(Also, do let me know if you need more hashtags for feet pics social reach).
Over to you.
Do you wish to start selling feet pics online?
Let me know if this guide has helped you decide already.