Are you in need of a free, simple, beginner's steps/guide on how to start a blog in Rivers States, Nigeria?
This ultimate guide on this page will show you everything you need to know on how to create a blog that is professional, flexible, make money, affiliate programs to make money fast, how to scale it, and of course, all these will be enhanced in an easy step-by-step plus infographic tutorial.
Ready to start the simple step-by-step tutorial already? If yes, then kindly use the table of contents to jump to the actual lesson – "How to Create a Blog in 6 Steps in Rivers State of Nigeria", else, let's continue with the basics.
The IsuaWealthyPlace tutorial on how to start a blog for beginners in Rivers, Nigeria
My name is Isuamfon Offiong, and I am going to take you on today to show you how to start a blog site from the Treasure Base of the Nation.
I have been blogging and building blogs for over 4 years now, and, I know that starting a blog can seem overwhelming and intimidating, so, I will make this free guide an ultimate lesson you need to start a blog in Nigeria.
The big news is that you will see how to make and get your blog ready in the next 10-18 minutes.
How to Make a Blog for Free in Nigeria
Do you want me to install, and set up your blog? Why not.
 The thing is, while I created this blogging guide for beginners, at any point you're stuck, just send me a message and I will do my best to guide you on ASAP! Alternatively, as I promised, you can download a free PDF here to create your blog.
What Is A Blog & How Can I Become A Blogger?
So as not to make it complicated for you, a blog is a type of website where you update it often and as a communication tool with your audience. Of course, you've heard of popular news and celebrity blogs in Nigeria. The big question is, what comes to your mind when you hear those?
Like me, most Bloggers often write from a personal perspective that allows them to connect directly with their readers – just as you're reading this guide now, I started with my name and all sorts of introductions.
Again, as you'll see, I have left an opportunity for you to make your comment below at the end.  
Besides, most blogs also have a "comments" section where readers can correspond with the blogger.
All these help build relationships with your audiences, and certainly, if you're offering a service on your blog, they will be more than happy to buy from you – that is human psychology by building relationships.
Now how do you become a blogger? 😉 
You become a blogger as soon as you launch your blog and start writing content. Kindly note that when you write content on the blog, the contents are known as blog posts.
Should I start a Blog in Rivers State?
Should you start a blog in Rivers state, Nigeria? Of course, yes. As far as you have what you want to share with your audience then you are good to go.
And as expected, when you do it well you stand to get rewarded via commissions. But let's get one thing straight.
Many people believe that to become a Blogger in Nigeria you have to be passionate about what you're writing. I mean the topics. Please take this consideration with a pinch of salt, know why?
I have more than 4 blogs, and ask me, am I passionate about some of the topics? The answer is no. And if no, then how am I able to communicate with my audiences? For me, it is simple. Here is what I do.
I make deep research on what they search for and answer the questions accordingly. In fact, here is one of the blogs I started in 2019.
The answer to this is, as far as you have what to express then your voice will always be admired by your readers. And even more, there is nearly no niche – field of blogging you can't make money off your blog. More on this later.
So, as far as you're interested in researching a topic then you're good. Let's say I wanted to write a documentary on Lionel Messi. I don't need to know Messi or love him to write about him, right?
ALL I need to do is go to the internet and gather good and convincing points about him and put together as a long and detailed blog post that gets shared as the one above.
Can you start a Blog and Make Money in Rivers State?
The big answer is yes. While we will see how to make money from your blog in detail, here are a few reasons you should start a blog today.
#1.  Make money from Home
I am sure you must have heard of top bloggers in Nigeria and how they make money. The intriguing point is, many of these bloggers make enough money even though blogging is their part-time job.
So, in essence, blogging can be profitable and lucrative if done right, and if you don't give up. Additionally, the most intriguing benefit is, it can be a source of passive income as far as your article is there on search engines like Google and Bing.
Think about a blog post that makes you money even if you don't update it in many months after publishing.
#2. Build a Brand
If you stay with your blog for a long time, you can make a name for yourself and become a top brand, companies will contact to associate with. The happy moments come when they wire advert-placement-fees on your blog to your bank account.
#3. Teach others how to blog  
Just as the next generation is coming up and will be willing to learn, if you start blogging today, you can also start teaching others how to blog from home and make money in the years to come.
Like Toyin Omotosho teaching internet marketing or Joe Okoro teaching blogging, you can create a course where your students will enroll and make passive income.
And lastly, just as the internet is buzzing, I won't deny the fact that there are other avenues for money and reasons you want to start a blog, but I choose to list out the above.
Without further ado, let's now see the 3 core things you need before starting a blog site.
The 3 Core Things You Need To Start Your Own Blog
Before any blog you see is launched they need 3 core things which are :
#1. A domain name
#2. Hosting service.
#3. Content Management System (CMS) – WordPress, Joomla, Magneto, Wix, and more.  
So, basically, you will get 2 things for free and pay for one only. You will get a "free Domain Name and a free CMS – WordPress is free.
Very fast, let's get to know Hosting?
What is Hosting, and why is it Important?
Hosting is what keeps your blog online.
Hosting your site means building a framework or a foundation it will be built on.
For instance, if you want to watch Netflix, subscribing to its monthly fee in blogging is termed "hosting fees". What it means is that you are paying for the service to keep your blog or website alive/online.
So, hosting is a service that keeps your blog online. Meaning, if your hosting package expires your blog will be offline.
The hosting service we will use is HostGator which offers a lot of benefits for bloggers. I have used HostGator, so, it is recommended for beginners to get started with it. The good news is, with it, you don't have to pay for a domain name anymore. You will get it all for free.
Apart from that, founded in 2002, HostGator.com manages millions of websites in the world. As a new blogger, you get:
 #1. Free domain name
#2. Instant chat with support,
 #3. Free SSL certificate to secure your site,
#4. Unlimited customs email accounts,
 #5. Cheap for beginners,
 #6. Loads quite well – what Google loves and also, you get free ads money and more lot.
The only con here is that you might need to move your blog to a managed hosting like Kinsta, Flywheel, or Cloudways when you start receiving 50,000 visits/readers to your blog, but as I said, I have used HostGator, so, it is highly recommended for you.
What is WordPress in Blogging?
WordPress, a content management system, often abbreviated to CMS, is software that allows you to build, manage, and update your website content all in one place.
In other words, it is a framework that helps you manage your blog. It gives structure to manage your blog effectively.
The most popular and frequently used content management system is WordPress from WordPress.org (Free for everyone). The same I am using all over my 5+ niche blog sites.
Also, according to builtwith.com, WordPress records 96.19% as the most preferred platform (CMS) to build a website.
The overall good news is that the WordPress framework (known as CMS) is free to use, so, you don't have to pay anything for it.
Remember, you're paying for just 1 thing.
Kindly note that this article contains article links which we will earn a little income if you sign up to HostGator using our link. Thank you for your support. Learn more here or contact me if you have any difficulties.
But what is a Domain Name, anyway?
A domain name is what your blog or brand will be known as. For instance, this blog's domain name is isuawealthyplace.com. Others such as Forbes.com, BBC.com, etc.
Now, you don't have to overthink what to call your blog because it does not really matter. But before you choose a domain name, avoid using a name like Mark23.com. Why?
Because when you share it with a friend they may end up typing Marktwentythree.com. No one knows if the Search Engines will re-direct them to your site, so, save yourself the headache.
How to Choose & Get a Free Domain Name for your Blog with HostGator
With HostGator, you can easily set up your site in less time. The good news is that paying for any of their hosting packages (NEW Shared, Cloud, and WordPress hosting packages) comes with a free domain name if you choose one of these TLDs (.com, .net and .org) valid for 12 months
Choosing a domain name
So, what would you like your blog to be called? I want to believe you already have a name for your new Blog.
However, if you don't, just to give you a clue, if you want to build a brand fast, then you can consider using your name as your domain name – like NeilPatel.com, LindaIkeji.com, and Bloomberg.com and so on.
On the other way round, you can choose a suitable domain name via your passion and hobbies. For instance, if I'm a football lover and with my name as Isuamfon, my football news site can be "IsuaGoal.com". Sounds nice?
Another hack to choosing your blog name can be based on your life experiences (IRememberJonWick.com), time of the year (AugustWears.com), goals in life (SuccessforNerds.com), movies (TheBlackMerlin.com), and motivations (ILoveMySpouse.com).
All in all, note that the name of a blog does not matter. What matters is the content. When your blog does well your domain will do well as well, and if you feel uncomfortable you can change it to something you want later on.
Choosing the Popular Domain Tails, AKA – TLDs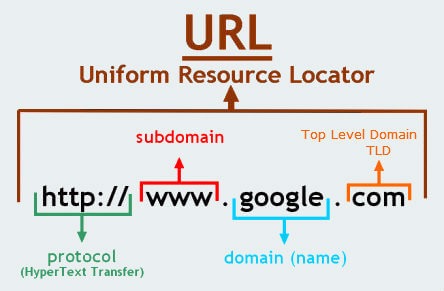 Three of the most popular and free domains TLDs on HostGator are .com, .net, and .org. Of course, .com is the commonest because it is preferred and recognized globally.
.org is perfect for organizations, and lastly, .net domains fit in for small & medium, and larger business websites (enterprises -saas).
The ground rule is unless your choice of the domain name will perfectly describe what you have to offer – it is always recommended you avoid some complicated domain name tails – TLDs.
For examples. MyPizzafood.com.tl, MyPizzafood.org.ko. Just avoid them and stick with .com, .net or .org.
So, grab the name of your blog (your-blog-name.com) because we will need it pretty soon.
Having seen the basics of creating your own blog, let's now see how to make a blog in a few steps in Nigeria.
How To Create A Blog In 6 Steps In Rivers State of Nigeria
Here are all the steps on how to create a blog in about 10-20 minutes:
1.  Choose Your Hosting Package at HostGator
2.  Choose Your Domain Name
3.  Get your Blog Online- Pay for Hosting
4.  Create a blog account, Install WordPress, and Set up your blog.
5.  Write & Publish your first Blog post. Become a Blogger.
6.  Promote your blog and make money.
Now let's start your blog step-by-step.
1. Choose Your Hosting Package at HostGator
Go to HostGator's Home Page (which will be opened in a new window so you can follow along).
Click on the "Web Hosting" tab or choose Get Started Now!
You'll then be brought to a page where they show their different hosting packages as shown below. See the image below.
From the above, you have 3 hosting packages you can go for.
As a beginner, the first plan at $2.75 is sufficient to get your feet wet, but if you are doing this long term (or perhaps you are transferring your hosting to HostGator, you can go with either the Baby Plan or a Business Plan.)
2. Choose Your Domain Name
Just choose a name that resonates well with you. If I was into men's clothing, I would have gone for realmenclothings. Let's see if it Available.

Great, realmenclothings.com is available, so, I would go with it.
Remember that HostGator gives you this domain name all for FREE for 1 year. 😎 
2a. Domain Privacy Protection
When you scroll down you will see Domain Privacy Protection.
The DPP option helps protect your identity online! Privacy Protection hides your personal contact information from public view. See an example.
With Domain Privacy
Domain Admin
ID#904, PO Box 453
Austie Street
Iceland
contact@privacyprotect.org
Tel +354.369-466-76
Without Domain Privacy


Mark Faith
930 Brooks Ave
Fulham, LN
UK
Mark.faith@email.com
Tel +64.75-445-1087
The Domain Privacy Protection goes for $1.25/mo (Billed Annually @ $14.95). If you don't want this option, deselect it. I never used it myself.
3. Get your Blog Online- Pay for Hosting
It's time to get your blog online by paying for Hosting a plan selected. Follow below to enter your hosting information and proceed.
Username – choose a unique name you want to use for your hosting account. You can choose your name or anything that appeals to you.

Billing Cycle: choose your payment plan.
Security Pin: Enter your security pin – a four-digit number.
Step 3b. Enter Your Billing Info
Here you will have to enter your payment information. The credit card to use and lots more.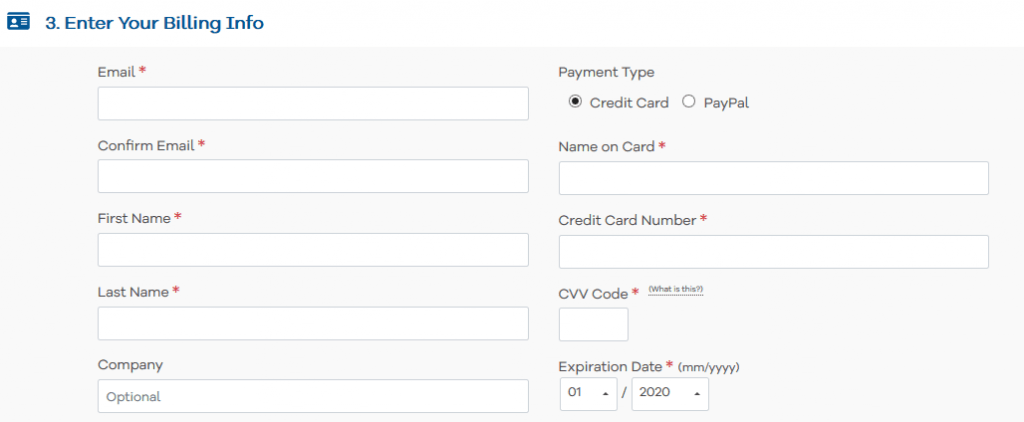 If you are paying with PayPal, you have the option to select PayPal. Fill relevant data and move on.
3c. Add Additional Services (not compulsory)
You don't need to choose any of the services highlighted below. But if you want, you can go with it as it's based on your personal choice.
For instance, there are great plugins to automatically save your work, which you don't need to pay HostGator for that.
3d. Recheck Your Selections – for confirmation
Upon entering all your data, go ahead and overview your sections and make sure you would have selected the best plan for your business.
Of course, you have a 24/7/365 Phone, LiveChat, and Email Support for free and you get a 45 Day Money Back Guarantee – that is in case you need a helping hand or change your mind.
When satisfied with your selections, go ahead and read and agree to HostGator's Terms of Service and Cancellation Policy and acknowledge receipt of the Privacy Policy.
Click on "Check out Now" to process your payment. Congratulations.
Immediately you've made your payment you will get your hosting account details emailed to you.
Kindly note that this is the information we will use to set up your money-making blog.
Click Here to Visit Hostgator.com
Part 2
4.  Create a blog account, Install WordPress, and Set up your blog.
Step 1. Go to your email and you will find your account details emailed to you – to the email address you entered while entering your information.
At this time, you are set to create your HostGator account. You will receive another confirmation email for your account details.
Inside the email, you will see details such as domain name | IP Address | Control Panel | Nameservers and etc.
4b. Install WordPress & Start Writing On Your HostGator Blog
1. Click the HostGator portal link sent to your email – https://portal.hostgator.com/login
2. First, from your login page, you will land on your dashboard.

3. On your HostGator dashboard, go to Software, and check out a logo that's called 'QuickInstall'.

4. On the next screen, select "WordPress".
Click 'Continue' and the software will install WordPress on your site and create all of the necessary files.
Below is how your new WordPress blog will look, empty. *Hello World*.
Below is a video that shows you the exact steps.
Let's go on to Install WordPress, and set up the blog for your first blog post. 😆 
How to Install Themes and Plugins on your WordPress Blog
Themes, like on your mobile phone give the esthetics – beauty to your background. The same thing with your blog theme, it defines the outlook of your WordPress blog.
#1. Login to your WordPress dashboard via a link that looks like 'yoursite.com/wp-admin'. All of your relevant login details will be emailed to you automatically.
#2. Once you've successfully logged into your site navigate to Appearance > Themes, then click 'Add New'.
You can select any theme you want. All are free, to begin with. However, if you want to check out premium themes, you can get them at Studiopress, Themegrill, and Themeforest.net.
Installing WordPress Plugins
WordPress plugins are like chrome extensions or Mozilla browser add-ons, they help you achieve a task easily without coding.
For instance, if you want to install a social sharing tool on your WordPress blog, you will need the knowledge of coding/programming to do that, but with plugins, you don't need to.
#1. Still logged into your account, go to Appearance > Plugins > Add New.  
#2. Click on Add New. That is all.
I will tell us the top WordPress plugins to install later. But before that, let me show you how to publish your first blog post.
Get a video guide to the full set up.
5.  Write & Publish your first Blog post. Become a Blogger
As you will see, creating a blog post in WordPress is also very easy to do. Even a grade 1 child can do it. 
#1. Head over to your WordPress dashboard. Then select Posts>Add New from the left-hand menu.
This will bring up the post editor screen where you can enter your title, your post content, description, excerpt, and hit Publish to make it go live.
Once you're satisfied with your blog post hit 'Publish' and your post will be live. That is all about it. You can start using your website.
Top WordPress Plugins To Install on your Blog
Just as we said above, "WordPress Plugins" are extensions that are built to expand WordPress' capabilities, adding features and functions to your site.
According to Websitesetup, they're shortcuts to getting your site to do what you want to, without having to build the features from scratch.
Some of the must-have plugins include:
GDPR Cookie Consent
Yoast SEO Premium or RankMath – Freemium
Elementor | SiteOrigin (or your visual editor of choice) – Freemium
WP Rocket – Not free (for Speed)
WPS Hide Login
WordFence – Freemium
Shortpixel (to optimize images)
Schema Pro – Not Free
Easy table of content
XML Sitemaps: Sitemap generator that creates XML & HTML variants.
Google Authenticator – Free (Extra Security Measures) or (Don't forget to set 2FA using your WordFence)​
Freemium: this means it has both Free and Paid Plans.
6.  Promote your blog and make money
(Share your blog posts on your social media handles)
Free Traffic Sources for Blog Promotion
1. Promote your Blog using Pinterest
Pinterest is a good source of traffic if you stay with it. Here are the steps with it.
Create a business account on Pinterest
Add it & verify your website using any of this SEO Plugin – Yoast or RankMath
Edit your profile and add your site to Pinterest.
Create boards for your blog posts pin.
Use Canva.com and create Pins for each blog post topic you write on
Publish the Pins on your Boards
Join other Boards.
Repin other articles related to your boards.
Watch out for the results.
The effect of Pinterest? Pinterest is really big, and it might need a bit of patience before you start reaping the harvest from it.
2. Promote your Blog using Reddit
Reddit will always bring you the next best traffic if you have a sub-reddit you are actively engaged + good Karma Points.
If you want to use Reddit as an alternate traffic source, here are the steps.  
Step 1. Go ahead and join relevant sub-reddits in your niche.
If you're a fashion blogger. Type "Fashion + Reddit" on Google and join as many relevant ones that show up.
Step 2. Add value by contributing to the sub-reddit to increase your Karma points.
Step 3. Answer questions and leave a link to your blog if someone asks for more information on the answer you gave.
This was my exact steps to blog and YouTube (my SEO videos). Today, I have over 800 Karma in a few weeks of being active since opening my account in 2019.
3. Promote your Blog using Comments
If you build a blog with a free platform, posting comments will get them deleted by the site owners after been held in moderation. Why? They are simple web 2. spams.
Don't just comment on new articles, find high search volume keywords in your niche, and comment on the top 20 sites on google.
To get alerts use "Google Alerts" – it does help.


4. Promote your Blog using Facebook Groups
There are many Facebook groups in your niche. Just go to Facebook and enter your niche and join them.
If I were you I would participate by adding value to the group(s), or I chat with the admin and negotiate a shout out to my landing page.
5. Promote your Blog using Nairaland

Nairaland is a massive site so you should utilize the platform in promoting your new blog.
Paid Traffic Sources for Blog Promotion
1. Promote your Blog using Facebook Page/Ad
Many people overcomplicate things about Facebook ads running. Trust me, you don't need a business account yet to run Facebook ads if it's your first time.
You can simply boost a Facebook post you published on your FB Page.
2. Promote your Blog using Bing Ads


As far as you hosted your log above with HostGator, you will get a free $100 credit point for Bing Ads where you can use and promote your blog.
Just go to your email address and redeem your ad credit.
How to Make Money with Affiliate Marketing on your Blog
First off, what is Affiliate marketing in Blogging?
Affiliate marketing is the art of getting commissions for successfully promoting services and products to the right customers.
For instance, if you promote a product like Samsung Galaxy 10 to the right Audience using Facebook, Twitter, or your blog, and any of the audiences end up buying the mobile phone, that art is known as affiliate marketing.
Who is an affiliate?
The person that promotes products or services is called an affiliate.

How Affiliate Marketing Works for Bloggers
#1. First, you will sign up to promote affiliate products, it can be a marketplace like Clickbank, Expertnaire, Jumia, or any other place.
#2. When you sign up you'll be assigned a link – URL – which is unique to you only, and through which all your sales will be recorded and tracked. That easy you will see your progress and so on.
#3. You choose a product to promote on any of the platforms. I recommend promoting products from Expertnaire.com
#4. You write a blog post on your blog and leave your affiliate link – just as I have my affiliate link to HostGator in this article.
#5. You make money – you go on to make money when you promote your blog posts on various channels: Facebook, Telegram groups, Twitter, WhatsApp, and more.  
Read also
#1. Top 100+ Affiliate Programs for Beginners.
#2. 11+ Advanced Marketing Strategies for Selling a Product: Best Ways to Promote Affiliate Products
#3. Top 15 Best Future Ways To Build Passive Income Online
Frequently Asked Questions about Starting a Blog in Rivers State Nigeria
2. What are the best Security Steps for a New WordPress Site?
Don't use the same email address for signing in to your site account with the one publicly displayed as support.
Don't share your login info with anybody unless your designer | Webmaster.
And if you are hiring someone to design your site, make sure to first of all Disable – WPS Hide Login | Wordfence | 2FA. Activate them back when the webmaster is done.
2. How Can I Make Money Using AdSense On My Blog?
First, you need to have at least 15 blog posts. When done, you go ahead and apply for Google AdSense approval. Here is how I did it in less than 24 hours.
How Much Does It Cost To Start A Blog In Nigeria
Just as we saw above, the cost to start a blog in Nigeria USING A QUALITY HOSTING SERVICE is about $50 – which is less than N18,000
What are some Income Programs to make Money on my Blog?
There are a lot of income programs in Nigeria, but you can check out the Expertnaire affiliate marketplace, the 72IG implementation program, and free surveys for spare time.  
That is all for now in building a blog from Rivers State Nigeria. Let me know what you think and if you have any questions I am open to hearing them.