Want to know how to Start a Blog with Kinsta in 2021? If yes, then you're in the right place 😀 .
You know,
There is so much buzz everywhere on learning how to start a blog? That is great. However, the greatest news is that the web hosting platform you use commands about 80% success rate of your online business.
Luckily, we are hosting with one of the best 3 in the world managed web hosting services– starting a WordPress blog with Kinsta. 
This tutorial will teach you how to start a blog with Kinsta from A-Z.
I am confident that these steps should have you up and running with your own blog in about 10-23 minutes from the time you pay up the hosting fee.
**Please Note: This post contains affiliate links, meaning, at no extra cost to your purchase, we will earn a little commission if you choose to make a purchase. You can read learn more at disclosure policy. Thank you all for your support!
How to Start a Blog with Kinsta in 6 Easy Steps
1. Choose Your Hosting Plan on Kinsta
Go to Kinsta's main page (the link opens in a new window so you can follow along), and click on the green button "View Plans" button.
This will take you to a page where their various hosting packages are shown (see image below).
To get started you have a choice between the "Starter", "Pro", or "Business 1" plan. If you're just starting as an individual, you can either choose the "Starter" or "PRO" plan.
The difference between the two is that the "Starter" plan only allows you to have 1 WordPress installation, and gives you limits on other options such as your website visitors' capacity at 10,000, 10 Multisite support, and email accounts.
The "Pro" plan allows you to manage up to 20,000 visits, Multisite support, 20GB storage capacity, and other foundational benefits. Also, you get 2 free premium migrations.
For this tutorial, I am choosing the "PRO" plan. However, if you only ever plan on having 1 website or as a beginner, go with the "Starter" plan (it's cheaper too!). Hit "CHOOSE" on the plan of your choice to move on.

2. Create your hosting account on Kinsta
Fill in your details and click on continue.
3. Enter your Billing information
Go ahead and register your Country, State, City, ZIP code, and your Credit card details. And lastly, enter your cardholder name and Card details.
When done, click on "Finish Up".
Want to pay yearly? If you pay yearly you will save up to $120. Here is how.
Look at your top right-hand side and click on "Pay Yearly"
Like before, use the same information you entered and click on "Finish Up"
4. Set up your Website
Go to your email address used and click the link sent from the Kinsta team. The link will take you to your new dashboard called "mykINSTA Dashboard".
5. Add your Domain Name on Kinsta
Now you've logged in to your dashboard, go to "Sites", click on the "add site button" to add your domain name.
 Now, if you already purchased a domain name, the steps is as simple as ABC.
On your top left, click on "Sites". Add the domain name, e.g mysite.com and click "Add".
We are almost done.
6. Install and Configure WordPress
Lastly, you need to install WordPress on your site.
Go ahead and log in to your Kinsta account.
Because WordPress is so popular, this process has gotten a lot simpler with Kinta. Kinsta allows you to install WordPress with a click of a button.
On your top left, click on "sites". Click on "Install WordPress". Allow it to run the installation and you're done. Below is how the feel of your new blog.
How to Install WordPress Theme on your Website
Inside your myKinsta dashboard, click on "Sites", go to WP plugins, select the plugin you want to install and hit "Install. Activate it and start making use of it.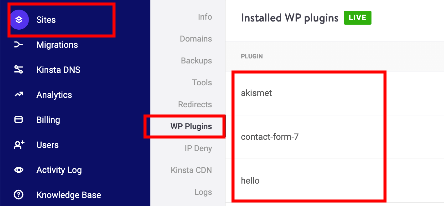 We are done.
That is how to start a blog on Kinsta, easy-peasy.
How to add a new domain name on Kinsta – using Namecheap
Now, if you do not have a domain name to use, you can get it at Godaddy or Namecheap.
Godaddy manages up to 14 million+ domains while Namecheap 10 million+.
I have been a Namecheap customer for domain names so you can use as well. Here is what to do.
Go to Namecheap.com
#1. Enter your preferred domain name and click on search.
#2. Make payment for the domain name.
 If the domain name is available, go ahead and make payment for it.
#3. Get your domain name from Namecheap.
You're done. Let's go to myKinsta and add your new domain name.
Go back to #5 and add your domiain succesffuly… That is all
Also note: Kinsta has got one of the best customer services in hosting, so, they will instantly help you in case you find a need to chat them up.
Other than that,
Congratulations! You have now successfully purchased your own domain, hosting package, and are up and running a smooth WordPress blog on Kinsta web hosting service.
Well done as all you need to do is focus on your business. Why? Everything about managing your site is taken care of by Kinsta. #Well done.
If this post was helpful, please share it with your friends so they too can learn how to create a blog using Kinsta web hosting!
Thank you for reading. I Wish you blissful days with Kinsta. And do not forget to contact us if you need any hand in help. We are here for your unapologetic success.
Also – Top 5 Ranked Cheap Best Web Hosting For Small Business & Blog Owners

---

How to Start a Blog in Nigeria that Makes 100K A MONTH + PDF in 2020