Just before we think of starting a website/blog with DomainKing Nigeria, it is important I put it out that this post is not sponsored nor a paid article by DomainKing.ng.
Big Disclosure: I would never have recommended a Nigerian Hosting company for my audiences – for real business-minded individuals – because I know what I passed through using the other noise-making "top" hosting companies in Nigeria – I lost my business using one of them whilst I should have been celebrating 5 years now.
Our Honest DomainKing Hosting Review Based on Usage
After a series of prangs with other "top-ranking" Nigerian hosting companies such as WhogoHost, SmartWeb, Qservers, Hostnownow, and Truehost, I concluded that there were no guaranteed Nigerian hosting companies fit for actual business.
So, I've been hearing of DomainKing.ng but the confidence of hosting my next website there was off the hook. For whatever reason, I wanted to try it out.
Luckily, a client contacted me in July 2019 for a WordPress website design.
Since I never wanted to take any chances, I told him we will be testing the hosting company for 3 months to see if my sad experience here will be identical to what I have had in the past.
Fast forward to finishing up the website design, and nope, the site was fine.
It loaded fine with moderate speed, and more after the optimization using Cloudflare + W3 Total Cache.
With the above optimization (without image optimizations) the site was loading at 3.7seconds, even with a page load size of 1.2MB.
The site I designed below.
(Since I have to tell you all the details, here is it.
I tried to optimize another niche blog currently hosted there but it didn't work out – when I opened online support, they tried it out as well, yet nothing different.
I couldn't figure out if the fault was from Cloudflare, my end, or theirs). The advice was that I should use the default settings – which I did. The result is that the site is loading fine).
Below is my GTMetrix test – as of today- 15th November 2019.
So, without technical optimization, the site is loading at 3.7seconds. Of course, if I use appropriate Optimization Tools it should load at < 1 or 2 seconds. But the site is loading fine with a total page size of 760kb.
With the results, I was 50% confident of a good Nigerian hosting company.
Note, by this time, I had run with my back toes touching my head to host my brand new website with HostGator/host of course, which was a garland. Here is how.
With the client site result achieved, I went ahead to launch my niche blog in September 2019 to really test things out, if they were tricking me.
Again, the site is still alive, and nothing like going offline or "White Screen of Death".
The only time (apart from the speed optimization inquiry) I had to open online support with them was to inquire if the site will break as I wanted to run a Facebook ad to it.
Confidently, the online support staff responded, no. That nothing will happen, really?
I went on to run the ad. Just as he said, nothing happened. This cemented my 80% trust with the company.
Where is the 20% to make it 100%? I will talk more about the 20% they have lost.
Having said the above, let's now see the total review so you can decide if this is the hosting service you can rely on or work with.
Domainking.ng Review and Reasons to Use & Not to Use
About DomainKing Nigeria
I am a firm believer that the successes I have had with DomainKing – as a web hosting company is because they are not Nigerian Based.
By "based" I mean, it is not managed by Nigerians.
As per their webpage, the Hosting Company is a Global Domain Registrar accredited with many Asian & African Registries.
Domain king Company Profile
Company Name: FirstStack Technologies Pvt. Ltd.
Head Office: 156, New Jawahar Nagar,
Cool Road, Jalandhar – 144001.
India.
Corporate Email: office[at]domainking.ng
Support Email: support[at]domainking.ng
Going on, let's check out Domainking hosting plans and which can be ideal for you.
Pros and Cons of DomainKing Hosting service
Just before you finally decide, here are the top factors to consider.
Cons with DomainKing Nigeria
Here are some of them to look out for.
99% Uptime is not guaranteed!
On Domainking's homepage, you will see that one of the features they promise is a 99.99% uptime – which means your website will not go down.
Well, that is not true because one of the sites I hosted there went down for about 6 hours some days ago.
Not sure of it, but an apt solution to this might be using the WordPress plan with more hosting capacity.
Customer Support is not 24/7
Domain King's online chat support is always offline during non-working hours, which means if you have any challenge during those hours, the way out is using email support which also gets relative timely support.
Alternatively, you might have to wait till the next day to chat with the support.  
Still on support. They do not offer phone support pretty much cements the fact that they may not be managing DomainKing from Nigeria.
No free .com domain name
Unlike Bluehost or Hostgator that gives you a free .com domain name when you host your website, Domainking rather gives you a free .com.ng domain name.
So, if your audiences are Nigerians, then this is an advantage to you and not a Con.
Cryptocurrency content is not allowed!
It's a nightmare with DomainKing if you are thinking of managing a Crypto blog with them.
In essence, they do not allow crypto content if you are to host with them.  
(Not really a con but in the middle – I think the dashboard of DomainKing is rather ugly. Not sleek as what you will get on Bluehost or Hostinger).
Pros with DomainKing Nigeria
Here are some of them to look out for.
Free SSL with Domainking.ng
DomainKing hosting, like other top hosting, comes with a free SSL – a security feature that makes your site secure.
Here is it. A non-SSL site starts with HTTP while a secure site with SSL starts with HTTPS.
And yes, you will get a free SSL with any DomainKing hosting plan you choose.
The Best Online Chat hosting Support
Without the need to rephrase it, by far, DomainKing offers the best and prompt online chat for users.
To crown it all, the customer support rep knows what you are talking about – your challenge – and how to solve it.
Fast Website for Beginners
In as much as you are a beginner, then the speed you will get with the hosting company is good enough to get your website started.
However, if you need a faster website, then go for one of their "WordPress Hosting" packages.
Forum Support on Nairaland
I haven't really tried their Nairaland support since the online chat and email supports are helpful.
However, if you are challenged during their non-working hours, check them up on Nairaland.
But make sure you send them an email before going to Nairaland to lay a complaint. The essence is that so they can attain to you ASAP.
---
The above are the core features and Domainking hosting services in Nigeria.
Ready to use their services? Go here to visit DomainKing.ng
Domainking Hosting Plans and Prices
Domainking has 3 main hosting packages (Web hosting, WordPress hosting, and VPS hosting) plus Email hosting in case you want a custom email address apart from the free one you can create from your Cpanel.
DomainKing Web Hosting Plans and Prices
The Web Hosting package has 3 hosting plans which the first, "the Soldier" plan starts from ₦375/mo.
The second Web Hosting plan is "the Minister" which starts at ₦933/month.
And the third Web Hosting plan is "the King" which starts at ₦2000/month.
DomainKing WordPress Hosting Plans and Prices
The WordPress Hosting package has 3 hosting plans which the first, the "Baby Geek" plan starts from ₦533/mo.
The second WordPress Hosting plan is the "Senior Geek" plan which starts at ₦1667/mo.
And the third WordPress Hosting plan is the "Giant Geek" which starts at ₦3000/mo.
DomainKing VPS Hosting Plans and Prices
The VPS Hosting package has 3 hosting plans which the first, the "MVPS1" plan starts from ₦19,999/Mo.
The second VPS Hosting plan is the "MVPS2" plan which starts at ₦31,999/mo.
And the third VPS Hosting plan is the "MVPS3" which starts at ₦50,000/mo.
The Best Domainking Hosting Plans for Users
If you are a beginner who needs a simple website with moderate speed to get started, then you can use the Web Hosting plan.
If you want a 4x faster website then go for WordPress hosting.
And, if you expect or your website gets up to 80,000 visits per month or if your files are huge, then you need Domainking's VPS hosting plan.
Clamping down on the review on Domainking, let's see how to start a blog with DomainKing Nigeria.
How To Create A Blog In Nigeria With DomainKing Hosting
Step 1. Go to www.DomainKing.ng. The Link will take you to the page below. (Scroll down to see the exact page).
Step 2. Go to "Web Hosting" – for normal hosting or "WordPress Hosting "if you want a super-fast hosting plan. (WordPress plan is faster than web hosting).
Step 3. Choose the Best Hosting Plan for your Website
or WordPress Hosting.
Step4. Choose your domain name options & enter the domain.
Option #1. Enter your NEW domain name selection from below.
Option #2. If you are transferring your domain name from another host to Domain King.
Option #3. If you want to use your old domain name on Domain King.
Note: you get a Free Domain Name if it is a .com.ng (if you're paying for a year). But if you select .com, you will have to pay for it.
Click on "Continue" when done.
Step 4. Choose your domain TLD – extension. That is, a .ng | .com.ng | .com | .biz.
(Also, if your first choice domain name is taken by someone else, don't be annoyed, just choose another one). If your chosen domain name is NOT Taken it will show "Available Order!"
Click on "Continue" when you're done.
Step 5. Select Product Configuration – choose how you want to pay for the hosting plan – Quarterly | Yearly.
Upon selecting your "product configuration" go ahead and click "Add to Cart".
Step 6. Domains Configuration – select this option. (This option will help you configure your site if you want to. For instance, you can easily integrate Cloudflare with it).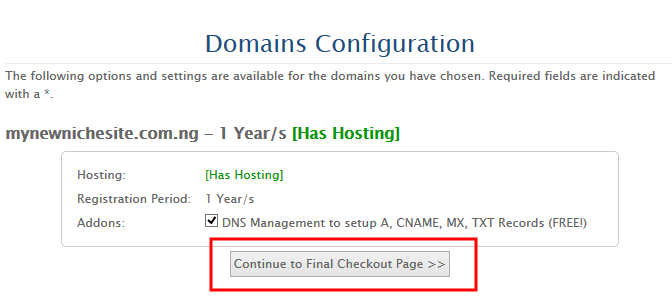 Tick the box and click "Continue to Final Checkout Page".
Step 7. Review & Checkout.
#a. Take a look at your selection to make sure the domain name is well spelt.
#b. You can see that you are given an instant 20% discount – cutting off NGN2,800.
When done, scroll down to enter your Billing & Payment Option.
Tick "I have read and agree to the Terms of Service" | Select your payment method – Visa, Verve, MasterCard.
Click on "Complete Order".
Make the payment and you're done. Congratulations. Step 1 is complete.
Note: remember to use a good password and save it – you can use Lastpass – a chrome Add-on or your email to save it.
Part 2 – Getting Ready to set up WordPress on your DomainKing Hosting Account.
Step 1. Go to your email and you will find the account details emailed to you – to the email address you entered while entering your information.
At this time, you are set to create your Domain King account. You will receive another confirmation email for your payment method.
Also, a payment receipt with your Invoice number will be emailed to you.
While you wait for the last email with your complete account set up details, feel free to enjoy your new hosting account. You can go ahead to login or change the password if you want.
To login, click on "To login, visit https://clients.domainking.ng"
Let's go on…
You will receive the last email that your account has been set up. Inside this email, you will find your
Hosting Package Information
Hosting Package Name: Minister
Domain Allowed on this Account – your domain name.
Getting Started Guide, Full set up details and more.
Part 3 – How To Install WordPress on DomainKing

To do this yourself, you can click on the "Getting Started Guide –link", however, if you want me to finish what I started then be my special guest of honor- your Excellency ma/sir.
#1. From the last account set up email. Click on the "CPanel Login URL" (see image above)
#2. No need to guess, just copy and paste the details from your email account. When done, click on "Login".
I bet you will either be scared or happy to see your Cpanel Dashboard. Don't be screed. Just go to step 3.
#3. Now, scroll down to the end of the page. Stop at where you see "Softaculous Apps Installer"
You will see "WordPress" if yes, congrats.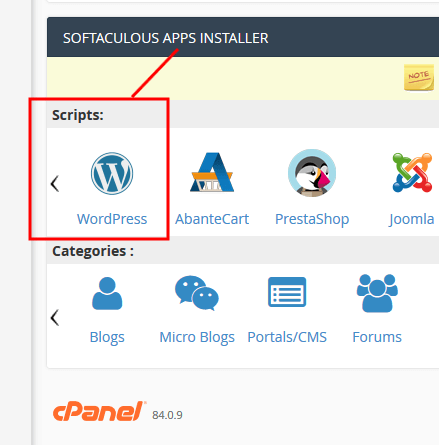 #4. Click on "WordPress".
#5. Search for "Install Now" Button and slap it.
#6. Allow it to install. When done, see the next step.
How to Configure Your New WordPress Website
Be careful here. Follow the infographic below.
Upon WordPress installation, you will see "Edit Installation Details". Let's go on.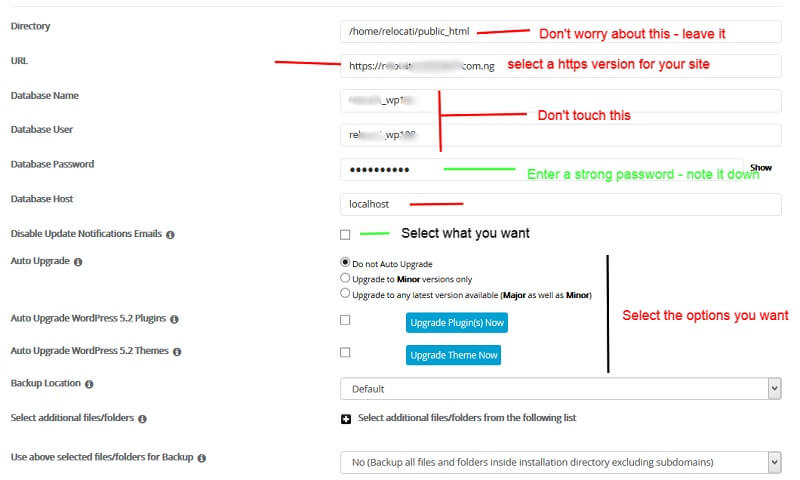 Scroll down to "Admin Account" for more configurations…
Step * – Scroll down to "Theme" – you can select a theme you want or leave it blank – you can always set it after.
Last Step:
Scroll down to "Info" – you will see an overview for your selections. Details to note down.
Copy out your Path | URL | Admin URL
Path – this is logically for webmasters – it leads to your Cpanel.
URL – https://yourdomainname.com.ng – this is the link to your new website
Admin URL – https://yourdomainname.com.ng/wp-admin/ – this is the link to login to your new website.
When you would have copied out the details, click on "Save Installation" to save your settings.
How to Edit or Delete WordPress CMS Installation on your Website
Now if you feel you made a mistake along the way, no need to worry as you can always come back here to edit or start afresh. All you need to do is click on the "Edit or delete" knob. Let's see.
The Image below – how to "edit"
The Image below – how to "Remove/delete"
You're done…
Below is a prototype of your new blog after installing WordPress – it's a clean updated WordPress version. (This will be your default WordPress theme unless you selected a different theme at Step *).
Want to see your new WordPress website? Click on this link – URL – https://"your-domain-name".com.ng
How To Install Themes/Plugins on your WordPress Blog
Let's start with Plugins.
#1. Installing WordPress themes
Themes, like on your mobile phone give the esthetics – beauty to your background. The same thing with your blog theme, it defines the structure of your WordPress blog
#1. Login to your WordPress dashboard via a link that looks like 'yoursite.com/wp-admin'. All of your relevant login details will be emailed to you automatically.
#2. Once you've successfully logged into your site navigate to Appearance>Themes, then click 'Add New'.
You can select any theme you want. All are free, to begin with. However, if you want to check out premium themes, you can get them at Studiopress, Themegrill, and Themeforest.net/.
#2. Installing WordPress Plugins
WordPress plugins are like chrome extensions or Mozilla browser add-ons, they help you achieve a task easily without coding.
For instance, if you want to install a social sharing tool on your WordPress blog, you will need the knowledge of coding/programming to do that, but with plugins, you don't need to.
#1. Still logged into your account, go to Appearance > Plugins > Add New.
#2. Click on Add New. That is all.
I will tell us the top WordPress plugins to install later. But before that, let me show you how to publish your first blog post.
How To Publish Your First Blog Post
Of course, creating a blog post in WordPress is also very easy to do. Even a grade 1 child can do it.
#1. Head over to your WordPress dashboard. Then select Posts>Add New from the left-hand menu.
This will bring up the post editor screen where you can enter your title, your post content, add social media, and any post metadata.
Once you're satisfied with your blog post hit 'Publish' and your post will be live. That is all about it. You can start using your website.
Top WordPress Plugins To Install
Must-Have Plugins For Your Site
Plugins are tools that help you achieve results on your WordPress site if you cannot code. #If you hate programming.
Some of the must-haves are:
GDPR Cookie Consent
Yoast SEO r RankMath – Freemium
Elementor | SiteOrigin (or your visual editor of choice) – Freemium
WP Rocket – Not free (for Speed)
WPS Hide Login
WordFence – Freemium
Shortpixel (to optimize images)
Schema Pro – Not Free
Easy table of content
XML Sitemaps: Sitemap generator that creates XML & HTML variants.
Google Authenticator – Free (Extra Security Measures) or (Don't forget to set 2FA using your WordFence)​
Updraftplus – to back up your WordPress site.
Freemium; this means it has both Free and Paid Plans.
Security Hacks
#1. Don't use the same email address for signing in to your site account with the one publicly displayed as support.
#2. Don't share your login info with anybody unless your designer | Webmaster.
And if you are hiring someone to design your site, make sure to first of all Disable – WPS Hide Login | Wordfence | 2FA. Activate them back when the webmaster is done.
How to Promote your Blog Posts
#1. Create social media accounts. The best once are Facebook | Pinterest, and Twitter
#2. Join Forums and QnA communities. You can start with Quora.com | Nairaland | Reddit.com
#3. Comment on related blogs in your niche.
#4. Tell friends about your blog.
#5. Get your first 10 fans + readers by running a Facebook ad. You can use $10 to do this which is fine.
Building Your New Email List
You don't have to pay a dime if you are just starting or on a low budget. Use EmailOctopus for free as a beginner.
FAQs About DomainKing.ng Hosting

How Can I transfer a domain from Domainking?
If you want to move your domain name from DomainKing to another hosting company, all you need to do is contact the prospective hosting service and follow the guide they will give you.
On the other way round, let's say you bought a domain name and you want to connect it to DomainKing, all you need to do is change the Nameservers on DomainKing to that of the hosting company.
How Can I Register a Domain at Domainking?
To register a new domain name, you will have to know how much it cost.
For instance, as of the time of writing, a dot-com domain name on DomainKing.ng is N5,000, while a dot-com.ng is N1,200.
To register the domain name, visit DomainKing.ng and click on Domain. Go ahead from there.
How genuine is Domainking Nigeria?
Is Domainking legit? Well, based on firsthand usage, I wouldn't say they are nothing far from a good and reliable service.
But as you would know, if you are paying little for a hosting service you don't want to expect much, else, there are premium hosting companies you can use (Bluehost or DreamHost).
What Are Domainking Nameservers?
Nameservers are the infrastructure that helps points a domain name to a hosting account which prompts its usability.
For DomainKing, yours might be different but they look like this – Nameserver 1: ns1.dktlds.com and Nameserver 2: ns2.dktlds.com.
How do I go about Email Settings on Domainking?
As I said, everything about them is basic, so, it's simple.
Go to your Cpanel account > Email > select your preferred email account > work with it from there.
In case you need a video guide on this, then see how to set a custom domain name below.
---
---
Domain King Refund Policy/Money-Back Guarantee
Domain King offers a 30-day money-back guarantee on all new hosting accounts.
If you are not completely satisfied with its services within the first 30 days of your contract, you will be given a full refund of the contract amount excluding setup fees & bank/payment gateway charges.
How Can I Check My Blog Traffic with Domain?
You can use Google analytics tool to check your site traffic, but if you want to do everything inside your DK Cpanel Dashboard, which is fine as they have a tool you can monitor your site traffic.
Login to your email and click the Cpanel link, go down to "Metrics". Under it, click on Visitors.
How is Domainking Cpanel?
DomainKing's Cpanel is nothing different from what you will get from every other hosting company using the basic Control Panel from cpanel.net/.
To access yours, log into your hosting account or go to the email they sent to you and you will have found the link and password.
How can I Log in To Cpanel From Domainking.NG Client Panel?
I don't think you might need to get into your Cpanel, but if you will, let's see how to do it
This method allows you to login through your client area.
1). Login into your DomainKing Client panel.

2). In your client area click on "My Services" link on the navigation bar.

3). Click on the "Manage Hosting" icon next to the domain name whose cPanel you want to access in case you have multiple active hosting accounts with us.
4). Scroll down and Click on "Login to cPanel" button just above the login details section.
Final Note on DomainKing.ng Hosting Review
Although made for Nigerian audiences, "DomainKing Nigeria" is just a name because they are not managed by Nigerians.
With basic interfaces and facilities (ugly to me), I can say that they are a good hosting to start a blog/website – beginners.
But if you are thinking of creating a crypto blog with them, you better look elsewhere because they do not allow cryptocurrencies related content on their service (you can talk to them if you still want to).
You can go with Hostinger which even accepts crypto payments for their hosting services.
While you might not get a full 99.99% uptime with them, at least the pricing is pocket-friendly for beginners, therefore, if you want a faster website, I recommend you start with their WordPress hosting which is faster than the normal website hosting.
---
It's a wrap on DomainKing Nigeria Hosting review and how to start a blog with it.
Next Reading: How to start a Blog in Nigeria, Top Hosting in Nigeria.