Today (authoritatively), I am going to show you how to start a Blog with HostGator, really? Isn't it funny that when I started, I knew nothing about starting a blog or even using the right tools to have good success? I wasn't perfect in anything online, yet I moved on to succeed.
Look, and let me tell you. You might feel unworthy of being a voice or expressing your beliefs. I'm sorry to hear that because I was in your shoes.
But the truth is, no one will present a concept the way you will, you are absolutely unique, and if I was still caught up with the notion of not being worthy to share my thoughts and insights, I wouldn't have had the counting breakthroughs I have – even going on to start a new YouTube channel to accompany every blog post.
In this guide, I will lead you step-by-step on how to start your first profitable blog online using HostGator web hosting.
In case you are eager to see the complete steps, here are the 5 steps process. #1. Choose a Domain Name and a Host #2. Install WordPress to get you started #3. Install Themes and Plugins #4. Publish your first blog post. #5. Make money with your blog
You know, I like being an Oliver Twist. How? I won't just end it all by showing you how to create your first money-making website with HostGator, I will go ahead to open my Digital Marketing ToolBox so I can give you 120% super value. #Trust me on that.
Observation: If you don't want to read my 2-cents review of HostGator, please skip to "How to Start a WordPress Blog with HostGator in 5 Easy Steps": and to create your blog.
My Honest & Unbiased HostGator Review
Here is my honest HostGator Review and how it worked out for me.
HostGator was founded in 2002 and currently manages millions of websites in the world.
Needless to say, I have had a good experience with HostGator. But the catch is that it is cheap, no, I mean, it is affordable for every Tom and Mary to get his or her blog online.
While it is by no way a perfect hosting service, here is their bad side – or cons.
– CONS with HostGator
1. Instant Chat – Support

While you can easily communicate with them via phone lines, as for online chat, I might say, they are good to a limit of 96%.
(Before I hosted my site there). My experience with their 24/7 support is that you might need to wait for 1 or 3 minutes before they open up a chat with you. And under 1 minute if the traffic is less.
Would that be a big concern for you? If yes, then I am afraid you might look away from it. But trust me, I never had issues since moving to HostGator. My experience here was as a non-customer.
On the other hand, if you are attended to instantly or in 8 seconds (which I got recently), then know that I just wanted to clarify my experience for your sake.
2. Migration May Take More than 48 hours
(This is for those who wants to move their site to HostGator).
Let's say you want to move your site from another hosting company to HostGator, and you were given a 48-hour migration period. I would like to disclose that this might take longer. Here is why.
Over time, a web hosting company offered to move my site to their servers, and the timeline was not stated because they believed the site's file size was huge.
In fact, before I lost my first money site, Namecheap tech support said, they couldn't move my site – I don't know why though, maybe the files were huge.
At another time, a web hosting service quoted my site and did the job in less than 5 hours. Why was that? The file size of the blog was not that big. About 300MB or thereabout.
Coming back to HostGator, let's say your site's file capacity is in Terabytes. Without crossing fingers, this migration might take more than 48 or 72 hours to move, most especially if it is complex.
In this case, should this time extension be a turn off (if only you know your site's file size), then this can be added as a con.
Other than that, then, I would say, as far as your site is not DOWN – still Live and functioning, then, you might not have any problem if it takes more than 48 hours as the migration is directly proportional to your file or disk size.
If it's a small-sized site, then the migration might be under 1-4 hours, who knows.
For me, I had a huge disk size, so, it took about 3 days to completely move all the files – my site was still LIVE. 😎
P.S: This is for HostGator. Others can be more, I don't know.
– PROs with HostGator
Let's see the best reasons you want to create a blog with HostGator.
1. Intuitive For Beginners
If you know anything about WordPress, perhaps you have heard of Cpanel. What is Cpanel? It is a tool that helps you to manage your blog without having to play with codes. Do you hate coding? I knew you do. So, HostGator had to put you into consideration.
2. Free Custom Domain Name
HostGator does not just do things simply for beginners, you get 1-year FREE DOMAIN NAME which costs about $9+ if you are buying from anywhere.
3. 24/7 Support To Help You Out
One of the things I was always adamant when I started was good support to help me sort things out.
Looking good already, HostGator has over 800 employees to provide superior 24/7 support via live chat, phone, and email.
Their online support portal covers every aspect of building a website with HostGator.
4. HostGator's Hosting Add-Ons & Benefits
Here are the top HostGator Hosting Add-Ons worth it.
Advanced Website Builder: Even though most of the web hosting companies offer a good web builder, HostGator's website builder stays ahead of the curve with its advanced functionalities, including an eCommerce storefront.
Unlimited emails: With HostGator, you get unlimited email accounts with any of their hosting plans.
Free Ad Credits: With every HostGator hosting plan, you get $100 worth of ad credits to attract traffic to your site.
5. HostGator SSL (don't worry if you don't understand it.)
Hostgator offers SSL for her shared hosting, Cloud hosting, WordPress, and other hosting packages.
SSL here means Secure Sockets Layer. Its function is to showcase, front or deliver your site as secure and safe for users.
Technically, it is a protocol for establishing secure links between networked computers.
Why do YOU need an SSL certificate?
Not only does an SSL certificate encrypts data transmission to and from your website, but as of July 2018, many web browsers flagged websites as "not secure" unless it detected that it had a valid SSL certificate.
The good news is that you will get this for free. So, HostGator SSL has got you covered.
6. HostGator is cheap for everyone
I don't like using the term cheap, because, if you use the term cheap, it signifies not a good product or service. So, I would rather say, HostGator is affordable for everyone.
With a $2.75 /month hosting plan, you are off to building your first money-making blog, and you can't go wrong with that.
Top 3 Popular HostGator Hosting Plans and Pricing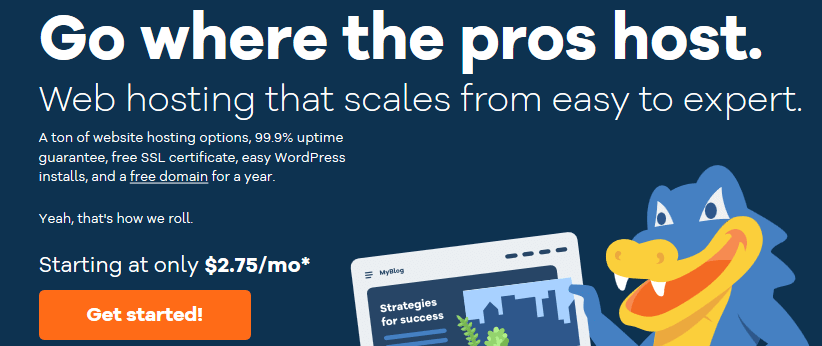 Many at times a lot of would-be bloggers and online entrepreneurs search for top best web hosting services to use when what they really need at that moment is a cheap web hosting for a small business owner. Why do I think so, you ask?
Answer: To save initial cost and waste.
Here are the top 3 recommended HostGator hosting plans to get started with.
Costing $2.75/mo, the HostGator Shared Web Hosting is literally the cheapest, most popular and most available type of hosting solution.
With her Shared Hosting package, a single server is divided up between multiple users. Each user will get a shared amount of bandwidth.
However, each user can also put an unlimited amount of sites on their account. So the server that's being split up between multiple accounts can sometimes end up hosting/managing thousands of sites!
In one line, Shared hosting is a hosting package every NEW blogger or site owner uses unless he or she is a veteran in the industry – needs a higher package.
2. HostGator Cloud Hosting Plan & Pricing

Apart from HostGator Shared Hosting plans that cost about $2.75 a month, they also have a cloud hosting plan that costs $4.95/mo which is what I used for my business. (My bad or a veteran, why pay more for a start? 😕 ).
The Cloud hosting, or cloud VPS hosting, allows you to use the resources of multiple servers, rather than having your site confined to a single server location. This makes cloud services highly sought after.
The main benefit of cloud hosting is that it allows for unlimited expansion and is a must-have for heavy traffic sites.
Cloud hosting also allows for greater protection from an overwhelmed server. If one server is overwhelmed, you'll simply be switched to another cloud server.
But how Reliable Is Cloud Hosting?
Because it virtually uses the resources of multiple servers, cloud hosting safeguards your site from an individually overwhelmed, or damaged, physical server. Here is an infographic.
But the question is, as a beginner, do you need to pay for Cloud hosting package since it is a bit pricy than the shared hosting? The answer is no. See reasons.
There is absolutely no need to pay a huge amount of money when starting. What you want to do is start small and expand your capacity based on growth from there.
To see all HostGator's plans or the Cloud hosting, go to the homepage, scroll down and go to "Cloud Hosting".
3. HostGator WordPress Hosting & Price
Starting at $5.95/mo and coming with free migration and a free domain name, the HostGator WordPress Hosting offers users super real-time Speed, Advanced Security with Comodo – FREE Migrations, optimized plugins for site configurations, extra resources allocation, and easy database restoration.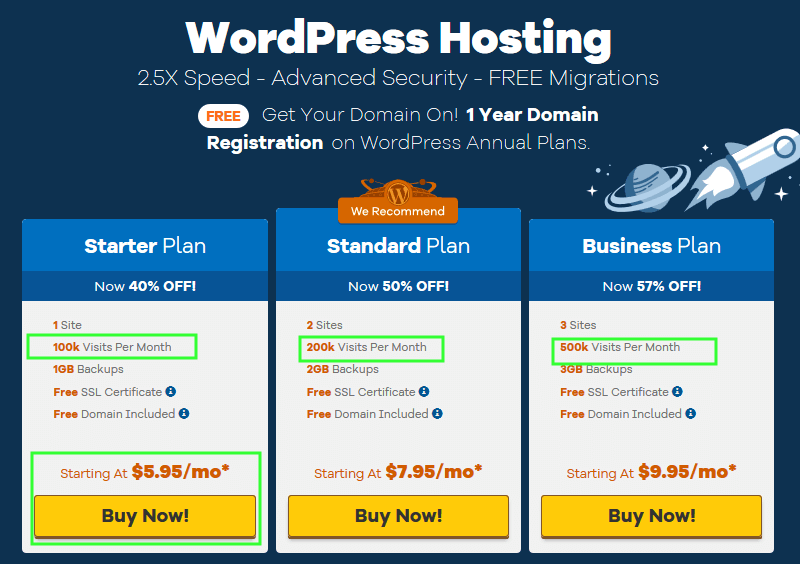 Bing one of the cheapest in the hosting industry, this is a good solution to using fewer WordPress plugins on your site.
For instance, you can use a plugin like WP Rocket or w3 total cache plugin to speed up your site. However, if you don't want to, then the HostGator WordPress Hosting package might be what you opt for.
In case you're interested in it, just know that it comes with a free email hosting (custom email), the ability to integrate with G Suite, and other Google apps.
All in all, do you need this high-level hosting package as a new blogger?
Truth is unless you plan to grow your blog or business for more traffic from the start then the benefits of HostGator's WordPress hosting are well worth it.
To see all HostGator's plans or the WordPress hosting, go to the homepage, scroll down and go to "WordPress Hosting".
My HostGator Cloud Hosting Experience
First, I don't recommend you pay for Cloud Hosting as a new blogger or business person.
One of the things that made me opt-in for HostGator cloud hosting was the speed. I already knew that Cloud Hosting is much faster than Shared Hosting.
Apart from the speed, I expected a large volume of visits to the site.
With the Cloud hosting plan, I was able to achieve a loading time of 2.4s even with a page size of 1.5MB.
So, the big question is? who needs the HostGator's WordPress or Cloud Hosting plan?
Answer: If your site is receiving or expecting 50,000+ visits and above.
The Verdict – I must confess that I had enough space and resources to manage the visits with the Cloud Hosting plan.
Did I just save you some bucks? I would be glad to know. 😉
Just before we go on to see how to host a WordPress site on HostGator let's see the common terms you'll encounter.
Terms To Note to Build A Successful WordPress Site
What is WordPress?
WordPress is a framework that helps you manage your blog. It gives structure to manage your blog effectively. Here is an explanation.
See WordPress as an operating system your mobile phone is built on. That is Android, BlackBerry OS, iPhone OS / iOS (Apple), MeeGo OS (Nokia and Intel), Symbian OS (Nokia), Java, and etc.
And as you would guess, Android is the most popular. Don't just take my words for it. According to Statista.com, Android Operating System controls the mobile OS market with a 74.13 percent share.
Just as Android OS is popular, so is WordPress CMS although we have other CMS like Joomla, Drupal, and Magneto, etc.
Also, according to builtwith.com, WordPress records 96.19% as the most preferred platform to build a website.
The overall good news is that the WordPress framework (known as CMS) is popular, simple, and free to use, so, you don't have to pay anything for it. You can always learn more about it at WordPress.Org.
What is a Domain Name?
A domain name is what your blog or brand will be known as. For instance, this blog's domain name is isuawealthyplace.com.
Now, you don't have to overthink what to call your blog because it does not really matter. But before you choose a domain name, avoid using a name like Mark23.com. Why?
Because when you share it with a friend they may end up typing Marktwentythree.com. No one knows if the Search Engines will re-direct them to your site, so, save yourself the headache.
How to Choose & Get a Free Domain Name for your Blog with Hostgator
With HostGator, you can easily set up your site in less time. The good news is that paying for any of their hosting packages (NEW Shared, Cloud, and WordPress hosting packages) comes with a free domain name if you choose one of these TLDs (.com, .net and .org) valid for 12 months
Choosing a domain name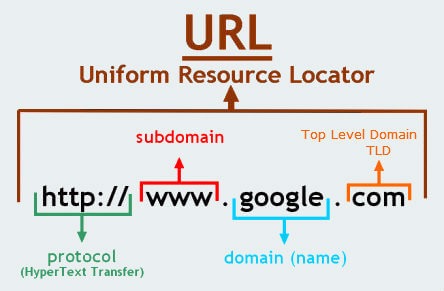 Three of the most popular domains TLDs are .com, .net, and .org. Of course, .com is the commonest because it is preferred and recognized globally.
.org is perfect for organizations, and lastly, .net domains fit in for small & medium, and larger business websites (enterprises -saas).
The ground rule is unless your choice of the domain name will perfectly describe what you have to offer – it is always recommended you avoid some complicated domain name tails – TLDs.
For examples. MyPizzafood.com.tl, MyPizzafood.org.ko. Just avoid them and stick with .com, .net or .org
What is Hosting?
Hosting your site means building a framework wherefore it will stand on. By hosting your site, you are buying a foundation it will be built on.
For instance, if you want to watch Netflix, subscribing to the monthly fee is called a hosting fee. You are paying for the service to keep your viewership or niche website alive/online.
What Is A Niche Blog?

One of the best things my blog has helped me is growing to be an authority in my niche. Getting pitches for collaborations and etc.
But before that, you need to have a better understanding of why you'd want to create a blog, how to choose the perfect niche, how to choose the right platform, and finally, how to build your blog and publish your first article.
A Niche – this is an area you want to concentrate your blog topics on. It can be AI, Biodata, SEO, Men's Fashion, Ecommerce, BabyTalks, Under 25 Talks, Make money online, DIY, Cryptocurrency, News Site, and a lot more.
In all of the mentioned niches, millions of dollars are made monthly, so, you are not limited.
Kindly skip the part below if you've already decided on the area or niche you want to blog on.
How to Choose a Niche and Beat Passion
Often, people say, go/blog with your passion. Well, maybe that works for some, but it does not for me.
There is a reason why many passionate bloggers fail. Without any doubt the reason is simple. #1. They attach choosing a niche with passion, and #2. The niche is not profitable.
You see, if you must succeed in this business you have to write about what people care about. I made a costly mistake of spending time to write what I thought people cared about.
Good, the ideas were good but the truth was, the next competition who wrote about what the audiences searched for was banking the money. Sad.
In case I forget. Let me correct the notion now. You don't need a passion to make money with your blog. What drives the passion is the profit of the niche and the business. So, yeah, money drives passion.
Here is my little story to relate to.
One of my niche sites is on Relocation/Visa. Am I passionate about relocation stories? I bet I am.
At times writing about these topics can be boring. But I know one thing. 1 affiliate sale of the Relocation/Visa product I promote covers my hosting fee for a full year, so, it might be boring but the fruit thereof is not boring. AKA. It is profitable.
While I have just about 15 articles on this blog, I plan to take it to 100 then relax and slap ads on it to increase my earnings streams.
But how do you write content if you know nothing about the niche?
In the movie "Catch Me If You Can" – when Frank Abagnale was asked how he managed to fake it and become a teacher. His response was, he learned ahead of his students".
Of course, we are faking nothing, but the big question is, how do I write irresistible and value-packed content for my audiences?
Answer: I look for what people search in the industry, make researches (answers) about it from experts and forums (real people), add my insights and boom, I get thanked for writing incredible articles.
Here is one of the articles on the site. It has over 200 shares, yet, I have just 15 articles. Imagine when I sit own to write 100 articles in 4 months to cover my goal for the blog? Here is the image proof as well.
So, how can you choose your niche? Move from a blogger mentality to a business owner.
Go for In-demand niche
To choose a niche you want to be sure that it has the potential to bring in clients/readers. Let's take a sub-niche like "Resume, Cover Letters & CV".
With this niche, it is clear that people – college students, graduates, undergraduates, and online job seekers (to mention a few) will need your assistance.
Apart from making money via the affiliate programs available in the industry, you can also make money when you place ads on your site.
But more than that, you can create your course on "how to craft a good CV and Cover Letter or simply get paid to write them".
With this, you will be making money from your audiences apart from affiliate programs, ads sponsored posts and other sources.
The good news is that there are thousands of these types of niches.
See the most profitable niches to start your research from. And the best news? There are sub-niches to make money off them. A good keyword research tool will show you that.
The list (according to the balance)
Fitness and Weight Loss.
(P90X, Weight Watchers, the Atkins Diet, the South Beach Diet, the Keto Diet… the list goes on.)
Health
Dating and Relationships. …
Pets
Self-Improvement. …
Wealth Building through Investing. …
Make Money on the Internet. …
Beauty Treatments.
Gadgets and Technology
Personal Finance
Let me add 3 more niches
#1. Cryptocurrency #2. Food #3. Travels
Another Advanced Method To Choosing A Profitable Niche
Go to Amazon | eBay | Jumia | Clickbank | CJ | JVzoo | Warrior Plus, and search for your niche products. Alternatively, enter "niche + affiliate products on Google – as in, "Auto + Affiliate Products/Programs". Let's expand it a bit more for clarity.
For example, if I go with a niche about men's clothing, I know for sure that I can recommend products from Amazon or Jumia to my audiences.
How about starting a blog for pregnant women under 5 months or mothers over 50? There are opportunities. (Avoid broad a two-niche like "pregnant women" – define your target – like "under months pregnant women". With that, early pregnant women will know you to blog about pregnant women under 5 months – that is what we call sub-niche)
The essence of a sub-niche is to stand out else, trying to compete with the long-standing sites might make your blogging journey not palatable – competition.
Talking about passion,
Believe me, even if you treat blogging as a passion project when you receive commissions for your efforts, you will be excited and fulfilled. So, a blog with a business mindset. #Be Rewarded for your efforts.
What if there are no quality products to promote to your audience – in your niche?
First of all, I doubt unless it is a News & lifestyle blog. In this case, your earnings sources include Ads, Sponsored posts, Native Banner Sponsors, Press Releases, and more.
If you are going with ads, the best option will be to use a service called Ezoic to increase your earnings by 3X of Google Adsense. They pay more and much better than AdSense.
I am glad to announce that we have come to the main segment on how to start a blog on HostGator.
Why I spent the time in the other parts was to make sure we're on the same page even if today is your first time with Blogging terms.
Very quickly. Because I have used it myself you need to know about it. 😎
Disclosure: If you end up buying or signing up on HostGator through one of our links (affiliate links), we will earn a small income to keep the project going. #Thanks for your support.
With all said and done, I am excited as I show you how to create your blog in five easy steps.
How To Start A Blog With Hostgator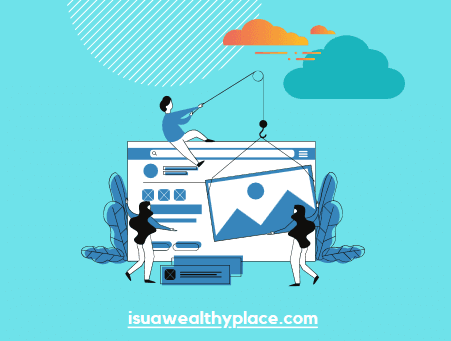 Step 1. Choose Your Hosting Package At HostGator
Go to HostGator's Home Page (which will be opened in a new window so you can follow along).
Click on the "Web Hosting" tab or choose Get Started Now! You'll then be brought to a page where they show their different hosting packages as shown below. See the image below.
From the above, you have 3 hosting packages you can go for.
As a beginner, the first plan at $2.75 is sufficient to get your feet wet, but if you are a business or expecting a bit more traffic (or perhaps you are transferring your hosting to HostGator, you can go with either the Baby Plan or a Business Plan.)
Step 2. Choose Your Domain Name
Just choose a name that resonates well with you. If I was into men's clothing, I would have gone for realmenclothings. Let's see if it is available.

Great, realmenclothings.com is available, so, I would go with it.
Remember that HostGator gives you this domain name all for FREE for 1 year.
Now, if you are transferring your domain to Hostgator, instead of entering a new domain name, click on "I Already Own This Domain".
Go ahead and enter your domain name there. When done, continue with the next step.
Step 2. B
Domain Privacy Protection
When you scroll down you will see Domain Privacy Protection.
The DPP option helps protect your identity online! Privacy Protection hides your personal contact information from public view. See an example.
With Domain Privacy
Domain Admin
ID#904, PO Box 453
Austie Street
Iceland
contact@privacyprotect.org
Tel +354.369-466-76
Without Domain Privacy
Mark Faith
930 Brooks Ave
Fulham, LN
UK
Mark.faith@email.com
Tel +64.75-445-1087
The Domain Privacy Protection goes for $1.25/mo (Billed Annually @ $14.95). If you don't want this option, deselect it. I never used it myself.
Step 3. Enter your Hosting information
Username – choose a unique name you want to use for your hosting account. You can choose your name or anything that appeals to you.

Billing Cycle: choose your payment plan.
Security Pin: Enter your security pin – a four-digit number.
Step 3b. Enter Your Billing Info
Here you will have to enter your payment information. The credit card to use and lots more.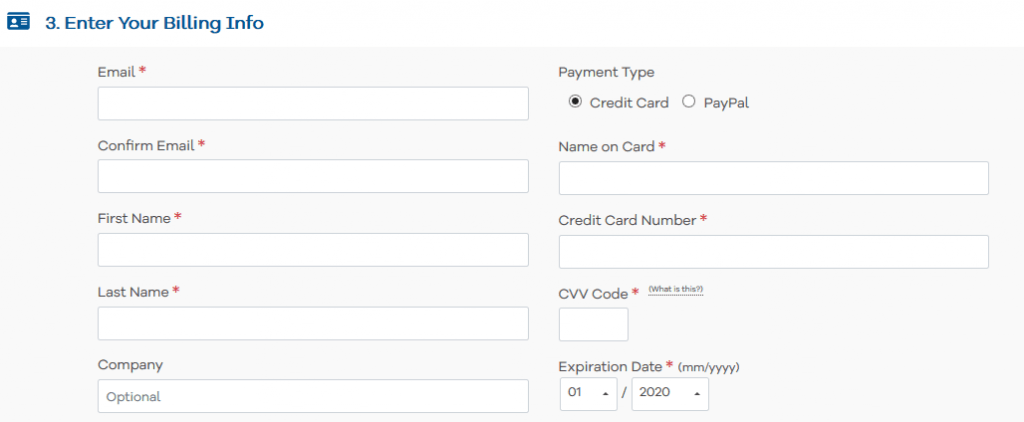 If you are paying with PayPal, you have the option to select PayPal. Fill in relevant data and move on.
Step 4. Add Additional Services (not compulsory)
You don't need to choose any of the services highlighted below. But if you want, you can go with it as it's based on your personal choice.
For instance, there are great plugins to automatically save your work, which you don't need to pay HostGator for that.
Step 4b. Recheck Your Selections – For Satisfaction
Step 5. Recheck Your Selections – For Satisfaction
Upon entering all your data, go ahead and overview your sections and make sure you would have selected the best plan for your business.
Of course, you have a 24/7/365 Phone, LiveChat, and Email Support for free and you get a 45 Day Money Back Guarantee – that is in case you need a helping hand or change your mind.
When satisfied with your selections, go ahead and read and agree to HostGator's Terms of Service and Cancellation Policy and acknowledge receipt of the Privacy Policy.
Click on "Check out Now" to process your payment. Congratulations.
Immediately you've made your payment you will get your account details which we will use to set up your money-making blog.
Part 2 – How to Get your HostGator Account details
Step 1. Go to your email and you will find your account details emailed to you – to the email address you entered while entering your information.
At this time, you are set to create your HostGator account. You will receive another confirmation email for your account details.
Inside the email, you will see details such as domain name | IP Address | Control Panel | Nameservers and etc.
Part 3 – How to Install WordPress & Start Writing On Your HostGator Blog
Step 1. Click the HostGator portal link sent to your email – https://portal.hostgator.com/login
Step 2. First, from your login page you will land on your dashboard.

Step 2b. On your HostGator dashboard, go to Software, and check out a logo that's called 'QuickInstall'.

Step 3. On the next screen, select "WordPress".
Click 'Continue' and the software will install WordPress on your site and create all of the necessary files.
Below is how your new WordPress blog will look, empty. *Hello World*.
Now, it's time to set things in order.
Video Guide on How To Set Up Your HostGator Blog
Kindly see the video below on how to set up your WordPress blog after you've ordered for the hosting package.
Part 4. How to Install Themes and Plugins on your WordPress Blog
Installing WordPress themes
Themes, like on your mobile phone give the esthetics – beauty to your background. The same thing with your blog theme, it defines the outlook of your WordPress blog
#1. Login to your WordPress dashboard via a link that looks like 'yoursite.com/wp-admin'. All of your relevant login details will be emailed to you automatically.
#2. Once you've successfully logged into your site navigate to Appearance > Themes, then click 'Add New'.
You can select any theme you want. All are free, to begin with. However, if you want to check out premium themes, you can get them at Studiopress, Themegrill, and Themeforest.net/
Installing WordPress Plugins
WordPress plugins are like chrome extensions or Mozilla browser add-ons, they help you achieve a task easily without coding.
For instance, if you want to install a social sharing tool on your WordPress blog, you will need the knowledge of coding/programming to do that, but with plugins, you don't need to.
#1. Still logged into your account, go to Appearance > Plugins > Add New.
#2. Click on Add New. That is all.
I will tell us the top WordPress plugins to install later. But before that, let me show you how to publish your first blog post.
How To Publish Your First Blog Post
Of course, creating a blog post in WordPress is also very easy to do. Even a grade 1 child can do it.
#1. Head over to your WordPress dashboard. Then select Posts>Add New from the left-hand menu.
This will bring up the post editor screen where you can enter your title, your post content, description, excerpt, and hit Publish to make it go live.
Once you're satisfied with your blog post hit 'Publish' and your post will be live. That is all about it. You can start using your website.
How to Transfer a Domain Name to HostGator
If you are transferring your hosting to HostGator with an active domain, you will have to use this option – HostGator Transfer Domain
I did use this route, so, the HostGator technical team will help transfer your existing site for FREE.
#1. To do this, click on this link to redirect to HostGator Hosting Packages.
#2. Select your preferred hosting package and click "Buy Now"
#2. Click on "I Already Own This Domain"
#3. Enter your domain name.
#4. Follow the steps above and make payment.
When done, open support and request for a migration of your site to HostGator.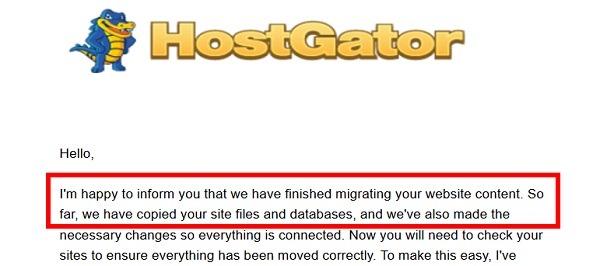 Top WordPress Plugins to Install on your Blog
Just as we said above, "WordPress Plugins" are extensions that are built to expand WordPress' capabilities, adding features and functions to your site.
According to Websitesetup, they're shortcuts to getting your site to do what you want to, without having to build the features from scratch.
Some of the must-have plugins include:
GDPR Cookie Consent
Yoast SEO Premium or RankMath – Freemium
Elementor | SiteOrigin (or your visual editor of choice) – Freemium
WP Rocket – Not free (for Speed)
WPS Hide Login
WordFence – Freemium
Shortpixel (to optimize images)
Schema Pro – Not Free
Easy table of content
XML Sitemaps: Sitemap generator that creates XML & HTML variants.
Google Authenticator – Free (Extra Security Measures) or (Don't forget to set 2FA using your WordFence)​
Freemium; this means it has both Free and Paid Plans.
Top Security Steps for a New WordPress Site
#1. Don't use the same email address for signing in to your site account with the one publicly displayed as support.
#2. Don't share your login info with anybody unless your designer | Webmaster.
And if you are hiring someone to design your site, make sure to first of all Disable – WPS Hide Login | Wordfence | 2FA. Activate them back when the webmaster is done.
How to Drive Traffic & Promote your Blog
1. Free Traffic
Try Forum Posting: you have good places like Reddit, Quora, and more in your niche or region. Make use of it, but be careful not to spam. To see more forums, enter this into google. "Forum + niche".
2. Facebook Groups
There are many Facebook groups in your niche. Just go to Facebook and enter your niche and join them.
If I were you I would participate by adding value to the group(s), or I chat with the admin and negotiate a shout out to my landing page.
3. Blog Commenting
If you build a blog with a free platform, posting comments will get them deleted by the site owners after been held in moderation. Why? They are simple web 2. spams.
Don't just comment on new articles, find high search volume keywords in your niche, and comment on the top 20 sites on google.
To get alerts use "Google Alerts" – it does help.
4. Instagram: Same as Facebook. Freebie -> Opt-In -> Review -> Follow Up mails.
5. Twitter: Same as the others above.
6. Pinterest: I tried this social media and gave up. It may work for you if you try it though. But make sure to verify your site by using RankMath or Yoast plugin.
7. Reddit: I don't know why but people just respect Reddit. Here is why.
You don't want to mess with Reddit else you'll be kicked out ASAP. And of course, you need a bit of Karma to participate in some sub-reddits.
What to do?
Spend some time and try to get Karma points. What to do?
Go to smaller sub-reddits and comment meaningfully and you'll have grown your Karma points. And yeah it works. I have seen someone moved from 0 karma to 250+ in a few weeks. When done currently, Reddit will send you the best traffic.
Top Quality Traffic for your Blog

1. Go for SEO: you can think ahead and do a little keyword research before you write your blog posts because sooner or later they will rank on Google wherefore you'll get free traffic. This is my best recommendation for promoting affiliate products and websites (what has worked for me most).
2. Use Facebook Page/Business Account
Many people overcomplicate things about Facebook ads running. Trust me, you don't need a business account yet to run Facebook ads if it's your first time.
You can simply boost a Facebook post you published on your FB Page.
More. Tell friends about your blog and also use the free $100+ bill offered to you on your new HostGator account to run similar ads on Bing.
How to Build an Email List for a New Blog
Always Aim to Build Your Email List from DAY 1. Why?
According to Wpforms on "Why You Should Start Building an Email List"
You'll Easily Get Messages to Customers.
Get Visitors to Return.
Email Is Personal.
Huge Companies Love Email Lists.
You Own Your Email List.
You'll Make More Money.
Email Builds Trust.
For you, the good news is that you don't have to pay a dime if you are just starting or on a low budget. You can use free companies like Mailchimp and Email Octopus to get started. MailChimp allows free 2,000 subscribers, while Email Octopus allows 2,500.
You can use EmailOctopus.com (free) or make every campaign better than the last with GetResponse! Track sign-ups, click-throughs, sales, and more!+ Visit GetResponse (30 days free trial) – I recommend EmailOctopus unless you want to use GetResponse for marketing and a need for advanced options. If not, then, there is absolutely no need to overspend at the start.
Note: Don't use MailChimp for a "Make money from Home" niche. Your account MIGHT be banned if used inappropriately.
How To Add Your Blog To Google Search Engine
Here is how to go about it.

1. Launch your blog/website

2. Login to your dashboard.

3. Go to plugins and install "Headers and Footers" – from the plugins directory.

4. Go to google search console and create an account.

5. Go to Add site and paste the URL of your website/blog
Scroll down and Copy the Meta code.

6. Go to your website and paste the code from Google Search Console in the header section of the Headers and Footers plugin.

7. Click on Save.

8. Go to google search console and click on "Verify".
How to Make money with your New Blog using Adsense
Now after setting up your blog, it's time to start making money. To make money with Adsense all you need to do is apply ASAP and be approved.
You can always bookmark this article to see how I got Adsense approval in less than 24 hours.
FAQs About HostGator And All You Have To Know
Does HostGator Offer Free Hosting?
Is there any free hosting with HostGator?
The answer is no. However, what you get is a free domain name and also a free website builder when you order any of her hosting plans on either Shared, Cloud, or WordPress Service.
How to Get a Free HostGator Domain
HostGator does offer a free domain name only if it's a dot com, dot org, and dot net TLD. That is if you go with domain names such as myteen.com, myteen.net, or myteen.org.
What is HostGator $17?
The HostGator $17 hosting is a bonus hosting package for a particular season for new bloggers who want to sign up and host their sites on HostGator.
The Hostgator's Shared Baby Plan is one of the popular hosting plans on HostGator and users.
The plan comes with unmetered bandwidth, a ton of website hosting options, a 99.9% uptime guarantee, a free SSL certificate, easy WordPress installs, and a free domain for a year.
Check out the Shared Baby HostGator
HostGator Sign Up
To sign up on HostGator, kindly go to https://www.hostgator.com/ and get started by choosing your hosting plan.
HostGator Small Business Hosting Plan
Are you considering a good hosting package for a small online business? If yes, then, the HostGator Shared hosting is preferable for Small Businesses. When you see the growth you can upgrade to her WordPress Plan or VPS tiers.
The HostGator small business package starts at $5.95/mo.
Unmetered HostGator Plans
HostGator does offer Unmetered HostGator Plans. As seen on the site, all her Shared Hosting plans – Hatchling, Baby Plan, and Business Plan are all unmetered.
The unmetered here means that you are not charged according to the amount of disk space or bandwidth you use.
Hostgator Contact
HostGator support staff is available 24/7/365 to assist you via Telephone or LiveChat with any hosting-related questions.
You can always open support with HostGator with this link.
HostGator Money-Back Guarantee
Yes, they've got to be proud of their services, else, the 8 million website owners would be asking for a refund. With HostGator, you get a 45-Day Money-Back Guarantee in case any of the things you've read here is not as presented.
HostGator Phone Number
You can call Hostgator Phone Number anytime for a quick response. Call HostGator at (866) 96-GATOR.
How can I check my Blog Traffic?
You can use Google analytics tool to check your site traffic, but if you want to do everything inside your HostGator account, which is fine as they have a tool you can monitor your site traffic.
Login to your email click learn more and you will be taken to the exact page to see how you are progressing.
Hostgator Support
You won't go wrong with the HostGator support as they are pretty nice and can solve your issues. To contact the HostGator support, use this link to navigate immediately.
HostGator Login To Cpanel
I don't think you might need to get into your Cpanel, but if you will, you can get your HostGator Cpanel login details inside your email.
Same with HostGator Login details. You will get your HostGator login details from the first 2 emails sent to your inbox. Go ahead and check it out.
Hostgator Affiliate Program
There is a bounty program known as HostGator Affiliate Program. You can sign up, promote HostGator, and make money as well.
How to Start a blog for free
There are many avenues to start a blog for free. Some of the popular ones include using WordPress, Medium, Blogger, Strikingly, Tumblr, and many more.
While starting a free blog seems a great deal, the bad news is that you are renting a place on another man's land. Meaning, you can be evicted anytime if you break the rules you might not even know.
So, as we've seen above, starting a blog with HostGator is quite cheap for everyone to jump at it and build his or her brand.
My Internet Marketing Tool Box To Sky Rocket Your Growth
Yes, I have a toolbox I share with those I value, and luckily, you are one of them. Let's see what's in my toolbox.
FREE BRANDING & LOGO for your Blog
Freelogodesign.org: swiftly create your own logo for free in just a few minutes.
Logaster: Professional online logo maker & generator.
Signature Maker: A free web-based tool that creates your handwritten digital signature.
FREE IDEA MANAGEMENT Tools for your Blog
Experiment Board: Test your startup idea without wasting time or money.
Germ.io: Get from idea to execution.
Skitch: Your ideas become reality faster.
FREE BUSINESS / PROJECT NAME GENERATORS for your Blog
The Name App: Find an available name for your brilliant idea.
Short Domain Search: Find short, available single-word domain names.
Wordoid: Pick a short and catchy name for your business.
FREE WRITING Tools for your Blog
Hemingway: Hemingway App makes your writing bold and clear.
Grammarly: Finds & corrects mistakes of your writing.
Liberio: Simple eBook creation and publishing right from Google Drive.
FREE IMAGE EDITORS Tools for your Blog
Canva: Amazingly simple graphic design for bloggers.
Pixlr: Pixlr Editor is a robust browser photo editor.
Skitch: Get your point across with fewer words.
FREE EMAIL MANAGEMENT Services for your Blog
Ready to build your first successful blog? If yes, then click below to get started. You can always contact me if you need further help
Final Note: What Next if you've Successfully Created your WordPress Blog on HostGator?
Immediately you are done, start thinking of how to blog as a business venture. How? While creating value-contents, think of how to make money out of it.
To start with, here are the top 120 affiliate programs to promote on your blog and make money. I use some of them as well.
💡 Platforms for bloggers to monetise their courses.
💡 Guide To Start Affiliate Marketing
All in all, that is How to Start a Blog with HostGator. If you have any questions or concerns, please let me know in the comment below!
Images: Parent website and Canva.com + Graphics. Ref: using the Ambbprogram