Thinking of using Facebook groups with LearnWorlds and having doubts? If yes, see this.
More than 1.8 billion people use Facebook Groups every month. There are over 70 million admins and moderators running active Facebook groups. More than half of all users are in five or more groups. The median number for respondents' most important group — online or offline — ranges from 25 to 100 people – according to searchenginejournal.com
Also, a certain report from NYU's The Governance Lab examines how Facebook Groups allow people to form meaningful communities they often wouldn't have the opportunity to offline.
Of those involved in the study, 77% say the most important group they're part of now operates online.
In today's online business world, the benefits of setting up a Facebook Group for your business can't be overemphasized. And as a course creator, this integration with your online business gives you a super workflow system.
So, have you been considering adding Facebook to your LearnWorlds online website?
Click the "Table of Contents below" to jump straight to the 5-step written guide to using Facebook groups with LearnWorlds, else, follow up as we define some concepts.
LearnWorlds and Facebook Group Integration
A Facebook Group provides a space to communicate about shared interests with your audience. You can create a group for anything — your family reunion, your after-work sports team, your book club — and customize the group's privacy settings depending on who you want to be able to join and see the group.
With Learnworlds, what you want to do is create an exclusive Facebook group for your audience based on interest and also integrate it with your online school.
What's LearnWorlds?
LearnWorlds is a premium learning platform which provides you with a dynamic platform for selling an online course, webinars, course building, coaching, selling membership, with detailed reports and more advanced options for instructors and agencies/institutions.
19 ways you can use Facebook Groups with LearnWorlds
Triggers when a new event is created for a group.
Triggers when a new photo is added to a group's feed.
Triggers when a new status is added to a group's feed.
Triggers when a new video is added to a group's feed.
Creates a new message post in a group's feed
Creates a new photo post in a group's feed
Triggers when a user is awarded a certificate.
Triggers when a user is awarded a certificate.
Triggers when a user completes a course.
Triggers when a user is enrolled in a product (free, paid or private course, bundle or subscription).
Triggers when a new email lead is captured.
Triggers when a new email lead is captured.
Triggers when a user completes a learning activity.
Triggers when a payment transaction for a purchase (including one-off purchase, subscription payment, or installment of a payment plan) is successfully charged.
Triggers when a recurring payment has failed (only for stripe installments and subscriptions).
Triggers when a user has previewed a free section of a paid course.
Triggers when a selected tag is added to a user.
Triggers when a selected tag is removed from a user.
Triggers when a user is unenrolled from a product (paid or private course, bundle or subscription), and more.
Benefits of having a Facebook Group Community on your Online Course Website
There are countless benefits to being able to gain audience engagement straight away.
For example, since Facebook groups are already popular platforms for exclusive communities, you have the opportunity to chat and converse with a customer/audience, at a time.
In today's world, building a community is so important. Why? Because your first 1000 fans will always come from there.
But with an online course platform, helps your students feel engaged and cared for. As in, they have a shoulder and minds to rob ideas together.
Which App is Best for LearnWorlds and Facebook group integration?
Traditionally businesses can choose to use a Facebook group community as a third-party option on their website or use a general native web community. And when deciding which is the best app for a typical online course community, there are pros and cons to consider.
Nonetheless, the big question is, which app or system is best to use LearnWorlds and Facebook group community integrations? The answer without any doubt is Zapier.
With the ability to integrate thousands of apps and systems, as an online course creator, Zapier lets you send info between Facebook Groups and LearnWorlds automatically with no code required.
The good thing is that you can get started with the FREE Zapier plan to integrate the systems and see if it fits your needs.
Before we see how to link them up, here are the benefits to a solo creator who chooses to use the Facebook group community with LearnWorlds:
Ability to get a prompt when a user is enrolled in or purchases a paid product.
Gets a notification when a user cancels their subscription or payment plan.
Gets a notification when a subscription is updated (either planned for cancellation or renewed, or the selected plan has been updated).
Gets a prompt when a new form is submitted, and more.
So, how do you add a Facebook group to your LearnWorlds site? Here are 5 simple steps.
Using Facebook Groups with LearnWorlds LMS in 5 steps
Step 1. Sign up on Learnworlds
The first step to using LearnWorlds is to sign up and create an account. The good thing is that LearnWorlds gives up to 30 days free trial to use it to maximum height, so, click here to sign up on LearnWorlds.
Upon clicking the link and landing on the above page, go ahead and click on "Get Started Free". From there, enter your details and give your online school a name.
When done entering your details above, you will get a notification in your email to get started.
Step 2. Create a Facebook group
There are multiple ways to create a Facebook group which includes doing it from your computer, from your phone in the Facebook app, from your personal Facebook account and the most recommended option from your company Facebook Page (so that your Page is the group's administrator, along with all your Page's administrators).
Additionally, create a Zapier account – you can use the free plan for free. Go to Zapier.com and create an account.
Step 3. Connect the Facebook Group to LearnWorlds
With your LearnWorlds, Zapier, and Facebook group ready, you need to connect together. Now, click on Connect Facebook Groups + LearnWorlds.
With the page above popped up, go ahead and enter your account details to continue.
Step 4. Choose an event trigger on Zapier
Look at your top left and name your Zap.
When done, go ahead and select an event trigger you want for your Facebook group.
Click on Continue when done.
Login to your Facebook group and select one you want to use. When done, move on to LearnWorlds.
Step 5. Choose an event trigger on LearnWorlds
Just as with the Zapier event, you want to select the event trigger you want to be prompted on LearnWorlds.
With the data or event trigger, you want to send from Facebook to LearnWorlds selected, that's it!
More time to work on other things.
Using inbuilt Community and Groups on LearnWorlds vs using Facebook groups
Now, what if you don't want your audience to use a third-party platform, as in everything is done on LearnWorlds?
If yes, then sure, you can make it happen using LearnWorlds' built-in social network page where you can empower your strong community and allow them to be bonded and actively involved in the school.
Within your Learnworlds community, you may create groups according to users' interests, courses' enrollments, or even hobbies, and depending on your school's social settings you may enable Course Discussion groups for each course or for each course's learning unit.
Going on, LearnWorlds allows more spices because apart from the automated emails and notifications sent out in certain events such as Registrations, Enrollments, etc. you can contact your students with an inbox message.
With LearnWorlds school (as long as you have allowed the creation of groups in your school's Community Access settings there are two kinds of groups: Simple groups and Course discussion groups.
Simple groups can be created on the community page.
Depending on your school's Community Access settings an admin and/or a student can create a group and invite any other school user to become a member.
Considering Course discussion group
Course Discussion groups are automatically created for each course or each course's learning activity depending on your community settings.
Going on, as a creator or any admin, you can create posts or comments which can be also commented starred (yeah) or highlighted as the best (best of).
Going on, based on your network's preferences or mood with a poll, you can add as many options as you wish by clicking on the + button.
Better still, like on Facebook group, you can delete any comment that does not resonate with you. More so, you have the free will to hide any posts.
Lastly, with the Community Access Settings of your School, you can determine whether you want your users to be able to discuss through your online school's inbox or not. You can set the exact level of communication users will have through their school's Inbox.
With the messenger settings, you can:
Let your learners send messages to anyone.
Let your learners send messages to admins only.
Deactivate any private communication. Kindly note that in this case, no notification/email for badges, certifications, etc. will be sent to the users either.
What about using Email Integrations within your LearnWorlds community?
If you would like to mass email your learners or a group of them, you can use an email marketing integration, in order to synchronize your contacts and mass email your learners. Tags can be of great help to that too!
Otherwise, if you don't want to use an email integration, you can export the users you want to contact so that to send an email externally.
Want to get started with LearnWorlds school?
Start your 30 days free trial with the "Pro Trainer pricing plan" which gives you access to premium platform facilities. But why the "Pro Trainer pricing plan"
Offering great facilities to scale your online school, if you want to get zero transaction fee charges, create free courses to build your audiences, get maximum 24/hr tech support, Affiliate Management, educational materials, SCORMs, iOS & Android App builder, etc. and enjoy LearnWorlds online platform the way it was designed for course entrepreneurs, then the Pro Trainer plan is highly recommended for a solo creator to get the best value for money.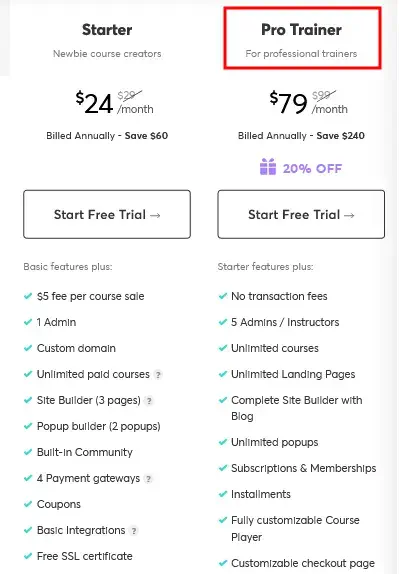 ➣➣ Go with LearnWorlds Pro Trainer Plan
But with the "Starter Plan", you can't have these benefits to create a robust online school.
Now, what if you are an agency or institution? Which pricing plan is best for you?
If you are then n the "Learning Center plan" without a doubt is the perfect fit for you – the popular plan on LearnWorlds.
With it, Bulk User Actions is enabled which helps you to import, enroll, unenroll, tag, suspend, or delete your users by file upload, Interactive Video is enabled, Auto-Transcripts & Subtitles for your Videos, and Zoom & Webex Multiple Accounts, plus Dedicated Customer Success Manager are all enabled and of course, 24/7 Premium Support.
➣➣ Go with LearnWorlds Learning Center Plan
And in summary, the last pricing plan is available for High volume & Corporate organizations which the pricing is based on a quotation from the company as per your custom needs.
A final note on using Facebook Groups with LearnWorlds
Having shown the best options and steps to set up preferred events triggers with LearnWorlds + Facebook groups, it is now left for you to determine if it fits your needs, and also if there is a need to pay for a premium account on Zapier.
But if I, were you, I would, first of all, try out the LearnWorlds built-in social network options which empowers your strong community and allow them to be bonded and actively involved in the school.
All in all, if you still opt for a Facebook group, then go ahead and try it out.
➤➤ Click here to get started with LearnWorlds + 30 days free trial
FAQs on using Facebook groups with LearnWorlds
Is it quite difficult to set up a Facebook Group with LearnWorlds?
No, it's really a straightforward process as far as you have all your accounts ready. All you need to do is select the right event triggers/targets for your integrations end-to-end (LearnWorlds to Facebook group).
Why should you use Facebook groups with LearnWorlds when it already has an inbuilt community?
The answer to this question is based on the course creator. Why? I think there is no need for third-party apps unless what's available on LearnWorlds is not enough. What do I mean?
On LearnWorlds, you can create engaging communities, groups, delete and regulate comments, send notifications to your audiences, and a lot more. Therefore, I only recommend a third-party app if there are special event triggers you need.
Important Steps.
To get started using Facebook groups with your LearnWorlds website, you need to set up a LearnWorlds account. Therefore, click here to start your 30 days free trial.
Read also: Thinkific vs Teachable vs Podia. | How many Landing Pages on LearnWorlds Can You Create? | Thinkific vs Udemy vs Teachable