As a digital entrepreneur/freelancer in Nigeria selling gigs on either Upwork or Fiverr, you already know that one of the fears is finding out how to withdraw your hard-earned funds from a PayPal account to your bank in Nigeria.
While this is such a scary aspect of online transactions for others, for you, I will walk you through the processes of withdrawing your PayPal earnings instantly, and also getting the funds at the best exchange rate in the country.
So, if you've got money in your PayPal account, be rest assured of the best method to get your funds out, and going forward, you will discover some useful tips and information to help you manage your withdrawal from PayPal without issues in Nigeria.
But let's understand how PayPal and the UBA Prepaid Dollar Card work before we check out how it is used with PayPal for withdrawals.
PayPal in Nigeria?
PayPal remains one of the most popular payment platforms in the world that allows you to send and receive money online from almost anywhere.
According to Similarweb, in the last 3 months, about 522.8M people visited PayPal. And in Nigeria, according to Google Trends, PayPal's popularity is high as shown in the pictorial representation below.
Although PayPal has some restrictions per country, as a Nigerian, you can't transact 100% with a personal account opened using PayPal.com/ng, but with a business account, you can send and receive funds.
In conclusion, PayPal will always remain the go-to payment platform as many affiliate companies, eCommerce sites, and online course platforms integrate it due to its fund's transfer simplicity and security checks.
What's UBA Africard Dollar Card?
The UBA Prepaid Dollar Card otherwise called Afri Prepaid Card is a Dollar or USD-denominated Visa card issued by UBA which is a standalone card that acts as a bank for both local and international transactions.
How does the UBA Prepaid Dollar Card work?
The Afri prepaid card, when funded and activated, gives you access to enroll on UBA mobile banking platforms to manage your account, check balance, transfer money, pay bills, buy airtime, pay for digital marketing ads, and ultimately allow you to link it to PayPal to enable withdrawal of your funds.
How Does Funds Withdrawal from PayPal in Nigeria work with the UBA Dollar Prepaid Card? 🤷
Since both PayPal and the UBA USD Visa Card are Dollar currencies denominated, when funded, activated by pin change at the ATM, and linked to operational PayPal account countries, allows Nigerians to easily and instantly withdraw their PayPal funds to the card and exchange to Naira for spending.
How to get the UBA Prepaid USD Card
Follow the steps below to get your UBA Prepaid Card from anywhere in Nigeria:
Walk into any UBA Bank branch near you.
Request for the Prepaid Card form and enrollment.
Select the USD card and fill in the other details.
Wait and get the issued Afri Visa card.
Fund and activate it for usage.
Requirements to get the UBA Prepaid Visa Card
The following are the documents you need to go to the bank with for the prepaid card enrollment:
1 Passport Photo
ID card (international passport, voters card, or NIN slip)
Utility Bill (either water or electricity bill).
Bank Verification Number (BVN).
Steps to Withdraw from PayPal with UBA AFRI Prepaid Dollar Card to Bank Account

1. Log in to your PayPal account
Simply log in to your PayPal account by entering your email address and password. When done, click on login.
Solve the security task if presented, if not, go ahead and enter your account dashboard.
2. Go to Transfer Funds
On your account dashboard, look to your middle-left and click on the "Transfer funds" button.
3. Choose Card & Enter the Amount
Now, select the Afri Card you want to send the funds to (that is if you linked more than 1 card).
Enter the amount, and finally click on withdraw and confirm the transaction.
4. Receive Money Instantly in your Prepaid Card
Immediately after you confirm the transaction, you will get an instant notification from PayPal that your withdrawal is successful.
And at the exact time, you will receive funds alert from UBA bank (via SMS or email for funds availability in your Dollar Prepaid Card.
5. Exchange the funds to your Bank Account with fnfSwap
With the USD Prepaid Card funds received, go ahead and exchange it for Naira at more than ₦600/$, and get paid instantly to your bank accounts.
To do that, move the funds to fnfSwap and get paid ASAP.
If you know how to move the funds already, >> Click here to exchange UBA prepaid card funds with fnfSwap at the best rate in the country. However, if you don't know, don't worry as it is addressed below.
UBA Africard Funds Transfer Steps.
Please, if you don't have a UBA Prepaid Card portal account already, follow the steps below to get it today to enable transferring your funds.
Sign up by going to gtpsecurecard.com (the card portal).
Click on Set up New Account and Enter your client ID and web code as on the paper attached to your card when you received it from the bank.
Enter the code sent to your phone and get a success notification.
Select preferred security questions.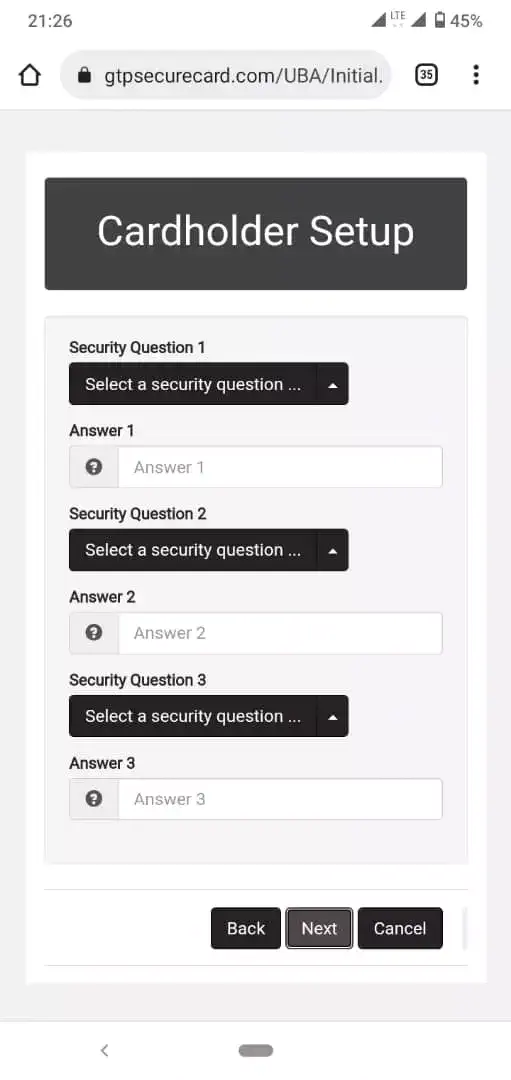 Set up your cardholder account by selecting your preferred username (must be at least 6 characters long), password (must have at least 8 characters), email address, and phone number.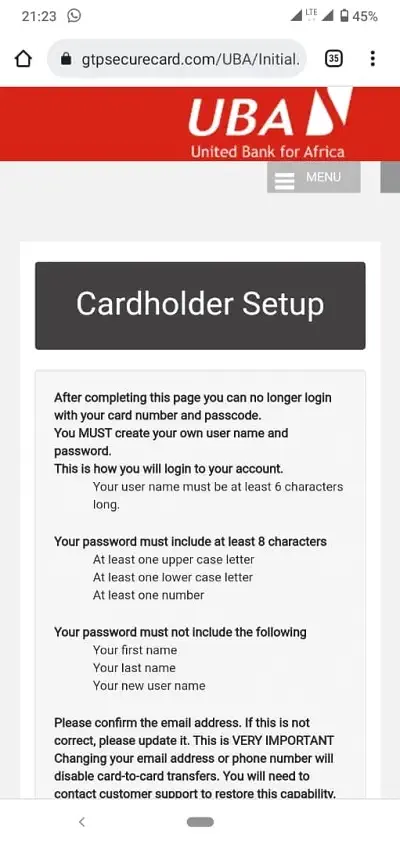 Finalise the setup by entering the code sent to your phone number.
Sign into your account and manage the options there.
Having signed up, below is how to sign in and move your funds for exchange.
How to Login to the UBA Prepaid Card Account & Transfer Funds
Step 1. Go to the UBA Prepaid Card portal at gtpsecurecard.com.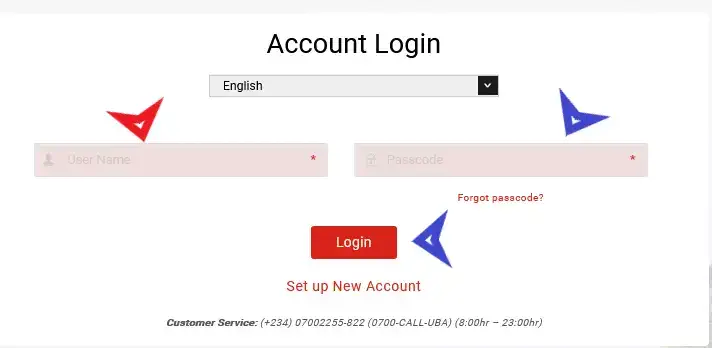 Step 2. Enter your account details and sign in.
Step 3. On your dashboard click on "Card to Card Transfer".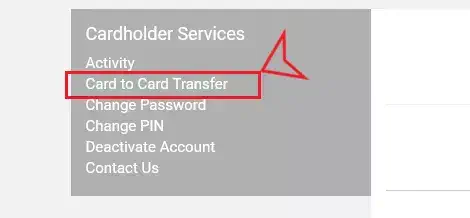 Step 4. Enter the recipient's Card details.
To transfer the funds to fnfSwap, send it to the Client ID details below.
For "Recipient's Last Name" – use OFFIONG

For "Customer ID" – use 0013737018

For "Amount" – enter the same (if $15, $50, or up to $300)
Step. 5 Click on "Continue" to confirm the transaction.

Step 6. Enter the Transfer Code from UBA and endorse the transaction.
That's all.
PLEASE NOTE – you can only SEND a maximum of $300 per transaction per card-to-card transfer. So, sending $400+ or more will be declined. Therefore, kindly send $300 per transaction even if it is $1,000, send $300 per time and we will process the funds for you.
With the Afri card-to-card transfer done, fnfSwap will instantly send the Naira exchange equivalent of the Dollar Prepaid Card funds to your Nigerian Bank account ASAP. 

See a few transactions with fnfSwap clients over the week and today below – observe – all payments are done under 15 mins, else, if payment to your bank account exceeds 15 mins, you get an apology fund of $1 FOR FREE. 

Transaction with Bethel

Payment transfered to his Nigerian Bank Account below – within 5 minutes

---

Transaction with Pioneer Freelancer


Payment transfered to his Nigerian Bank Account below – within 7 minutes

Transaction with Daniel

Payment transfered to his Nigerian Bank Account below – within 8 minutes

---

So, high ₦/$ rate, swift payments, and instant customer support are a few reasons why our clients and community are happy to work with us.
---
Why Exchange your UBA Prepaid Card Funds from Dollars to your Naira Bank Account with fnfSwap (at the best rate)?
fnfSwap is a fully registered business in Nigeria under IsuaWealthyPlace Publishers.
You get paid above the market $/₦.
You get paid instantly with the company's business-to-client signature. 
You get a FREE $2 if your payment exceeds 15 mins (as of the time of sending your funds).
You get the best exchange relations customer support. 
You can exchange your funds even after the close of work at 9 pm.
You can transact your funds on weekends (Sunday inclusive).
You can exchange as low as $15.
>> Click here to exchange UBA Prepaid Card funds with fnfSwap
---
By the way, Listen Up. Want to get the Latest Tips and Updates on Online Payments & UBA Dollar Prepaid Card funds Prices and News? If yes, join our NEW exclusive WhatsApp community here.  
---
What's the PayPal fee when you withdraw to UBA Prepaid Card?
When you move funds from your PayPal balance to your UBA USD Prepaid Card, PayPal charges a fixed fee of $5 only. That's, even if you withdraw$500 or $1,000, the fee of $5 stands. 
What's the Prepaid Card fee when you withdraw from PayPal?
When you withdraw funds from your PayPal balance to your UBA Dollar Prepaid Card, UBA charges a fixed fee of 1.5% only. That's, even if you withdraw$30 or $400, the fee of 1.5% is constant. 
What's the Best UBA Prepaid Card for PayPal?
The best and recommended UBA Prepaid Card for PayPal withdrawal is the USD or Dollar denominated Card because you get a better PayPal to Naira exchange rate of over ₦600/$ as compared to the Naira variant where you get the funds directly to your bank account at the local bank rate of about ₦428/$. 
Also, with the USD Prepaid Card, you get your funds instantly using fnfSwap, but with the Naira variant, the bank might take up to 2+ days to process the funds to Naira before hitting your account. 
With the UBA USD Prepaid Card, you can easily transfer funds from one user to the other. 
What are the Best PayPal Account Countries for UBA Prepaid Card Linking and Withdrawals?
Below are the top PayPal countries you can easily withdraw funds to your Afri card. 
Lesotho Business PayPal
UAE Business PayPal
Senegalese Business PayPal
Mozambique Business PayPal
Serbian Business PayPal. 
Nigerian Business Account PayPal
Iceland Business PayPal 
Wrapping up
PayPal is no doubt a giant in the industry as far as online payments are concerned, however, as a Nigerian, there are a few limitations to usage and withdrawal.
But the good news is that we've addressed how to successfully withdraw our funds from PayPal using the UBA Prepaid Dollar-Card-to-PayPal connection to make this possible.
And above all, you get a great Naira to Dollar exchange rate for your funds at fnfSwap. 
>> Click here to exchange your Prepaid Funds & get paid instantly
---
FAQ about UBA and PayPal Funds
What's gtpsecurecard UBA log-in all about?
This is the gateway to managing your UBA Prepaid AfriCard funds and all other properties such as user-to-user transfer, activity, deactivate account, customer care, and more. 
What's the UBA Dollar Card Limit?
The UBA USD Prepaid Card transaction limit per month is $10,000. 
 How can I replace the UBA Prepaid Card if lost?
In case you misplace your card or need to request a new card, all you need to do is to contact customer service at the bank and request a new one so the former can be blocked.
Other communication routes are by calling them at +23412808822 or emailing them at cfc@ubagroup.com. 
How Can you use PayPal in Nigeria?
Simply Link your PayPal account to your Nigerian Prepaid or accepted Debit cards account to withdraw your PayPal funds to your Nigeria bank account.
Can I link a Nigeria bank account to my PayPal Account? 
No, you can't link a Nigerian bank account directly to PayPal as this function is disabled. So, the better way out is to link your card to the PayPal account in Nigeria.
Are there transaction limits on PayPal Withdrawal to your card? 
Yes, there is. The PayPal transfer limit for unverified accounts is $500 per transaction. 
After verifying your account, there's no limit on the total amount of money you can send from your account. That is to say, you can send up to $60,000, but may be limited to $10,000, in a single transaction.
How long does it take to receive money from PayPal to your UBA Prepaid Card?
Instant to 3 working days. As far as you use the transfer funds to card option, withdrawal from PayPal is always instantly, and to a maximum of 3 working days for manual review (if need be). 
Click here to Swap and to transfer money @ OVER ₦600/$ from UBA Prepaid card to Bank Account