Welcome.
I want to guess that you've heard a lot about the 72ig program and the systems it uses to make money and you might be asking what then is the 72ig WhatsApp Income Generator?
Well, the 72ig WhatsApp Income Generator is lesson 2 of the 72ig program which is focused on WhatsApp marketing. Lesson one is focused on PPC – using paid advertising to promote products on Expertnaire to make money.
Having paid for the 72ig WhatsApp Income Generator, I will tell you everything you need to know about it. Let's get started.
The relationship between Expertnaire.com and the 72ig WhatsApp Program
Expertnaire is an affiliate marketing website where digital products are listed by course owners and where members join to promote them and make money.
Both the 72ig and Expertnaire are owned by Toyin Omotoso hence the relationship.
That is the reason you have 2 ways to access the Expertnaire platform. #1. Via the 72ig program and #2. Directly via the Expertnaire-affiliate-website.
How does the 72ig WhatsApp Generator program work?
Through the 72ig Implementation program by Toyin you get the implementation strategies.
In essence, the 72ig WhatsApp Generator course works in 6 steps.
Step 1. Join Expertnaire – when you sign up via the 72ig program, you have automatic access to the Expertnaire platform.
Step 2. Watch and go through the 72ig WhatsApp marketing lessons.
Step 3. Implementation – Choose a digital product of your choice (access them for free from Expertnaire.com)
Step 4. Promote using the various 72ig WhatsApp system of your choice.
Step 5. Make sale and get paid.
Step 6. Get your commissions sent to your bank account on Friday.
Expertnaire vs 72ig WhatsApp Income Generator
🚦 Expertnaire is just an affiliate website and marketplace where affiliates join as members to promote digital products and get paid.
🚦 The 72ig WhatsApp Income Generator is an online training program on Expertnaire that educates you on how to sell the actual products on Expertnaire + gives you automatic membership. That is, no need to pay N10,000 ordinary affiliates do.
How To Access The 72ig WhatsApp Income Generator?
To access the 72ig program, you will have to pay for and register via the 72ig Expertnaire program, whose vendor or courser owner is the CEO of Expertnaire – Toyin Omotoso.
When you make a payment, you access both #1. the 72ig implementation and #2. WhatsApp Income Generator.
Below is the overview of the first lesson, the 72IG Implementation Program.
Full 🌕 Breakdown – Is 72IG Implementation Training Program is worth it? See 27 pros & cons
72ig WhatsApp Income Generator PDF Review 2022
1. 72ig WhatsApp Income Generator Registration
When you make payment or register for the 72ig program which is N50,000 (as of the time of writing) you will get access to the 3-part lesson program as shown below.
2. Access to the full 72IG WhatsApp Income Generator training.
This is the training program that walks you through how you can go from zero to N750k a month selling affiliate products on Expertnaire with your mobile phone.
3. Access Links to Your Extra Bonuses
You get to download the full twitter money blueprint pack and a 3 done for you WhatsApp campaigns.
4. Weekly Training
Here, you get to join other students every Wednesday on a training class. The big question is, does this class hold every Wednesday?
Answer: no. The class holds periodically.
5. Access the main 72ig WhatsApp Lesson
When you click to access the 72IG WhatsApp Income Generator program, you will get this.
Welcome to the 72IG WhatsApp Income Generator Training Program.
First of all, I want to say THANK YOU for getting this training program.
I am really excited that you decided to try it out.
On this page, you'll find the full 72IG WhatsApp Income Generator training materials.
There are 3 Modules in this training.
Module 1 has 3 videos
Module 2 has 5 main videos plus 3 tutorial videos and pdfs
Module 3 has 2 videos (The Twitter Money Blueprint is recommended)
Then, there are additional helpful resources.
If you have any questions regarding this training, please email support@7starcourses.com and you will get a reply within 24 hours.
6. Access the Module Lessons
Module 1.
Lesson 1 – the introduction to the program
Lesson 2 – Understanding Expertnaire Affiliate System
Lesson 3 – picking a product to promote and understanding prospects.
Module 2.
Lesson 1 – WhatsApp Funnel 1 – Building with your contacts.
Lesson 2 – A case study.,
Lesson 3 – WhatsApp Funnel 2 – Building with foreigners.
Lesson 4 – Maximizing WhatsApp Status and more.
Lesson 5 – How to Create WhatsApp Links
Lesson 6 – How to Use WhatsApp Autoresponder
Module 2 – Additional Resources. See the resources below.
Module 3 – continues with other Bonuses.
7. Access Extra Bonuses
Here you get the following reports:
4 Ways to Make Money Online Report (13-Page Document) Promoting 4 Hot Expertnaire Offers.
(2) FREE REPORT – Where the Money Is Right Now & How to Get It
AD Swipes to Use Via WhatsApp, social media, or Email.
That is the summary of the 72ig WhatsApp Income Generator.
How To register and access the 72ig WhatsApp Income Generator Course
Registering on Expertnaire via the 72ig program costs N60,000 (as of the time of writing) – which gives you access to the program.
Step 3. Make Payment and Checkout.
Upon clicking the button above, you will land on the payment page below.
Enter Your Details (Correctly):
First name
Last name
Email address
Phone Number
Choose Payment Method: I recommend PAYSTACK (Naira) – for instant payment confirmation.
Step 4. Get Payment Confirmation verification and Receipt
As far as you followed the steps above correctly, your payment will be confirmed as shown below.
Here is the payment receipt you will receive as well.
Step 5. Get Access to the 72ig Training program
From the above steps, you will get the product Order confirmation, and from there you get "the purchase access link" as shown below.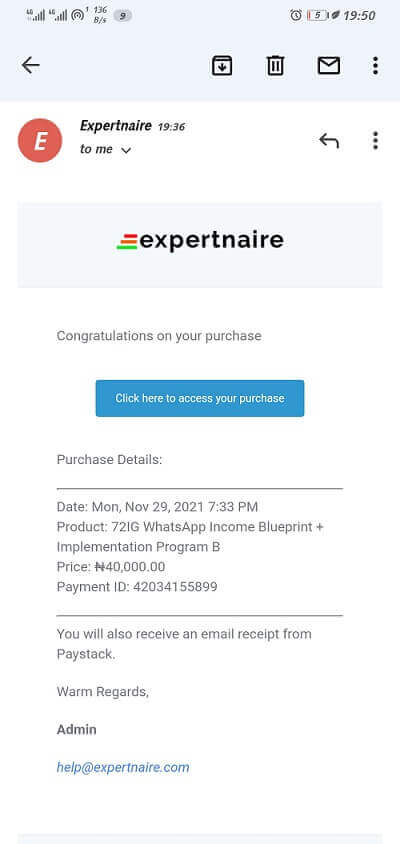 From the instruction, you will have express access to both the 72ig Implementation program and the 72ig WhatsApp program.
---
Step 6. Get the 72ig Expertnaire Easy Sales Manual
The 72ig Expertnaire Easy Sales Manual is an all-in-one packaged resource including live classes, short video training, templates, and sales copies for you to use and scale your success on Expertnaire to make way more money.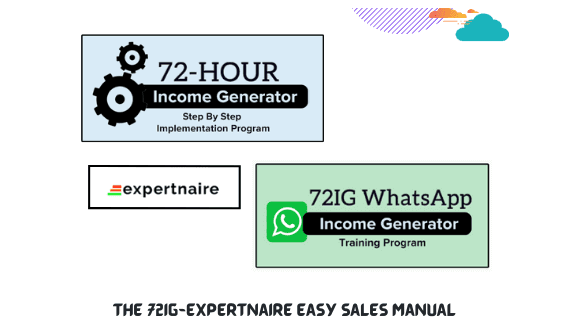 Also, it gives you free access to our community where you get exclusive support where/when you need one. 🤷‍♂️
But what's in the 72ig Expertnaire Easy Sales Manual? 🤷‍♂️
These resources include:
👉 5 short training videos 📹 – for rapt understanding.
👉 Top 25 Facebook Groups to get Traffic and Promote Expertnaire Products
👉 How to Promote Expertnaire Products Using Facebook Groups in 6 Professional Steps.
👉 The Zero WhatsApp contact list marketing
👉 Full Expertnaire WhatsApp Marketing Live Class
👉 A 13-in-1 WhatsApp Marketing Resources
👉 Best Ways to Pitch Expertnaire Products with your affiliate links using Facebook Groups.
That's not all comrade…
You get:
👉 Email Marketing with Expertnaire
👉 Twitter Organic Ad Marketing list
👉 Twitter marketing Templates
👉 Facebook Ad Samples and copies used – LIVE case
👉 Facebook and Twitter ad Images, Banners + advert pages, and more.
➡️ Click here to see the full Resources in the 72ig Expertnaire Easy Sales Manual.
After your registration on Expertnaire via the 72ig program, click here to get the resources linked to you + our community support group.
Want to work with me? Why You Should Register with our 72ig Link 🤔
Let me be honest with you, a lot of people have joined Expertnaire both as an ordinary affiliate and through the 72ig program, but yet, many come to me to help them out.

You see, as a beginner, you might need that support group or person to be there for you in case this affiliate marketing thing with Expertnaire sounds like Chinese to you. That is where using our 72ig Link comes in.

When you join Expertnaire via the 72ig program using our Link, what I do for you is to first welcome you in, secondly, give you this million-dollar Resources, to ease your efforts (templates), and three (3), give you access to our support group should you get stuck at any point. See the email you will get from me below.
.
Here is the truth.

It's disheartening to me when a new affiliate says, I signed up with "affiliate A" but he or she is busy or does not have time for me, and now they want me [that has time] to help them.

While I am 100% willing to help, but thinking about the fact that those that encouraged them to join left them hanging after getting the affiliate commission is hurting – just put yourself in my shoes and judge this matter.

So, if you are a beginner, you might need some steps I have already taken so you too can succeed fast. The essence is to ease your work so you do not go on the internet and say that Expertnaire is a scam. Expertnaire nor the 72ig is a scam. THEY ARE ALL LEGIT.

In fact, Expertnaire is a prayer answered to lots of Nigerians (digital marketers), most especially me. And what of the 72ig program? It has already blessed lots of Nigerians.
.
P.S: does this mean you can't make it on Expertnaire without the 72ig program? No, please. If you've been in the Affiliate business for years now then no problem, join in and you know already what to do. However, if you want your value-packed implementation steps and resources, then you need the 72ig program working with me.
If you have any questions, let me know below the comment section and if you need further help, click here to communicate.
📹 Expertnaire Registration Fee and Full Video Guide on How to Sign up
How I built a 7-Figure Online Business from Scratch – Copy my strategy

🛑 Listen now: Do you #1. want to earn in dollars and withdraw with high exchange rate to Naira #2. want to generate both Active & Passive income #3. want to make money with affiliate marketing working with personal and international brands with 100% FREE Traffic?

If yes,➡️ click here to check out the AMBBProgram + how I made ₦400K in one day.