Asking how to fund or load your UBA Prepaid Cards? If yes, ask no more because this guide will show you how to fund both your UBA Naira variant and Dollar Prepaid Cards without going to the bank, all done online. Amazing, right? Yeah.
Apart from that, I will also share alternative ways to load your UBA Prepaid Card.
But What is and How Does the UBA Prepaid Card Work?
First off, I recommend you check out everything you need to know about the UBA Prepaid Cards here.
Now, the UBA Prepaid Card is a standalone or independent debit card that is not connected to any bank account and is free to get for international transactions such as funding digital platforms, shopping online, paying for subscriptions, and transacting with PayPal.
The UBA Prepaid Card works in such a way that you can load funds and use, reload and use as many times as you want.
And while there are some limitations to the Naira-denominated card, the Dollar Card can do up to $10,000 a month. See the full limitation structure here.
What then is the UBA Dollar Prepaid Card?
Now there are 2 types of UBA Prepaid Cards, we have Naira denominated and Dollar denominated. The UBA Dollar denominated Card is a card that all transactions such as funding, transfer, and withdrawal are in USD currency denominations.
Without further ado, let me show you how to easily fund your UBA Prepaid Cards without going to the bank or online + alternative routes to do it.
Ways to fund your UBA USD Prepaid Card
There are 3 ways you can fund your UBA Dollar Africard. 
1. Fund it cheaper with fnfSwap
The best way to fund your Dollar denominated Card is to use the fnfSwap platform which helps you fund your card cheaper than any rate in Nigeria, better than the black-market rate. 
For instance, (as of the time of writing), while funding from the black market is higher, at fnfSwap, you can fund your card at a lesser/$ – (saving you a lot of money). 
The advantages of fnfSwap are that:
You get legit funding
You get the cheapest exchange rate
You can fund anytime – 6:am, 6:pm, or even 9:pm.
You can fund on weekends.
You get funded in 5-15 minutes.
With fnfSwap, you get funded in a few minutes. Read down to see how to get your card funded by fnfSwap.
How To Fund UBA Dollar Prepaid Card Online
Contact fnfSwap and request the amount you want to be funded.
Pay the Dollar cash equivalent in Naira.
Drop your Customer ID at the back of your card & Lastname.
Get funded instantly by fnfSwap.
Confirm the transaction.
2. Fund by Africard with Digital Currencies
Another best funding method is to give fnfSwap digital currencies like USDT, BTC & Eth in exchange for the UBA Dollar Prepaid Funds.
If you want to use this method, click here to get started.
3. Fund by buying USD from the Black market
Another way to top up your UBA Prepaid Dollar Card is to buy Dollars – hard currency at the black-market rate, take it to the banking hall, fill out a deposit slip, enter your Customer ID number/details, and submit it to be funded. 
The cons here are:
This method is stressful.
It wastes time.
You can be scammed by a fake BDC guy.
You can buy fake Dollar notes. 
Before you go for this option, first check if fnfSwap has funding available – to save cost.
4. Fund by Client-to-Client Transfers
If you have a friend or colleague that has Dollar funds in his or her Gtpsecurecard account, he/she can fund your card by transferring to it. 
Requirements to Load your UBA Prepaid Dollar Card 
The details you need for loading your Prepaid Card are: 
Your Customer ID
First and Last name
Funding Amount
What is a Customer ID & how do you find it?
The UBA Prepaid Card Customer ID is a 10-digit number that serves as an account number for the loading and movement of funds from one Prepaid Card to another. 
You can find the Client ID on the back of your Prepaid Card – printed in black color. 
Follow the instructions below to fund your UBA Prepaid USD Card with fnfSwap online.
Go to fnfSwap.com and click on "fund my UBA card".
Get the current exchange of Naira to Dollars
Send the equivalent money in Naira to their bank account
Drop your UBA Prepaid Dollar Card client ID & last name. 
Get funded in less than 5 mins.
How to Fund UBA Prepaid Naira Card 
As already discussed, the UBA Naira Prepaid card transacts in Naira, therefore, if you want to fund the card, follow the steps below. 
Go to any UBA Branch
Fill the deposit slip with your details (customer ID and name)
Hand over the amount in Naira you want your card funded.
Get funded. 
Alternative ways to fund your UBA Dollar Prepaid Card 
For the naira card, you can fund it via the UBA mobile app but the app is not reliable for this purpose. And you can't do this either for the UBA Prepaid Dollar Card. 
That's all about funding either the Naira variant Prepaid or the UBA USD Afri Visa card. 
How do I get a USD UBA Prepaid Card?
We already discussed how to get the card here, however, see below for the steps.
Locate and walk into any UBA branch close to you. 
Request the UBA Prepaid Dollar denominated Card.
Fill out the form with your details (passport photo, ID card, and Nepa Bill)
Wait for 30mims to 1 hr to get the card.
Fund the card and activate it.
Link it to PayPal and withdraw funds.
Swap the funds with fnfSwap.
How do I Check My UBA Prepaid Card Balance after Funding?
To check your USD Prepaid Card balance, simply log in to your gtpsecurecard portal, go to your dashboard and you will see your balance right there. 
To check your Naira denominated Card balance, download the UBA mobile app and activate it, when you log in, you will see your balance. 
Alternatively, check your email or SMS notification of the last transaction and you see either your Naira or USD Card balance. 
---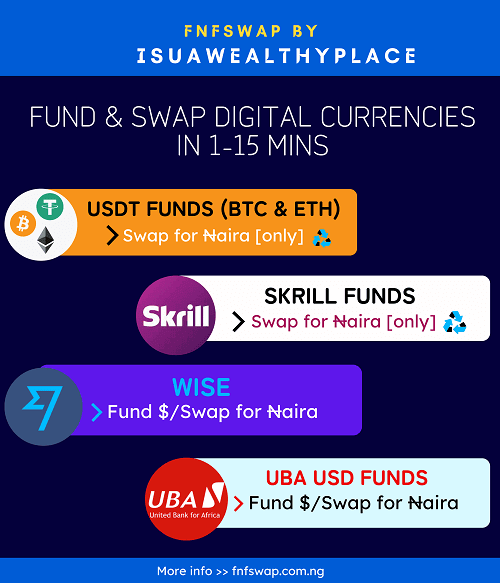 ---
FAQ About Finding UBA Prepaid Card
Can I transfer funds from my Naira to a Dollar Prepaid Card?
No, you can't. This is not possible either on the gtpsecurecard portal or the UBA mobile application. 
Can I fund my UBA Prepaid Dollar Card using Mobile App?
No, you can't. The gateways are not enabled to function in this manner.
What's the Minimum & Maximum amount to fund the UBA Prepaid Dollar Card?
There is no minimum or maximum amount you can fund your card with, but for the Dollar Prepaid Card you can transact a maximum of $10,000 a month, and over ₦400,000 for the Naira variant Prepaid Card on local platforms.
How To Withdraw from Uba Dollar Prepaid Card
#1. Send the funds to fnfSwap
#2. Give your bank account number
#3. Get Naira funds to your account – in 1 – 15 mins.
How To Get Uba Dollar Card?
Walk down to the UBA branch, present your National ID, Nepa Bill, 1 passport photograph, and BVN, fill out the UBA dollar card form, and wait for the card to be issued. Fund and get it ready for use. 
Uba Prepaid Dollar Card Requirements?
#1. National ID
#2. Nepa Bill
#3. 1 passport photograph 
#4. BVN details. 
How does the Uba Naira Prepaid Card work?
This is a Naira-denominated prepaid card by UBA. The steps to get it are the same ad with the Dollar card. But note that it has a limit of $20 monthly spent. 
Read also:
#1. How to Link UBA Prepaid Card to PayPal Account

#2. How to Activate UBA Prepaid Card Online & Offline Fast

#3. How to Withdraw from PayPal with UBA Prepaid Dollar Card