Today we want to look at Expertnaire, an affiliate website for Nigerians to make money – as much as they want, be it N20,000 a week, N100,000 a month, and even N450,000 a month (as far as they can see and work).
Talking about affiliate marketing. Affiliate marketing means recommending a solution (product) to those with the same problem and getting a paid-commission for successfully doing that.
So, let's say that a product "A" on Expertnaire sells for N20,000 with a commission of 50%, for successfully recommending the product to 1 person you will get N10,000.
And if you go on to recommend to another 5 persons that need the same solution, you make 5 X N10,000 = N50,000 per day, week, or month (based on how long it took you to reach out to them.
And how do you know all the sales you make?
Answer – there is what is called an affiliate link.
What is an Expertnaire affiliate link?
This is a special and unique link that has a cookie (technical affiliate marketing term) that tracks and assigns payments to your accounts when a prospect successfully uses your link to purchase the product promoted.
So, no need to worry about how many sales you make because they are tracked to your affiliate account (same on Expertnaire).
Before we quickly see how to make money with Expertnaire, let's see the full review of the affiliate website.
Expertnaire Review 2021: How Does the Platform Work for users?
Expertnaire is an affiliate marketplace like Clickbank or Jvzoo where affiliates sign up, promote digital products, and get commissions for successfully recommending the RIGHT products to the RIGHT audiences.
As an affiliate on Expertnaire, all you need to do is find people who are most likely interested in a product (Problems) and recommend the same (Solutions) to them through your affiliate link.
Basically, if you recommend the solution products to 100 persons that have the same problem, then you will get paid 100 times for successfully recommending (Solutions products) to them which will be tracked on your affiliate account dashboard.
Below is what the Expertnaire website homepage looks like which you can access via – https://expertnaire.com
Expertnaire Affiliate Program
The Expertnaire affiliate program is an affiliate program that pays affiliates for promoting various digital products on the affiliate network.
Like Clickbank or Jvzoo, you get top strategies to promote informational products plus high commissions for the affiliates. Later on you'll see the commissions you stand to get as an Expertnaire affiliate.
Who Owns Expertnaire?
The Expertnaire affiliate platform is owned and managed by Toyin Omotoso.
Toyin Omotoso of Expertnaire platform considers himself to be someone who is an expert at creating valuable knowledge products (books, videos, courses etc.
Who is an Expertnaire Affiliate?
An affiliate is a person that signs up to promote a product (affiliate offer), services or tool. The affiliate offer can be both physical or digital products.
Talking about Expertnaire, if you sign up on the affiliate network to be paid more than 40% commissions for each product promoted, you automatically become what is known as an Expertnaire affiliate.
Therefore, Expertnaire affiliates are digital marketers promoting digital products on the platform.
How Does Expertnaire Affiliate System Work?
Unlike many other Expertnaire alternatives, Expertnaire affiliate system works in a way such that as a member, you get paid to bring in other members.
That is to say, if you join Expertnaire and copy your membership affiliate link and share with a friend, you will earn N3,000 for doing that.
And when you sell any of the Expertnaire courses or digital products you earn a commission based on the stated percentage.
Let's now see how to Expertnaire looks like.
Expertnaire Site Platform & Affiliate Dashboard
Below the expertnaire platform will find enlisted digital products you can promote on the affiliate Network.
Below is how your sales history will look like.
(A typical income display from your dashboard)
Expertnaire Affiliate payments – When and How Does Expertnaire Pay?
Expertnaire pays every affiliate on Fridays as far as you've earned a minimum of N5,000 which you can if you invite 2 people to join Expertnaire, or if you sell any of the over 40 affiliate products.
And How Does Expertnaire Pay? They pay in Naira after adding your naira bank account details on your affiliate dashboard.
The good news is that you do not have to do anything.
The payment just comes to you after receiving email confirmation on Friday. See below.
Note – if you earn commission on a Wednesday, Thursday, or Friday, you will receive the payment next Friday.
Expertnaire Registration: How to Register
Signing up for an Expertnaire Account is quick and easy. Follow the steps below to complete the initial sign-up step of the process.
To join as an ordinary affiliate with N10,000, click here to access the Expertnaire Signup Form.
And if as a 72ig member, click here now.
Step 2: Enter your basic information into the sign up form.
On the "Affiliate Sign Up" form, enter your full name, phone number, and email address. You must also choose a password to continue.
Step 3: Read the Terms and Conditions.
Read the Expertnaire Client Contract and finally tick on "I Agree to the terms and conditions".
Step 4: Make Payment
Upon agreeing with the Terms and Conditions, go ahead and make the membership payment.
Step 5: Access your Expertnaire Account
After the payment, you will get a confirmation email that your payment is successful with further affiliate membership information.
From there you proceed to log into your account and choose a product to promote.
How To Promote and Market Expertnaire Products
Before you start selling, you need to remember that you're selling to a person and humans.
Basically, with affiliate marketing, most people use copywriting and swipes to make prospects open the purses. This is good because it helps you sell easily, right?
However, my kind of affiliate marketing is different.
I don't like using it.
I prefer telling my prospects how the product is, sometimes, I buy it first to see the value my audiences will get out of it. That way, it makes commissions come in easily because they simply know what they are paying for.
By the way, if you would like to use marketing copies to easily sell products on Expertnaire then the good news is that is it available in the 72ig program package.
Nonetheless, if you can't join Expertnaire via the 72ig program when you join as an ordinary affiliate via this page, contact me so I can link one I paid for to you.
Coming back to how to sell and market Expertnaire products, here are the 6 tricks I use and you too can use to sell fast.
1. Make it about the buyer.
One way I've been able to sell is by clearly defining what the buyer /prospect will get from a particular product.
The truth is, people, don't like listening to salespeople talk at length about the products they want to market. Why? Because they do not like to be sold. Haha.
What to do instead is make it about your buyer. As in, will the said product solve or answer their questions?
For instance, there is a product on the Expertnaire website about Vagina flow during/after pregnancy, instead of leaving your affiliate link with the prospect, why not take the time to explain how the product will help her with blood clotting?
More so, if you want to make more sales, you can get a review copy of the product from the vendor or buy it so you can easily make a review of what the product can do for the prospect.
All in all, when you make it about them, sales is easy.
2. Engage the Prospects/Buyers Using your Best Channel
Making research of properly reaching out to buyers is pretty important.
Now that social media is the norm of the day, you can use Twitter if you have the audiences, WhatsApp if you have people viewing your status, and Email marketing if that will work for you.
Linking back to the 72ig program again, if you are joining Expertnaire via the program, you will get a free blueprint on WhatsApp marketing which shows you how to make sales.
Other places to research prospects are:
• Facebook groups.
• Telegram groups.
• Your circles.
• LinkedIn.
• Blog.
• YouTube.
3. Build a Relationship first
I recently ran a Facebook ad to sell my PayPal Reselling Course, guess what? After the money spent, I didn't sell any.
Why? I didn't take the time to build a relationship before pitching.
But with the audiences I built since 2 years ago I was able to sell the product.
Now, what does that tell you?
Building relationships first is very important. That is to say, people buy from those they trust and love.
For my audiences, I have been offering them value for years now so it was easy for them to see the value I was offering and paying for it.
But for the Facebook leads, I only used an autoresponder and emailed them every day for 4/5 days.
I know I should have emailed like 10+ days, but that is not the point here.
The point rather is, when you want to market Expertnaire products, make sure to build a relationship and rapport first with the prospects. In fact, do not sell on the first day if you can.
If you think that this selling trick is kind of a big deal, then you have to remember that it is human beings we are recommending these affiliate products to, right?
Therefore, you want to communicate with them like a human before speaking to them like a salesperson. It's that simple.
4. Recommend the product
Upon building the relationship, it's now time to recommend the Expertnaire products to the prospect.
Truth is, if there is something that convinced you to join Expertnaire then the same reason will drive hundreds of people in your circle to join for you to make money.
But first, you must understand them by building a relationship.
After you promote the product(s) with your affiliate link and they are not still convinced, what to do next is show them some results from the affiliate product(s).
And for some that like analyzing things, interested in facts, figures, and data, you can show them how many people are using the product(s).
For instance, there are over 6,000 affiliates in the 72ig support group – exclusive to those that join Expertnaire via the 72ig course.
If you were promoting such a product, you can use this as a case study that over 6k people are already students of the 72ig program.
And if you were recommending a diet product you can show the prospects who and who have used the product and seen the immense result.
5. Scale the marketing process
Now when you utilize your immediate circle to market Expertnaire products, there will come a time where you need more prospects/audiences.
At this point, you will need to build an email list – a list of people in your email community.
There are many ways to build an email list. First off, you will need an email marketing tool like GetResponse to collect and store the emails of your products.
The good thing is that GetResponse is simple and intuitive for beginners and advanced users.
➡ Click here to get started with GetResponse for free.
With the GetResponse email marketing tool, all you need to do is bring more people to the list.
The thing is, the more people you have on your list the higher your chances of making money.
The best 2 ways to build an email list is from a Facebook ad or YouTube ad.
Other ways include Facebook group marketing, Google ads, Bing ads, and more.
Now if you are joining Expertnaire via the 72ig program, you will get a detailed guide on how to properly promote Expertnaire products and make money.
On the other way round (joining as an ordinary affiliate), you can spend some time on YouTube and see how to run Facebook ads like a pro.
All in all, when you build the list, relate to them as humans else selling will be hard.
(By the way, I talked about running Facebook ads – I got just 51 prospects, so, I guess that's (a small list) why the immediate sales did not come in)
Remember, more people in your email list, more money.
To build your email list for free, click here to get started with GetResponse.
Personal help – I know this looks stupid. But it is what it is.

When you want to build a LANDING PAGE & THANK YOU PAGE for email marketing (to build your list). Reach out to me and I will do it for you for free BEING that you joined GetResponse using any of the links above.

Note: I will build the pages using Elementor on WordPress CMS.
6. Create Urgency to skyrocket your sales
Now when once you've built an email list, communicated the value to the prospects, what to do next is to create an urgency for them to buy the product.
To help market the Expertnaire products fast, try offering a limited-time offer or discount. For example:
"20% discount, this weekend only."
"Limited edition [product name] available while supplies last."
"Last day! Buy [product name] and receive a free gift."
"Higher Price! Buy [product name] else price goes up today."
In conclusion, when it comes to selling Expertnaire products or anything online it comes down to knowing your buyer and the critical sales methodologies to reach them.
As Emma Brudner puts it, "the ability to sell anything online can be boiled down to that as well… while using different channels and technologies to do so.
You can be super effective at each by crafting a sales strategy that informs the tactics your team invests in".
Now that we've seen how to sell and market Expertnaire products, let's see the types of products listed on the Expertnaire affiliate site.
Types of Expertnaire Courses
As of the time of writing, there over 41 Expertnaire courses that affiliates can promote and make money in Nigeria.
1. 72ig Implementation Program – a Make Money Online Expertnaire Course.
For the Make Money Online niche, there are many products you can copy the links and start promoting for commissions.
As of the time of writing, there are over 10 of them, so, you can choose to work with the 1-5 with the big pay/commissions.
However, one of the hot-selling "Make Money Online" products is the 72ig Implementation Program by Toyin Omotoso.
This product is hot simply because people want to make money online – and fortunately, the course shows exactly that.
The 72ig is now N45,000 from N40,000, and as an affiliate, you will get 50% if you had joined Expertnaire via the 72ig program, and 30% if you join as an ordinary member.
2. CPA AFFILIATE MASTERY – an Affiliate Marketing Expertnaire Course.
Of course, affiliate marketing is still in the make money online niche which the 72ig is also part of.
However, there are other core affiliate-like programs you can promote on Expertnaire and make money.
One of such is the CPA AFFILIATE MASTERY by Michael.
This course goes for N102,500, and as an affiliate, you will get a 30% commission. That is more than N30,000 for successfully selling it.
3. Permanent Residence in Canada – a Relocation Expertnaire Course
It's fair to say that the hottest niche on Expertnaire is the Relocation and Travel niche. Why?
A lot of people want to leave Nigeria for a better place.
Going on, one of the hottest selling products is the Permanent Residence in Canada blueprint by Victor Jegede.
The blueprint sales for N17,000, and as an affiliate you will get 50% which is N8,5000.
It's worthy to note that an Expertnaire affiliate even crossed N2,000,000 selling the travel course.
And the best news for you?
There are other 3 or more Expertnaire products in this niche you can promote when you join.
4. 10X Ecommerce Complete Masterclass – an Ecommerce Expertnaire Course
As a third hot selling niche on Expertnaire, the mini importation courses on Expertnaire are hot.
One of the 2 e-commerce products is the 10X Ecommerce Complete Masterclass by J. Melody which goes for N150,000, and as an affiliate, you get 30% in commission.
5. Freelancer Success Guide – a freelancing Expertnaire Course
Another niche I've had success with Facebook ads on Expertnaire is Freelancing
The audiences I built in 2019 which I since created a lasting relationship which helped me sell my PayPal Reselling Course was due to promoting a freelance guide then. More on the steps later.
So, one of the 3 freelancing products on Expertnaire that is selling is the Freelancer Success Guide by Godfrey – an ex-factory worker.
How to Make Money on Expertnaire Nigeria – a Case Study
One of the best ways to make money on Expertnaire is to start as an affiliate promoting product pages that have already been optimized, in order to build your sales funnel.
Much like keyword research for SEO for blogging, picking the right product to promote on Expertnaire is extremely important.
For a step-by-step breakdown, here is how – the basic way I did it.
By the way, you read about the "sales funnel" above. Now, a step by step method to selling a product is called sales funnel.
And that is exactly what you will learn below.
Step 1. I picked a freelance Expertnaire affiliate product
The very step after joining Expertnaire was picking an affiliate product to promote.
And because Fiverr was already popular, I had no issue running and getting the Facebook ad approved in minutes or so.
So, the first step is to pick an Expertnaire product you want to promote and get started.
Step 2. I created a Facebook Page
After picking an affiliate product I went on to create a Facebook page because without it you cannot run an ad.
Doing this is very simple. Just go to Facebook https://web.facebook.com/pages/create/ and create one – based on the niche you want to promote.
For me, I called it "Online Marketing with Isuamfon Offiong" – you can see it here. See below.
Step 3. I Created a WhatsApp Group
I created a WhatsApp group because I wanted to market and promote the Fiverr product there – easy to communicate and build a relationship.
To make it legit, I simply used Canva and created a logo which I used for the group.
Step 4. I ran a simple Facebook ad
As I said, Fiverr is known everywhere so I used about N4-5,000 and ran a simple Facebook ad from the page.
From the ad, I added prospects to the group. I think one of the groups was filled so I went on to create Group B.
I used another method to add people, but the bulk of them came from the simple Facebook ad I ran from the page.
Note – for a proper Facebook ad strategy, Toyin has covered in his 72ig course.
Step 5. I Marketed the Expertnaire Product
When I added them, I started telling them about freelancing and all the basics.
Then from Day 2, I had to start promoting the Freelance course that was available.
To be sincere, I never sold the freelance course. Yes, that's the truth.
That time the Freelancer Success Guide wasn't available on Expertnaire yet – which converts more.
What I did to make it profitable was switching to promote another core make money online product which at this time was the 72ig Expertnaire course – it was called the 72 Hour Income Generator Program then.
That was the first "make money online" course I sold on Expertnaire – this was way back in August 2019. See below.
That was how I made my first few sales on Expertnaire which is what you can use as well.
Nonetheless, I have gone on to use 3 strategies to make money on Expertnaire.
Proficiently, if you would want to learn what I do then you can check out the conditions later in the guide.
Let's now see the Fastest Ways to Succeed in Affiliate Marketing with Expertnaire.
Top 3 Easiest ways to succeed with Expertnaire Affiliate Marketing
See the bitter truth here.
1. Be patient
A lot of people join affiliate programs in a bid to make N500,000 overnight.
Sure it can happen, but the only way it will is because WORK will need to be done.
After joining Expertnaire, like any other affiliate website, select a product you want to promote and follow all the steps you need to make that happen, implement and be patient while waiting for the result.
However, if you already have a circle/audience, then your sales will be faster. For me, I had to go and create it from scratch.
2. Promote as to Humans
After choosing an affiliate product, you want to promote and market the product as if you are talking to human beings. I know what this means.
We all want to make sales at the speed of light. But truth is if you can't recommend products that solve people's problem then forget it.
Let me put it this way.
What will make you join Expertnaire? To make money, right?
Well, if that is the case then there are thousands of other people like you that want to make money too as you do.
All you need to do is select a product, build a relationship and recommend the same products to them and get commissions for successfully doing so.
Observation – if you are joining my Exclusive Super 72ig Affiliate group I will break down everything step by step for you.
Going on.
3. Use your Best Social media channels
My best guess is that there is a particular social media you are active on.
Be it WhatsApp, Facebook, Twitter, or whatever, your first 1-5 sales will definitely come from there.
As before, select an Expertnaire product that they need (the same the made you signed up or which solves a problem), build a relationship and recommend the products to them, and get paid when you do.
The Effect of Joining Expertnaire as a Member vs with 72ig
It's not a must to join Expertnaire via the 72ig program because you don't have to. Truth is, there are hundreds of vague ways out there on how to make money that is not working, however, when it comes to Expertnaire, if you want to make N430k less or more per month then ALL the strategies YOU WILL EVER NEED are in the 72ig implementation Program.
The thing is, when you get the 72ig program, you get an automatic membership as an Expertnaire affiliate and its affiliate program.
Meaning, you'll officially be enabled to log into your account, start making money, and get your commissions sent to your bank account.
It's funny but I have to open up.
I bumped into a woman some days ago who said "it's been 2 months I haven't touched my monthly salary" – courtesy of the 72ig.
Maybe it sounds unconvincing to you. But to me, I was chucking because I know the struggles of those times. 😕
To help you decide, here is the difference between joining Expertnaire as an ordinary member vs with 72ig.
| | |
| --- | --- |
| Joining as Ordinary Member | Joining via the 72IG Program |
| You pay N10,000 to join as a member. | You pay N45,000 to join (as of the time of writing) |
| You don't get premium support as offered in the course. | You get premium support as offered in the course by Toyin. |
| You don't get advanced and pre-maid marketing materials to use and promote affiliate products. | You get advanced and pre-maid marketing materials to use and promote affiliate products. |
| Selling 72ig program? If yes, you get 30% commission. | Selling 72ig program? If yes, you get 50% commission. |
| Best for those that know how to beat affiliate marketing. | Best for both beginners and pros are good to join |
| | Join via 72IG Program |
---
Let's see more expertnaire success stories and earning proofs.
Expertnaire Affiliates Success Stories and Earnings Proofs
I picked interest with this one.
"Hello Friends, I Hope You find a Great encouragement in this posts! As You can see, "I Have already made over N400,000 (Four Hundred Thousand naira) on Expertnaire Affiliate Program. That amount of money is not encouraging to most people but it will be highly encouraging to all people when you consider 3 factors:

1. As I am making this post now, the current amount on my dashboard has increased more than what you are seeing on that image below! (I have made more sales, and I am expecting more sales. The money on my dashboard is increasing at the speed of light!)

2. I started Online Marketing with Expertnaire newly on Monday, 25th of February, 2019. (Coincidentally, it will be exactly a month next Monday, 25th of March, 2019).

3. I am what you will call a complete Newbie on anything that is called Internet Business or Online Marketing!
Moving on,
#1. N95,000+
#2. N100,000 payment on Friday.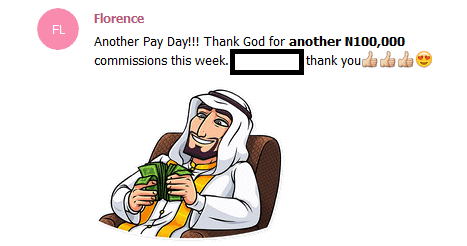 #3. N1,000,000+ payment/award
#4. N3,000,000 – all time earning as of early 2020
#5. N2,000,000 | N350,000 | N400,000 – sales
Those were a few for show off. Now is the time for you to send yours to your prospects when you get started.
---
Wrapping up soon.
I talked about the other three (3) methods I use in selling products on Expertnaire.
If it resonates with you then you can get a hands-on guide on the 3 other methods I use to promote Expertnaire products.
I can't promise you anything but here is why I have created a support group to help you out.
1). – Joint Efforts – so we can work collaboratively and get more done.

2). Big Fishes – you will get bigger fishes to fry and make more money.

3). Make Money without Ads – see how not to neglect your timelines. With the Super 72ig Affiliates Group, I will show you how to make money on Expertnaire without ads.
A summary of what you get when you join Expertnaire via this page
Option 1 – As an ordinary affiliate – Get a paid Copyrighting Swipes.
If you can't join Expertnaire via the 72ig program, it's not a must – although you will lose lots of buttons and value to break even fast.
💡 What I can do to still help you succeed is give you the copies I paid for.
To get started, click here to join Expertnaire, and click here to contact me.
💡 Also, if you get started with Email Marketing with GetResponse, I will help build your Landing and Thank You pages.
To get started, click here to try GetResponse for free, and click here to request the design.
Option 2 – Via 72ig program – Get all the resources.
💡 If you can save up to join Expertnaire via the 72ig program, (apart from the hot-selling strategies you will get from the program), you will have access to all the resources here.
💡 You get access to the Super 72ig Affiliate group where I share my advanced strategies with you.
💡 You also get the paid Copy Swipes.
💡 When you get started with Email Marketing with GetResponse, I will help build your landing and thank you pages.
➡ Click here to join Expertnaire via the 72ig program, and use this particular contact page if you are joining via 72ig.
We are almost done.
Expertnaire YouTube Review 2021
You can as well see the Expertnaire YouTube review should you prefer/love video review.
Let's go on to answer some FAQ about Expertnaire before we close.
Frequently Asked Questions (FAQs) about Expertnaire Affiliate Marketing Platform
Question: What is Expertnaire?
Answer: Expertnaire is a Nigerian affiliate network that connects product sellers known as vendors with affiliate marketers who get paid for selling digital products.

On Expertnaire, there are 3 parties – The vendor, the affiliate and the customer

The vendor refers to the person who owns the product that is been sold

Affiliates are marketers who recommend the products on the platform to people and when any of the person they refer buys, they get a commission

Customers are simply those who purchase the products been sold on Expertnaire.
Question: Affiliate Marketing Vs Multi-Level Marketing (MLM)
While MLM – Multi-Level Marketing may involve you selling physical products on the streets and all your referrals matched under you, with matching bonuses, affiliate marketing is nothing like that.

Affiliate marketing is online and it's one commission per solution sold – no referrals group under you (and nothing like matching bonuses unless the affiliate company decides to give you incentives for selling lots of products).

To show you how vast the Affiliate marketing industry is, according to Statista, affiliate marketing spending in the U.S. alone is expected to reach $8.2 billion by 2022, more than triple what it was 10 years earlier.

Globally, it was estimated in the Awin Report that advertisers invested $13 billion in affiliate marketing in 2017.

These numbers together with the consistent upward trend demonstrate that affiliate marketers will likely continue to thrive in the 2020s and beyond.

Again, according to hostingtribunal, Affiliate marketing is a global industry worth well over $12 billion.

Coming down to Nigeria, you will notice that Affiliate marketing has been on an uptrend, meaning, more Nigerians are into it as a side hustle or as a full-time income source.
Question: How good is Expertnaire, Is Expertnaire Legit?
Answer: First, Expertnaire is real and paying.

The thing is, this is a platform likened to Clickbank by Nigerians, which means, with new products added every day by reputable vendors plus happy affiliates (on-time payments), the growth will continue to be unprecedented.
Question: Who Owns Expertnaire Affiliate Platform?
Answer: The platform is owned and managed by Toyin Omotoso.
Question: How do I become an Expertnaire Affiliate?
Answer: You need to sign up as an affiliate on Expertnaire, you can join as an ordinary member with N10,000 only minus no training or join via the 72 hr income program and get trained with N20,000 commission to promote the program.
Question: Do I have a Fair Advantage as an Expertnaire Affiliate?
Answer: while the answer is yes, to be frank, if you don't know anything about affiliate marketing, I recommend you join Expertnaire via the 72hr income program– where you get all the details on how to make sense of the platform and make money as other happy affiliates.

Other than that, you will be added to the official Facebook group, Telegram group with thousands of other affiliates where you can brainstorm and share ideas, email swipes to use and promote the programs easily, and more.
Question: How to sell on Expertnaire as a Vendor?
You can sell your digital products on Expertnaire if you're a vendor.

All you need to bring to the table is a reputable digital product that solves a particular problem wherefore it will be scrutinized by the Expertnaire team before being listed for sale or promotion by the affiliates.

Once your request has been approved, you will get a Vendor registration link. Vendor's fee is N25,000 yearly. This process usually takes within 3-5 working days.
Question: How do I Sign up as a vendor on Expertnaire?
Answer: To sign up as a Vendor on Expertnaire, you need to send an email to help@expertnaire.com providing the details of your products and access to the product itself.
Question: How am I sure that the products on Expertnaire will deliver?
Answer: All the products listed on the platform goes through thorough check by our quality control department before it is listed, we are always sure to confirm authenticity of every product before having it listed on our platform.
Answer: The vendors decide on the commissions. However, we generally advise and make vendors give out reasonable commissions to the affiliates so as to gear up interest on promoting their products.
Question: Are there Real Estate affiliate programs on Expertnaire
Answer: for now there are no real estate affiliate programs on Expertnaire. Unless I do my research well, I think there are only a few real estate affiliate programs in Nigeria (if any).

And if you know how to create such a product then there is room for you. Just check out how to create a product using IBL and request for review on Expertnaire.

If accepted by the team then you will earn money on Autopilot as affiliates will be working for you passively – promoting the products while you earn on automation.
Question: How To Start Affiliate Marketing As A Beginner In 4 Steps?
Answer:
Pick a niche or product you want to promote. If you want to use your website for the promotion then you go ahead and pick a niche you're comfortable with.

Build a blog around that niche or create a Facebook page to run ads (unless you want to use WhatsApp, Twitter, and other social media platforms)

Join affiliate programs.

Promote affiliate products and make money each time a person buys from your affiliate link.
Question: How Do Affiliate Links Make Money?
Answer: When someone clicks on your link and pays for the service, product, or tool you recommend then that defines how (your) affiliate link(s) make money.
Question: How to start Affiliate marketing with Expertnaire Nigeria
Be it Expertnaire, Clickbank, or Amazon, the same affiliate promotion methods are applied.

Step 1. Join the Expertnaire affiliate marketplace. Step 2. Select a product. Step 3. Promote and make money.
Question: What is the The Expertnaire Logo like
Someone once asked of the Expertnaire logo. If you're one of them then see below.

Question: What is the Expertnaire Terms of Service all about?
Should you need the expertnaire terms of service then you can find it right here.
Question: What is the Best Way to Join Expertnaire?
Answer: certainly, the best way to join is via Toyin Omotos's 72-hrs income generator program where you'll be drilled on how to make money on the platform.
Final Notes on Expertnaire Nigeria Website

Whether you're looking for an affiliate program for placing advertising posts in social networks around the world, Expertnaire affiliate Network has those promising products you can jump in, promote, and make money.
For instance, the affiliate product known as App Canvas works for all races as far as Android and iOS apps are concerned. With a single sell, you are sure of N24,000 or N240,00 per 10 sales.
The truth about building an online business is that it takes time and it's even super hectic if you are launching out on your own.
On the other hand, if you are doing it along with others, then your make-money online in Nigeria journey would have been truncated for a faster and positive reach.
It's worthy to pin-point that when I started I never got an opportunity to be shown credible insights and the masterminding of other affiliates as offered on Expertnaire.
As the saying goes "Learning for me is a continual process because making money steps get better by innovations and insights".
Ready to start your journey to build a credible online business? Can't wait to see you on the inside.
#Good luck.
You might also like:
#1. The New 72IG Implementation Training Program Review.

#2. How to Use Expertnaire Affiliate Marketing Platform Perfectly.
Image Credits: Canva.com | Hubspot | Expertnaire.com